Ukraine's Stetsenko breaks 20-year-old world record
Three titles for Spain and a silver comeback for Brazil provided fans with plenty to cheer about at the Olympic Aquatics Stadium.
14 Sep 2016
Imagen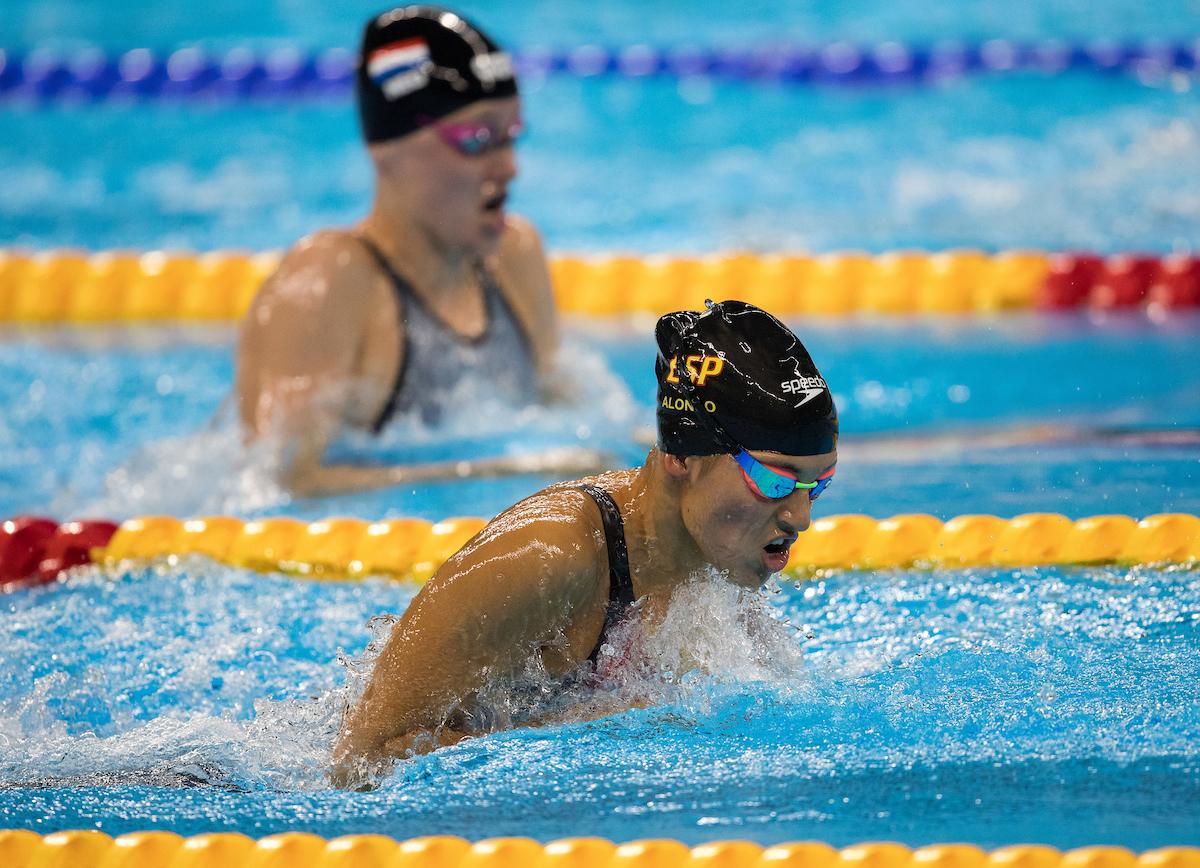 ⒸOIS
Ukraine's Paralympic debutant Anna Stetsenko lit up the pool at the Rio 2016 Paralympic Games on Wednesday (14 September), tearing down the 20-year-old world record in the women's 50m freestyle S13.
The European champion powered to the wall in 27.34 seconds, beating the mark of Germany's Yvonne Hopf set at Atlanta 1996 by 0.04 seconds.
Uzbek teammates Muslima Odilova (28.00) and Shokhsanamkhon Toshpulatova (28.02) were second and third respectively, once again showing the world the country is now a force to be reckoned with on the world stage.
Spain had an excellent night at the Aquatics Stadium, swimming to three titles.
Paralympic champion Michelle Alonso Morales (1:12.62) lowered her Paralympic record for the second time in one day in the women's 100m breaststroke SB14.
Morales led on the turn to see off Great Britain's Bethany Firth (1:12.89) and Dutch world champion Magda Toeters (1:17.35).
"I didn't think it would be that hard. It make the four years of training and pain and injuries worth it," Morales said.
World Championships silver medallist Oscar Salguero Galisteo (1:11.11) upgraded to Paralympic gold in the men's 100m breaststroke SB8. Italy's Federico Morlacchi (1:12.68) picked up his latest medal with silver, and Austria's Andreas Onea (1:14.44) fought back against a charge from the USA's Dalton Herendeen to claim bronze.
"Because it's my first Paralympics I was very nervous, but when I dived into the water I did my best and everything went well," Salguero said. "The focus was on winning the gold medal at the Paralympics. I did it and I'm so happy."
A third gold came for Spain came in the men's 100m butterfly S11 courtesy of Worlds bronze medallist Israel Oliver.
It was not easy for the Spaniard, however, as the top four finished within 1.5 seconds of each other. Third on the turn, Oliver (1:02.24) had to push extra hard for the gold. Japan's world champion Keichii Kimura (1:02.43) took silver ahead of Ukraine's Oleksandr Mashchenko (1:03.38).
Having lowered the world record in the heats, China's Wenpan Huang (50.65) took it down once more in the final of the men's 50m breaststroke SB2. Huang led an-all Chinese top three as Tinghsen Li (51.78) Chaowen Huang (54.29) collected silver and bronze respectively.
Despite finishing out of the medals, multiple medallist Dmytro Vynohradets set a new European record with 55.03.
Huang's world record was swiftly followed by another for China from Zhipeng Jin (47.54), with his first gold and fourth medal overall. He claimed the mark of Japan's Takayuki Suzuki from Beijing 2008. Spain's Miguel Luque (49.47) was second as Italy's Efrem Morelli (49.92) took bronze.
Jiao Cheng (58.28) secured China's third gold in the women's 50m breaststroke SB3. Cheng pulled away from Ukraine's silver medallist Mariia Lafina (1:01.92). Mexico's Patricia Valle (1:02.40) was third.
Ukraine won the men's 4x100m freestyle relay, but not without a fight from Brazil who moved up to silver thanks to a great anchor leg from Phelipe Rodrigues.
The Ukrainian team of Oleksandr Komarov, Maksym Krypak, Bohdan Hrynenko and Denys Dubrov were pushed to a new Paralympic record of 3:48.11 by an advancing Brazilian four.
The host's team of Daniel Dias, Andre Brasil, Ruiter Silva and Rodrigues had moved up to third with just 50m to go, with Rodrigues finishing the job for the team to claim silver and a new Americas record of 3:48.98.
The Chinese team of Maodong Song, Haijiao Jiu, Furong Lin and Yinan Wang were third with a new Asian record of 3:50.41.
Belarusian Ihar Boki (23.44) stormed to his fourth gold medal in the men's 50m freestyle S13, with a new Paralympic record, to become the most decorated athlete at Rio 2016 so far.
"It is so short. There is no room for anything. If something is not going well that is it. It takes a lot of work on the details," Boki said. "I had a lot of tension and anxiety in me this time. I didn't have it last time, in my first Games [at London 2012]."
The now eponymous Brazilian crowd powered Carlos Farrenberg (24.17) to silver, the same colour he won at the 2015 IPC Swimming World Championships. Uzbekistan's Muzaffar Tursunkhujaev (24.21) picked up bronze with in an Asian record time.
Hannah Russell (1:06.06) headlined another fantastic night in the pool for Great Britain, with gold and a new world record in the women's 100m backstroke S12. The 20-year-old lowered her own mark from 2015 to beat Ukraine's Yaryna Matlo (1:11.97). Spain's Maria Delgado Nadal (1:12.73) was third.
Great Britain's Aaron Moores (1:06.67) managed to see off a last-second surge from teammate Scott Quin (1:06.70) in the men's 100m breaststroke SB14. Dutch world champion Marc Evers (1:07.64) claimed bronze, his second medal of Rio 2016.
There was a British one-two in the men's 400m freestyle S7 with debutant Michael Jones (4:45.78) leading teammate Jonathan Fox (4:49.00) onto the podium. Norway's Andreas Skaar Bjornstad (4:53.61) was third.
Jones dedicated the win to his father, who passed away just two months before Rio 2016.
"It means a lot. Obviously to win gold is a dream I have had from a very young age. My dad suddenly passed away with 58 days to go to Rio. So that race was dedicated to him in some ways," he said. "It wasn't an easy build-up and at times it was hard to focus. So I had to think about what he would want me to do. So that gold was really for him."
An overwhelmed Katarina Roxon added to Canada's medal haul in the women's 100m breaststroke SB8 with a new Americas record. When she realised she had touched first, Roxon (1:19.44) cried tears of joy and embraced Ireland's bronze medallist Ellen Keane (1:23.07). Great Britain's Claire Cashmore (1:20.60) claimed silver after a close battle with Roxon, who won gold on at her third attempt.
"Finally! It has not hit me yet. When I get on the podium and hear the national anthem, it is going to hit me really hard," Roxon said. "I started young when I first came into the Paralympics in Beijing (in 2008). I did have a lot of setbacks and injuries and to finally be there is unbelievable."
US teammates McKenzie Coan (5:05.77) and Cortney Jordan climbed the podium together in the women's 400m freestyle S7, after Coan expertly led her compatriot to the wall for her second gold. Great Britain's Susannah Rodgers (5:23.17) was third.
Ukraine's Paralympic bronze medallist Sergii Klippert (59.77) touched in for gold ahead of Azerbaijan's Raman Salei (1:00.91) in the men's 100m backstroke S12. The USA's Tucker Dupree (1:01.04) was third.
Live coverage and results of swimming is available at Paralympic.org. Live updates will also be posted to IPC Swimming's Facebook, Twitter and Instagram.