USA and Australia book wheelchair rugby final spots
Final showdown promises to be a classic as two of the game's strongest nations put in clinical displays in semi-final victories.
17 Sep 2016
Imagen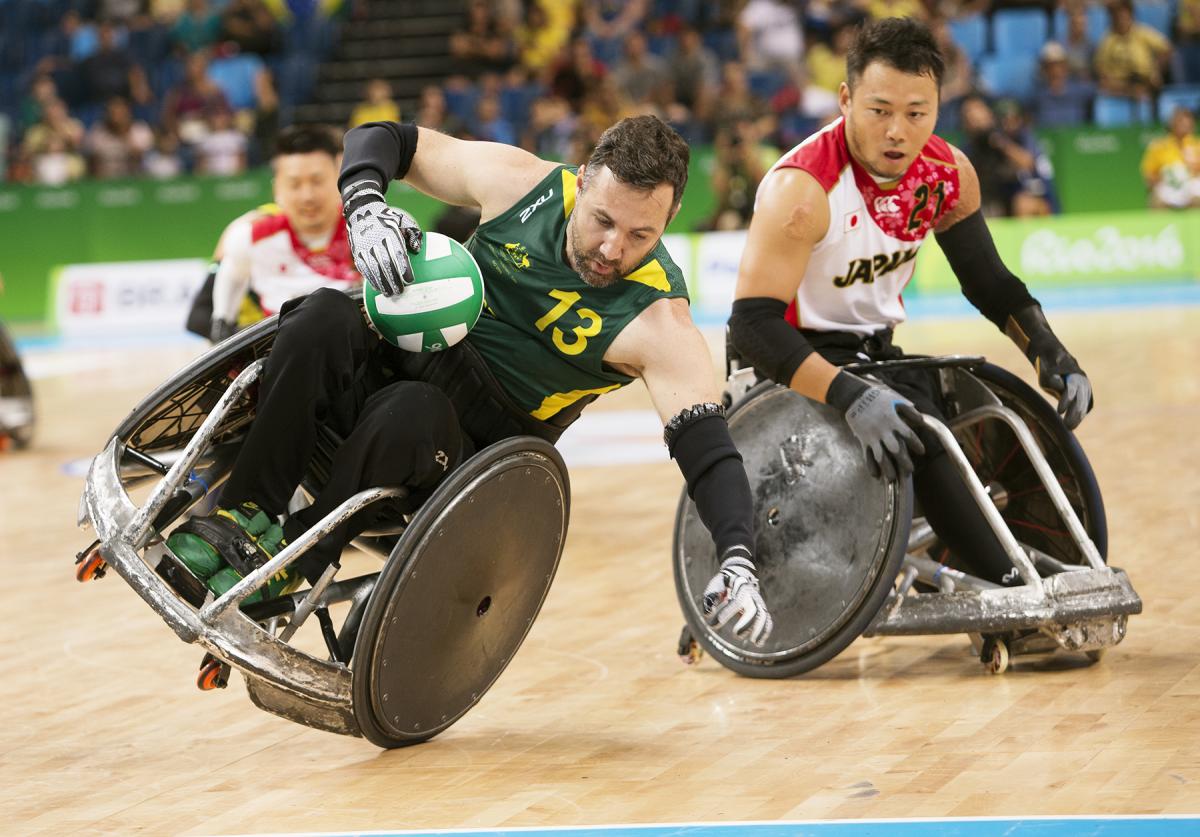 ⒸIPC
By Beau Greenway for IPC
Heavyweights Australia and the USA will meet in the Paralympic Games gold medal match after winning their semi-final clashes on Saturday (17 September).
The USA was the first team into Sunday's final with an impressive 60-55 victory against arch rivals Canada, while defending champions Australia joined them later in the afternoon with an equally clinical effort against Japan, which saw them win 63-57.
After being on the losing end of this match-up at London 2012, USA's Chuck Aoki was very pleased to reverse the result this time around.
"Canada is a phenomenal team and they made us work for every single point we got," Aoki said.
"We've been waiting for this rematch four for years and we got to it and won in, now we must finish the job.
"We kept really good pressure for the entire four quarters and our depth played a big part in that because we could roll guys out for two or minutes and bring some fresh guys back in."
Looking forward to Sunday's final showdown with Australia, Aoki admitted it could go either way.
"We'll try to correct a couple of things, but besides that we need to rest up physically because we know what we need to do to win," he said.
"So far it's been incredible. The Carioca has been wonderful and sold out crowds is the way we want to play rugby to showcase our amazing sport to the entire world."
Canada's Miranda Biletski said the team knew they were in for a tough encounter, but were disappointed not to come out on top. They will face Japan in Sunday's bronze-medal match.
"We've had amazing games with the US in the last few especially, especially knocking them out at Worlds and London," Biletski said.
"They didn't want the three-peat so they came in hungry and played us really well.
"It was a completely new ball game; you can't count what you've done in the past because the teams are so well prepared and there is no drop-off which makes every game so tight and amazing.
"We came here wanting to win a gold medal and said we would be disappointed with anything but gold so there is a little bit of disappointment.
"We've got another tomorrow and we don't want to go home without a medal."
The most experienced member of the Australian team and five-time Paralympian Naz Erdem is very excited to be heading into another gold medal match following the defending champions' 63-57 triumph against Japan.
"The Japanese guys were really tough, but our tactics worked really well against them so we were able to get on top and stay on top," Erdem said.
"Yesterday was pretty good and today was good, but tomorrow can be better again so hopefully we're on the up."
The USA have had a good record against Australia, but the two teams haven't met in a major tournament for some time.
"They've beaten us a few times, but we've beaten them as well. We've got a new line-up and they've got a new line-up as well, so we've got to make sure we don't make any mistakes," Erdem said.
"During that game we only had about four turnovers and they were the same in their game against Canada.
"We have to have a strong game like that and force more than to give away more turnover than us to get on top."
After coming so closed to beating the USA in their pool encounter on Friday, Japan's Tomoaki Imai said it was the mountain of turnovers which hurt them against Australia.
"We need to work harder on our mental side before the next match," Imai said.
"We were in perfect condition, but they were better than us. We lost to the pressure and we made mistakes regularly, which allowed them to score.
"This is my first time at the Paralympics so I was feeling a bit nervous before the match, but after seeing the crowd go wild and shout for Japan, I was very moved."
If Japan can defeat Canada on Sunday they will land their first ever Paralympic medal in the sport.
"We want to win the next match at all costs for Japanese wheelchair rugby to develop and to also have a good start before the Tokyo 2020 Paralympics," Imai said.
In the opening game of the day, France finished their tournament on a high with a 59-54 win against hosts Brazil to secure seventh place in the tournament.
Christophe Salegui was delighted with the result after what was an extremely hard tournament for the French team.
"It was a real pleasure to play against Brazil because they are good friends of ours and it was incredible to play on this arena in front of the Brazilian public," Salegui said.
"It was my first time in the Paralympics and we can improve in some places, but overall I'm happy with the performances the team had over the four days."
France's attention shifts to next year's IWRF European Championships where they hope to move up in the rankings with a medal and an appearance in the final.
Brazilian coach Rafael Gouveia admitted he was sad about the result, but could fault the effort of his players during the last four days.
"We had a great competition for our level and I'm so proud of them. We will keep working hard because we want to be at this level again," Gouveia said.
"Our guys need more experience with their communication, vision and the game, but give us time.
"We have improved a lot as a team and had great teamwork and spirit from everyone on the bench and on the court.
"We have to discover new talent and we have some American tournaments which will be qualifiers for the Zonal Championship."
Gouveia said Brazil must beat Colombia in their next zonal qualifying tournament to retain their ranking and give themselves an opportunity to face USA and Canada in the Americas Zonal Championship.
Great Britain face Sweden on Saturday night for fifth place and the right to remain Europe's No.1 ranked wheelchair rugby nation.
In Saturday's late game, Great Britain took on Sweden for fifth place and the right to remain Europe's No.1 ranked wheelchair rugby nation, with the Brits putting together their best four-quarter effort of the tournament to win 56-42.
After two narrow losses to Australia, by two goals, and Canada in overtime by a single goal, the world's No.5 ranked team finished the tournament on a high, but were left to rue what could have been.
Jim Roberts was the star of the show, playing the entire 32 minutes to finish with 28 goals and was ably assisted in the scoring department by Ajaz Bhuta (eight goals) and Coral Batey (seven goals).
For the Swedes, Tomas Hjert finished off a strong tournament with a further 17 goals, with captain Stefan Jansson the next best with six.
Great Britain will be aiming to convert their hard work into a medal at the 2018 IWRF World Championships, while Sweden shouldn't be too far behind them with a good combination of youth and experience holding them in good stead.