USA and Canada triumph twice to set up a gold medal battle
North American rivals record convincing wins against Team World and Great Britain on a busy Saturday in the Cornerstone Community Center
28 Aug 2022
Imagen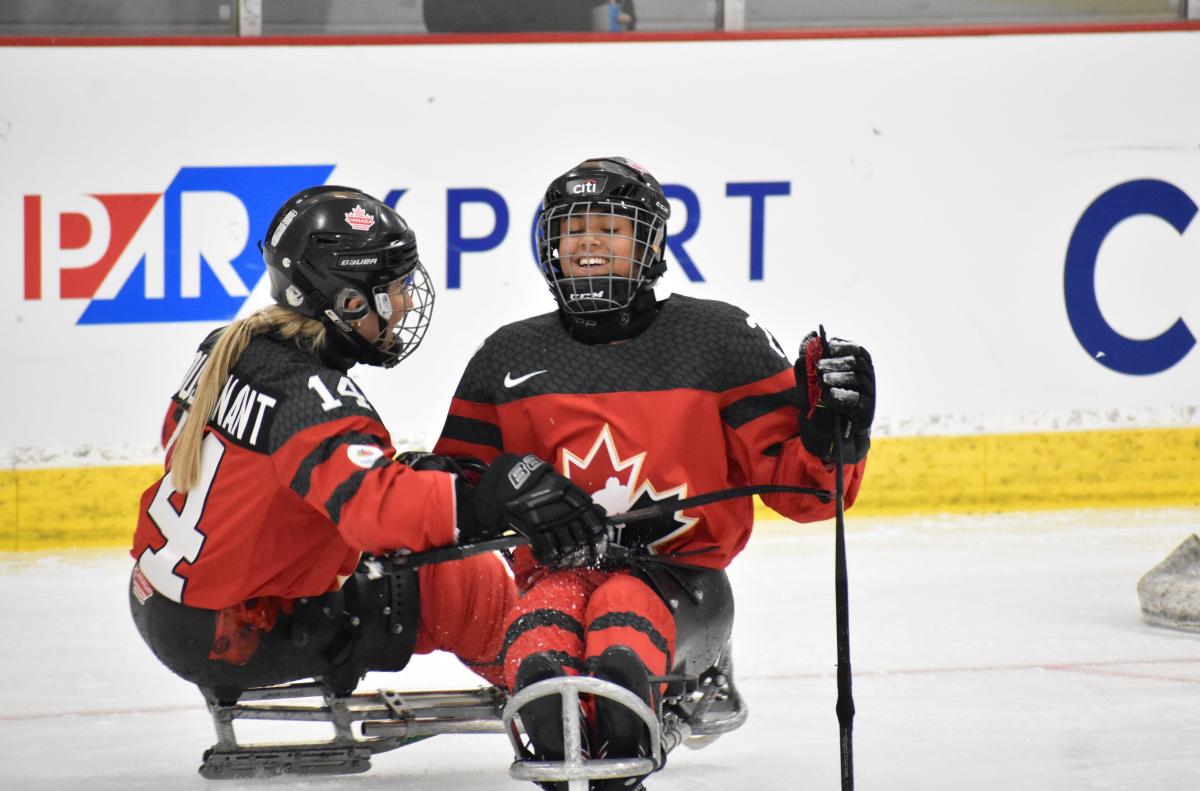 ⒸJessie Dietzler/WPIH
By Stuart Lieberman | For World Para Ice Hockey
Canada and USA will square off for the gold medal at the first-ever Para Ice Hockey Women's World Challenge presented by Citi after both North American teams won their final two round-robin games on Saturday (27 August) in Green Bay, Wisconsin in the USA.
Canada snags two shutouts
In the day's opening game, Canada flew past Team World, 12-0, scoring four goals in each period. Alanna Mah, the 22-year-old captain from Edmonton, had four goals, and Raphaelle Tousignant, a 20-year-old forward from Quebec, had a hat trick.
Mah wasted no time finding the net, scoring 34 seconds into the game for what would ultimately stand as the game-winning goal. Tousignant followed suit with a score 36 seconds later and forward Alyssa White netted a goal off a helper from Emilie Charron-Pilotte, before Mah crashed the net with a second score with two minutes remaining in the first period.
Within the first two minutes of the second stanza, 17-year-old White scooted past three Team World defenders to score the first of four Canadian goals in the period. Mah and Tousignant also scored within a 25-second span of each other, and Emily de Boer added a tally to double Canada's lead to eight heading into the final break.
In the third period, Mah and Tousignant piled on their final scores, and Claire Buchanan and Aubree Clements recorded their first international goals.
Goaltender Hope Magelky had 13 saves for Team World, while Tracey Arnold and Tuyet Yurczyszyn combined for four saves for Canada.
Canada maintained its momentum in its second game of the day with another 12-0 win against Great Britain behind goals from eight different players, including four from rookie forward Clements.
"I definitely had a lot of help from my teammates, learning how to set each other up on the ice," Clements said. "I've been working toward this since I was little, so it's really exciting that the first year of this event I get to play in the gold-medal game."
In the first period against Great Britain, Clements scored on the power play and Mackenzie Spong found the net shorthanded, while forward Myriam Adam, defender Meghan Harris and Tousignant also tallied scores for Canada.
Clements lit up the lamp twice more on the power play in the second stanza, with White, de Boer and Peggy Assinck adding goals to create a double-digit lead for the Maple Leafs. Both Clements and Assinck scored again in the final frame.
Hill recorded an impressive 44 saves for Great Britain, while Yurczyszyn had two saves for Canada.
USA remain undefeated
The host nation picked up where it left off the first day, reeling in a 6-0 win against Team World followed by a 6-0 victory over Great Britain to remain undefeated.
Against Team World, Pittsburgh native Kelsey DiClaudio smacked the puck to the top shelf from beyond the crease with 5:05 remaining in the first period for her third goal of the tournament, and Robynne Hill put her name on the score sheet with nine seconds left in the first frame.
Forward Medeleine Gallagher of Florida found her groove in the next period for the USA, netting a hat trick in the span of 12 minutes, and Lera Doederlein, who competed in Nordic skiing at the Beijing 2022 Paralympics, scored her first goal of the tournament to make it 6-0.
"We have such a big crowd here to support us all, and being here for the first time that's really made it memorable," Gallagher said following the game.
Team World was led by Elisabeth Bisaillon's 14 saves between the pipes and improved play from Latvian forward Dina Grinberga.  
"Yesterday was my first game ever, and today was my second and third games," said Grinberga, who is the lone representative from Latvia on Team World. "We learned a lot out there today, and I think we're a new team now. We learned how to work together, and personally I learned how to hone all my skills."
The USA then turned around quickly to beat Great Britain in the evening, with all six of its scores in that game coming from different players.
Brianna Atkins, Christy Gardner and Kaden Herchenroether all registered their first goals of the event in the opening period, and Madison Eberhard notched her second to put the USA up 4-0 at the first intermission.
Midway through the second period, Jamie Benassi positioned herself right in front of the crease for a perfect shot on net to electrify the Team USA fans and increase their lead to five.
"That was an amazing moment," said Benassi, a rising high school senior from Ohio. "It was super exciting to have my first international goal. Us ladies worked so well together out there on the ice tonight."
Monica Quimby, in her eighth year on the U.S. national team, rounded out the scoring 1:44 into the third period, finding the net unassisted on a power play.
Hill and Freya Alice Levy combined for 18 saves for Great Britain on the night, while Gabby Graves-Wake recorded the shutout for the US.
Great Britain and Team World will face off for bronze on Sunday (28 August) at 11:00 local time before Canada challenges the USA for gold at 15:00.
This event is serving as a major stepping stone on the road to an eventual Women's World Championship, with the ultimate goal of expanding female participation in Para ice hockey worldwide and adding it to the Paralympic Winter Games programme.
All games from the event are being streamed live on World Para Ice Hockey's website and Facebook page.
More information about the teams, complete schedule and results can be found on the Green Bay 2022 microsite. Photos from the event are available for editorial use on the IPC's Flickr page.