USA and Great Britain's women dominate UCI Worlds
Of the six women's world titles up for grabs on Sunday US and British women won five of them.
02 Sep 2014
Imagen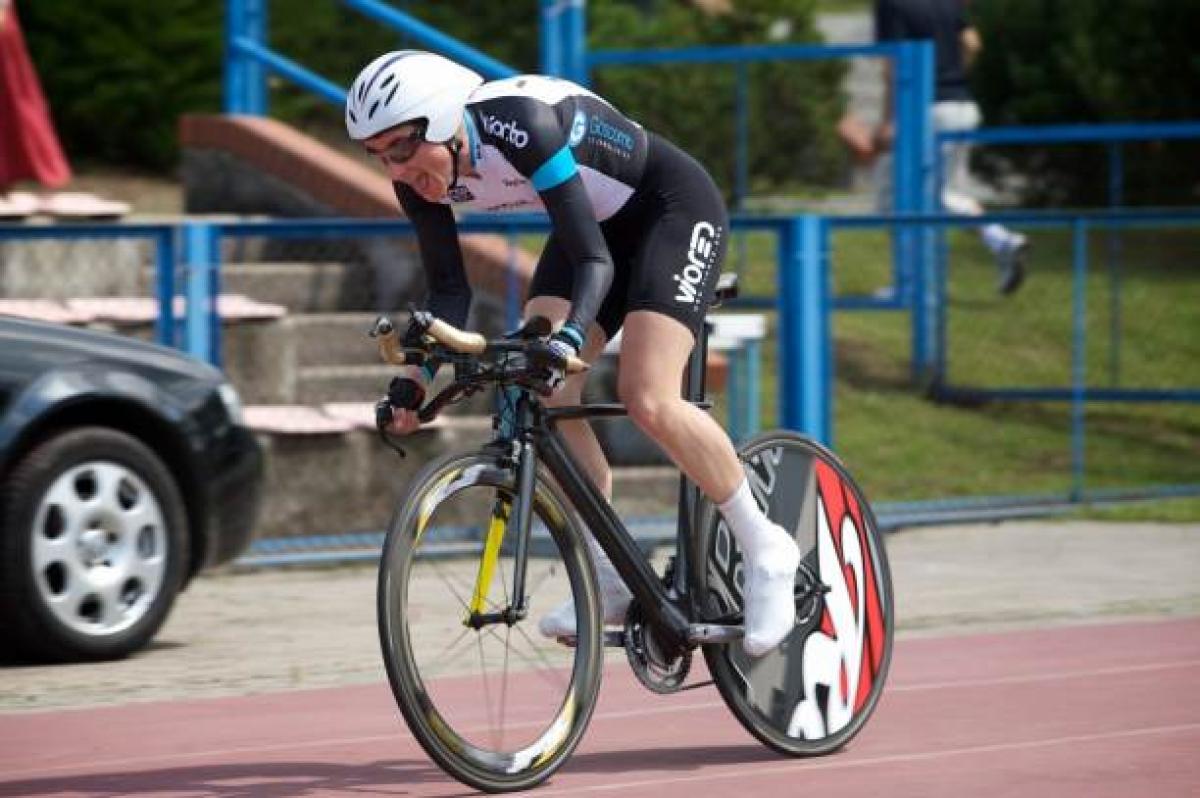 ⒸSarah Storey
By IPC
Eight nations took world titles on Sunday (31 August), the fourth day of competition at the 2014 UCI Para-cycling Road World Championships in Greenville, Carolina, with hosts USA and Great Britain leading the way in the women's races.
For the hosts Shawn Morelli upgraded her silver from the time trial to a gold medal in the women's C4 road race. Morelli (1:32.52) held off a late charge by Australia's Susan Powell (1:32.52) to earn her first rainbow-striped jersey. Bronze went to China's Jianping Ruan (1:48.50)
"I'm really glad that my parents were here to see me win and that they'll be here for the awards," Morelli said. "It was a whole team effort. I couldn't have done it without Greta [Neimanas] and Sam [Heinrich] out there. It was an all-team victory. They helped me to get the jersey, and I wish I could cut it into three pieces to share with them. It is difficult to explain the gratitude that I have for them in helping me to win this."
It came down to a photo-finish for Jamie Whitmore to win her second world title of the week in the women's C3 class. Whitmore and Germany's Denise Schindler were shoulder-to-shoulder coming down the final stretch, but Whitmore edged her out for the win. Whitmore has now won six world titles in the past 12 months: four on the road and two on the track.
"It was becoming a very strategic race. The whole time we were just trying to drop as many people as we could, and it got down to three. On the last lap I was trying to relax as much as possible because I knew where I would attack. And I ended up attacking later than planned, just to conserve the legs. Denise is a very strong rider and was closing the gap, but I was able to hold her off. It was a very exciting race, and that is what road racing about. It was attack and counter-attack and see who has it in the end."
Allison Jones rode down the final stretch of the C2 road race celebrating her ninth World Championship title in para-cycling. Jones (1:36.20) rode in the lead pack with the C3 cyclists and beat her nearest C2 competitor Raquel Acinas Poncelas (1:38.32) of Spain by more than two seconds. The Netherlands' Alyda Norbruis (1:42.55) took the bronze.
Great Britain's two gold medals came through Sarah Storey and Lora Turnham with pilot Corrine Hall.
Storey (1:32.13) claimed her second world title of the Championships, and 18th in total, by edging out Poland's Anna Harkowska (1:32.13) and Argentina's Mariela Analia Delgado (1:31.13) into silver and bronze respectively in a closely fought race.
"World road race champion! Yay!" Storey tweeted shortly afterwards."So chuffed, was a hard race to control being marked by everyone so had to lead the sprint out & it worked!"
Turnham and Hall (2:08.28) won a thrilling tandem race in the B/VI class. Ireland's Katie George Dunlevy and pilot Eve McCrystal (2:08.28) took silver, whilst the bronze went to Spain's Jozefa Benitez Guzman (2:08.28).
The women's C1 race was won by China's Jieli Li (1:14.59).
In the men's events, there was a first gold of the Championships for Colombia thanks to Alvaro Galvis Becerra (1:32.13) in the C2 class. He beat the Czech Republic's Ivo Koblasa (1:32.13) into silver and Venezuela's Victor Hugo Garrido Marquez (1:31.13) into bronze.
Eoghan Clifford (1:47.46), in his first major Championship, won her second rainbow jersey of the event for Ireland in the C3 class finishing ahead of Germany's Steffen Warias (1:49.38). Bronze went to Italy's Fabio Anobile (1:49.38).
It was a German one-two in the C1 class with Pierre Senska (1:31.14) taking gold, fractionally ahead of Michael Teuber (1:31.14). The Netherlands' Arnoud Nijhuis (1:31.14) completed the podium.
Italy's good form continued in the C4 class courtesy of a victory by Michele Pittacolo (1:54.24). Silver and bronze respectively went to Russia's Sergey Pudov and Czech Republic's Jiri Bouska in the same time.
Alistair Donohoe (1:54.24) took Australia's only gold of the day in the C5 class. He finished just ahead of Brazil's Lauro Cesar Chaman (1:54.24) and Dominican Republic's Jose Frank Rodriguez (1:54.24).
The men's tandem race was won by Spain's Carlos Gonzalez Garcias and pilot Noel Martin Infanite (2:23.07). Silver went to France's Damien Debeaupuits and pilot Michael Dhinnin (2:23.07) and bronze the Netherlands' Rinie Oost piloted by Cor Van Leeuwen (2:25.56).
Competition concludes on Monday (1 September) with the handcycle and trike road races. The events will be livestreamed at USParalympics.org and results are available at the event website.