USA clinch women's basketball gold
Rebecca Murray had the hot hand, and Germany had no answer as they failed to secure back-to-back Paralympic titles.
16 Sep 2016
Imagen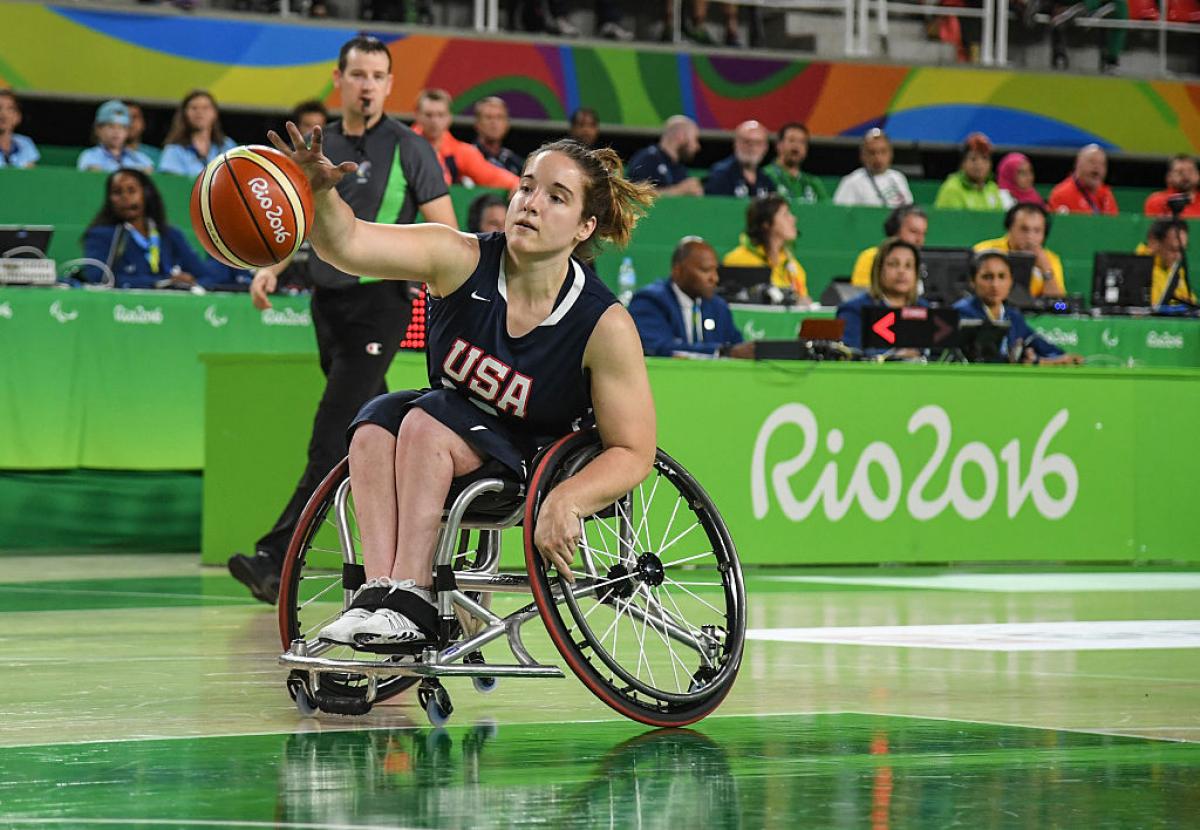 ⒸGetty Images
Shots were falling for the USA while the game was falling apart for Germany.
The US women's wheelchair basketball team dashed Germany's hopes of back-to-back Paralympic titles, one shot at a time, to win the gold medal 62-45 on Friday (16 September) at the Rio Olympic Arena.
It was the USA's first Paralympic gold medal since Beijing 2008 – when they also defeated Germany.
"I was part of the team in 2008 that took gold and then I was part of the team in London that fell short, so I knew how each part of it feels and I wanted to get back on top of the podium so bad. And it feels awesome," Rebecca Murray said.
Murray was particularly lethal for the USA. The 26-year-old finished with a game-high 33 points, including 13 in the first-half that put her team up 29-17.
"She has always had the ability to score. What she has been able to refine over the years – obviously she has become a better scorer – but she can score with a hand in her face, she can score driving to the basket. So she has opened up [her game]," US coach Stephanie Wheeler said.
"Based on prior games we have played against [Germany], they have brought two people out on her and just got on her chair really hard," Wheeler added. "We had some things in mind that we were going to do if we needed to make that change."
Germany could not stop Murray.
Even more, the reigning champions could not respond offensively.
The USA appeared perfect from the field, making 47 per cent of their attempts in the first-half and finishing the game with 46 per cent shooting. Germany only managed 19 of their 59 field-goal attempts.
"It is difficult [to take silver] because it is OK to lose to a team like the US but not the way we lost today because we never managed to play our game," Germany's Marina Mohnen said.
"We did not get into our offensive game at all, so the first two and a half quarters we kind of fell apart. Defence was not our best. Offensively we just totally failed today. And in a game like this —it is really hard to have a game like this in a gold medal game."
Mohnen, one of Germany's offensive weapons, went five-for-17.
A fourth-quarter comeback appeared possible.
Gesche Schunemann's 3-pointer sparked a 14-5 run that brought Germany within 10 points.
But with around 24 seconds still left, Schunemann dribbled up the court and waited until the clock expired.
She, and her teammates, knew it was too late.
"We wanted to win the gold medal but the Americans were the better team," Germany's Annika Zeyen said. "It wasn't our day and they deserved to win it."
Zeyen, along with some of her veteran teammates and coach Holger Glinicki, said Friday was their last game. It is perhaps the end of a strong era for the Germans, a powerhouse in the women's wheelchair basketball scene for nearly a decade.
Since finishing fourth at Athens 2004, Germany became a top-three finisher at every World Championships since 2006 and Paralympic Games since Beijing 2008.
"It is a shame in one way when you lose the last game but it's also good when you win the silver medal," Glinicki said.
Since finishing fourth four years ago, the younger US team might just be seeing the beginning.
"We came in with gold medal expectations," Wheeler said. "We may have been an underdog to the rest of the world because we came in fourth at London and fourth the [2014] World Championships, but we were not underdogs to ourselves."