Uzbekistan tops judo medals table
Adiljan Tuledibaev secures Uzbekistan's third judo gold, the nation's 10th medal in the sport at Rio 2016.
10 Sep 2016
Imagen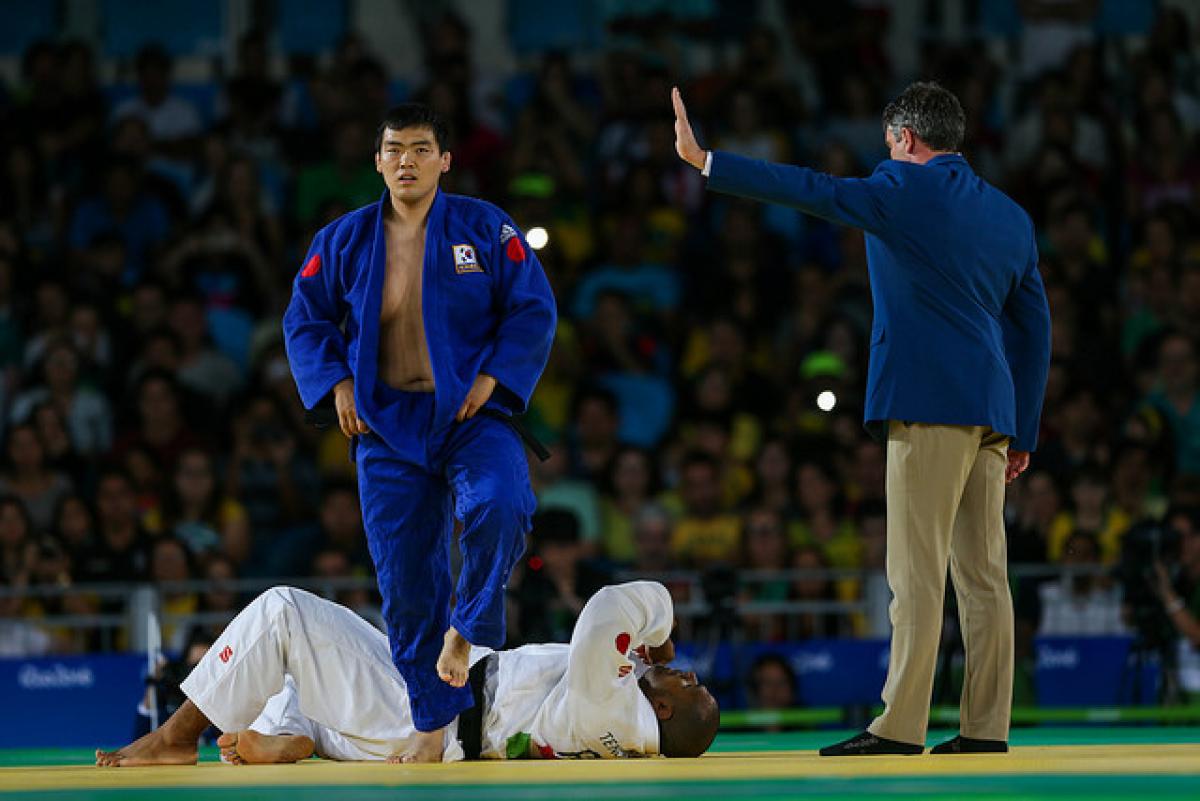 ⒸIPC
By IPC
Uzbekistan's judokas established themselves as the leading nation in Paralympic judo on the final day of competition in Carioca Arena 3 on Saturday (10 September).
Adiljan Tuledibaev confirmed his country's place at the top of the medal table with a surprise victory in the men's over 100kg event.
To the astonishment of the crowd, it took Tuledibaev just two seconds to send Brazil's world number one Wilians Silva de Araujo crashing to the mat for ippon.
"I was very focused on making a great final, but he (Tueldibaev) got me in a moment when I wasn't concentrating," Silva de Araujo said.
It was a similar story in other events too, as Brazilian judokas featured in three finals overall, but were unable to win a gold.
As such, there was to be no perfect ending to the career of Brazil's four-time Paralympic champion Antonio Tenorio in the men's up to 100kg final.
The tenacity Tenorio showed in the earlier rounds was not enough to match Gwanggeun Choi as the Korean defended the title he won at London 2012 by securing ippon.
But, speaking afterwards, Tenorio was only taking positives from the day.
"I am happy with the silver medal," Tenorio said. "My goal was just to be here at my sixth Paralympic Games, to be on the podium for 24 years.
"The silver medal means everything to me. If I had left with another medal it would have been just the same."
Having previously said Rio 2016 would be his last Games, Tenorio also refused to rule out a return at Tokyo 2020.
"We will work until the next World Championships and then we will see what we are going to do." he explained. "If I have the condition for Tokyo, I'll be there, if not, I'll stop after the worlds."
Brazil's third silver medal of the day came in the women's up to 70kg event, as Mexico's Lenia Alvarez defeated Brazil's Alana Martins Maldonado.
Alvarez had made a statement of intent right from start, beating Azerbaijan's Gulruh Rahimova after just four seconds in the opening round. Parapan American Games champion Alvarez carried this aggression all the way to the final, where she pinned Martins Maldonado to take gold.
With big support from the crowd, the 21-year-old Brazilian was quickly over the initial disappointment.
"I am very happy to be here and be the second best in the world at home in Rio de Janeiro with a full arena." she said. "After the match I could hear all the guys screaming my name, it was fantastic."
China's Yanping Yuan confirmed her dominance in the women's over 70kg event with a third consecutive Paralympic gold medal. Yuan never once looked comfortable on her way to gold, eventually securing the title by pinning Uzbekistan's Khayitjon Alimova.
Despite never being troubled by her opponents, Yuan insists she had not been at her best.
"I fully implemented the strategy of my coaches, to take my time, I didn't rush in. But this is not my best performance," she claimed. "I've done better in previous competitions."
In the men's up to 90kg final Ukraine's Oleksandr Nazarenko made too many mistakes against Georgia's Zviad Gogotchuri. By conceding four shido fouls, Nazarenko incurred instant hansoku-make disqualification.
The gold medal caps an incredible run for Gogotchuri, who now simultaneously holds the Paralympic, world and European up to 90kg titles.