Vadovicova turns up the heat
Slovakian world and Paralympic gold medallist Veronika Vadovicova believes she is improving in all events ahead of the World Cup in Osijek, Croatia.
07 Jul 2015
Imagen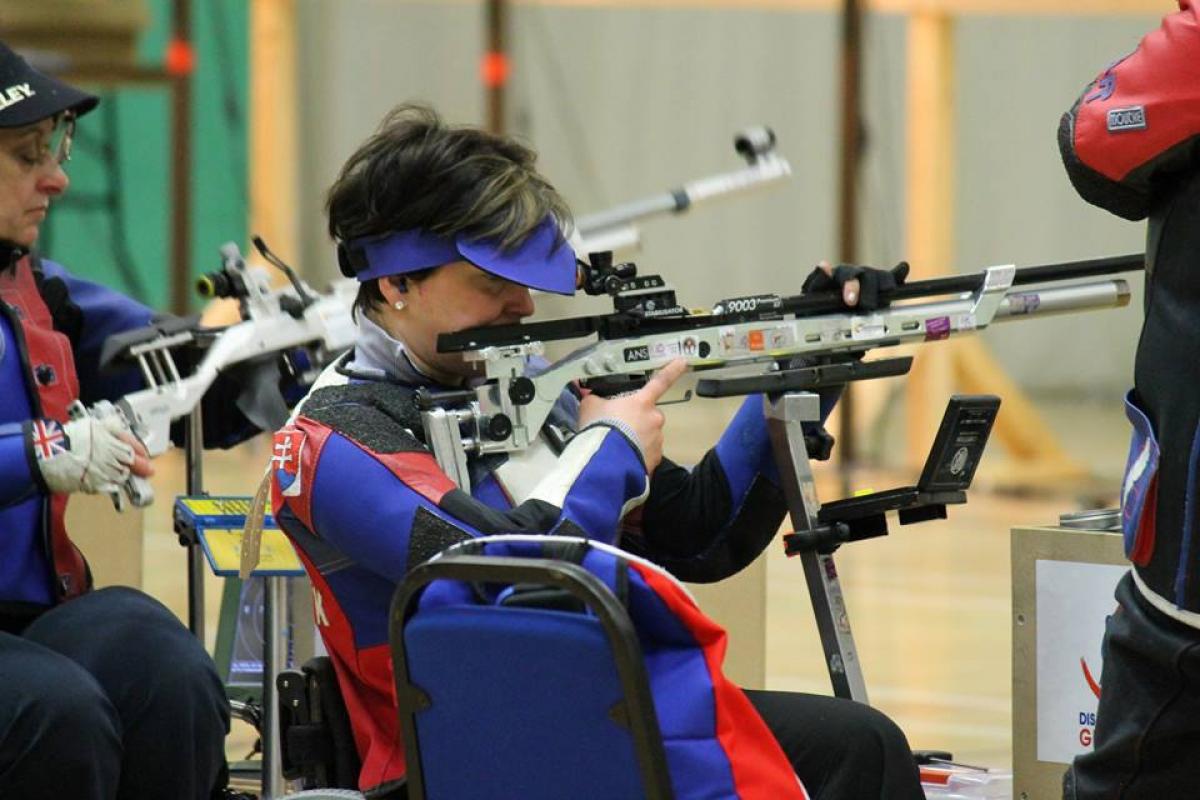 ⒸIPC
By Jake Smith | For the IPC
Slovakian world champion Veronika Vadovicova has sent out a warning to the rest of the field ahead of the first IPC Shooting World Cup Paralympic qualifier in Osijek, Croatia.
The 32-year-old has claimed that she is getting better in events where previously she had been unsuccessful, which does not bode well for her competitors with the Rio 2016 Paralympic Games fast approaching.
Vadovicova, who in recent seasons has enjoyed a return to the top of the podium, had initially given-up on R6 (mixed 50m rifle prone SH1) due to a lack of success. But despite not entering the event in Osijek, the Slovakian is still pleased she has managed to break the world record in training.
"I train equally for all disciplines but I wasn't achieving the results I wanted so I slowly knocked R6 from my training," she said. "However, after I replaced my rifle and with my coach I started improving in this discipline, which I am delighted about.
"My most pleasing moment was when I managed to score 629.0 during a training session in R6. It is a more demanding event because it requires many phases; elimination, qualification and final."
The official finals world record of 626.3 is currently held by Great Britain's Matt Skelhon thanks to a stunning performance at the 2013 Europeans Championships. Skelhon went on to win gold at the Worlds last year, leaving Vadovicova off the podium completely.
But so far in 2015, Vadovicova has enjoyed success with top three finishes in other events at World Cups Great Britain, Poland and Turkey. In Szczecin, Poland, she set a new world record in R3 (mixed 10m air rifle prone SH1).
"The whole year has been full on for me," Vadovicova said. "There were a lot of events in a very short space of time so it was difficult to prepare for each one properly. My goals and objectives are always the same; to work on myself to be better".
Vadovicova has already secured a quota spot for Rio 2016 after winning gold in R2 (women's 10m air rifle standing SH1) at the 2014 World Championships in Suhl, Germany. However she shows no signs of slowing down, knowing that selection to the team is not a certainty.
"I'm going to compete at the World Cup in Australia [the second Paralympic qualifier], but the rest of the season will be like every year; a regular and consistent training regime. I appreciate the new system of granting quota places because it keeps the competition fierce.
"There are a lot of exceptional shooters and also many newcomers who can be incredibly surprising. I don't see my competitors as rivals, but as shooters, which I appreciate because they can be very impressive. They are an inspiration to me for my training process."
Vadovicova is also acutely aware of how slim the margin of error is in her sport, which has seen her win gold at Beijing 2008 and bronze at London 2012. Even her form over the past two years does not give her comfort.
"To rely on the fact that the world record will ensure victory at the Rio Games would be ridiculous. Competitions are always difficult and Rio will be particularly tough because everyone wants the Paralympic gold medal. This sport is about every single detail, which can mean either a win or a loss. Only training can help and move forward."
The IPC Shooting World Cup in Osijek begins on Friday (10 July) until 14 July. Vadovicova will be one of more than 220 athletes from nearly 50 countries competing.
Live results will be available at IPC Shooting's website.