Vilde Nilsen rises to the challenge with second cross-country home gold
Vladislav Lekomtsev takes sixth victory in six events as Oksana Masters rounds off the championships with a second triumph
22 Jan 2022
Imagen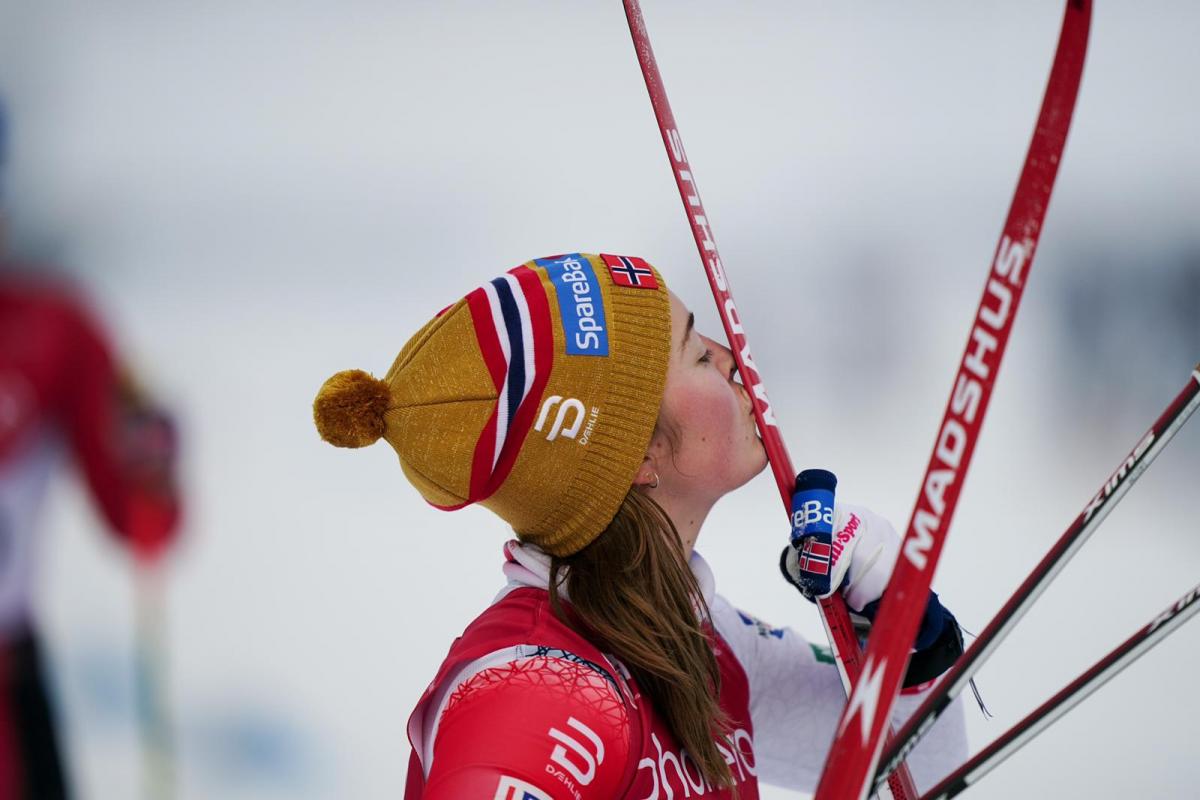 ⒸSamuel Andersen/Lillehammer 2021
By Mary Barber and Paloma Gutierrez | For World Para Snow Sports
Norway's Vilde Nilsen had the hopes of the nation on her shoulders going into the cross-country standing sprint on Saturday (January 22), but she rose to the challenge to win her second gold medal at the Lillehammer 2021 World Para Snow Sports Championships.
The crowds roared her on as she powered to the finish line 70m ahead of her nearest rival, USA's Sydney Peterson, in 2:59.40. The USA skier landed more than four seconds later followed by Ukraine's Liudmyla Liashenko, a bronze medallist at PyeongChang 2018.
It was a glorious moment for Nilsen, who had earlier in the week won gold in the middle distance classic and silver in the cross-country long distance. 
"I'm very proud of myself and very happy with two gold medals and one silver in the Championships," she said, as she thanked the crowd and the people around the country watching at home. 
"They helped me so much today. I have a lot of family and friends here cheering for me. I'm so happy for every single one of them and also for everyone that I don't know who has been cheering for me today. Thank you to you all."
The victories have now boosted Nilsen's chances of upgrading the silver she won at PyeongChang 2018 to gold at Beijing 2022.
"It feels amazing, and I want to keep this motivation for the Paralympics," added the 21-year-old, who moved to Lillehammer two years ago to train for the home Worlds.
SIXTH CROWN FOR LEKOMTSEV
It was also a super Saturday for the RPC, with Vladislav Lekomtsev proving, once again, that he was king of Para Nordic skiing in the standing class.
The 27-year-old won all six gold medals in the event: three in cross country and three in biathlon. Whether he had a rifle in his hand or a pole he conquered them all. 
In his final individual race, the cross-country sprint, he brushed off challenges from compatriots Rushan Minnegulov, who came second, Aleksandr Pronkov, third and Vitalii Malyshev fourth. Poland's Witold Skupien was fifth with the biggest cheer reserved for the host nation's two-time Paralympic gold medallist Kjartan Haugen. The 46-year-old came sixth. 
Despite an arduous schedule of races during the week, Lekomtsev cruised into the final where he finished in 3:30.22, which was four seconds ahead of Minnegulov.
"I am very happy to win again," said the world champion. "The competition takes maximum power to get to the final and it was a tough race. I am very glad to win today, and I am now looking forward to Beijing."
Another compatriot, Ivan Golubkov, won five gold medals in sitting events, which was particularly impressive as it was his debut World Championships. Like Lekomtsev, the 26-year-old was on target to take home six gold medals, but earlier in the week he missed five shots in the biathlon individual event, which left him out of contention.
But he made up for any disappointment in the cross-country sprint in Lillehammer, which he won in 2:40.58.
"I was not successful in one race, but all the rest went perfectly," he said. "I am happy."
In hot pursuit of Golubkov was also another standout star of the competition, Brazil's Cristian Ribera. He landed less than a second behind to take silver.
The 19-year-old had qualified the fastest for the finals and looked elated when he crossed the line to win his first World Championship medal.
What makes his appearance at his first World Championships even more remarkable was that he only sees snow once a year so has to rely on a rollerski to train. Ribera is now setting his sights on Beijing 2022.
He made history for Brazil when he placed sixth in the cross-country 15km sitting race at PyeongChang 2018. This was the best ever finish for the country at a Paralympic or Olympic Winter Games. 
The RPC's Danila Britik took the bronze in the sitting race, it was his third in Lillehammer. There were also wins for his compatriots in the men and women's cross-country sprint for the vision impaired. 
RPC DOMINATES VI RACES
Oleg Ponomarev, who was with his guide Andrei Romanov, took advantage of the absence of defending champion, Canada's Brian McKeever, who is the most decorated Para Nordic athlete of all time, with 19-time Paralympic golds. 
The RPC athlete saw off a challenge from USA's Jake Adicoff, the gold medallist in the middle distance event, to finish in 2:49.58. RPC's Vladimir Udaltsov came third.
There was drama ahead of the women's sprint VI race when favourite, RPC's Vera Khylzova, who was aiming for a fourth gold, took the wrong turn in the semi-finals. With heavy mist on the course, the 20-year-old's guide apparently went along the men's route, and she finished a minute behind.
With Khylzova out of the sprint, Anna Panferova stepped up to win her first World Championship gold in 2:54.60. Her compatriot Anastasiia Bagiian came third with Belarus' Sviatlana Sakhanenka in silver.
"I am very happy to have this medal, and to say thank you to everyone who has helped me," said Panferova, who competed with guide Andrei Zhukov. 
The USA's Oksana Masters also rounded off an excellent World Championships with a second gold, this time in the sitting sprint race. Her previous win was in the long distance race, and she also clocked up a silver and bronze.
The 32-year-old only had one lap to leave her mark and she made it count. The Paralympic champion was 20m behind Belarus's Valiantsina Shyts in the home strait, but she powered for home and finished a second ahead of her rival in 3:04.65. There was a battle for bronze, which went to the RPC's Natalia Kocherova.
An elated Masters, whose world champion teammate Kendall Gretsch came fifth in the race, said later: "It was an incredible race, everyone in it was so strong.
"It feels unreal to be the world champion. It literally feels like yesterday when I used to think that I would never be able to make a final."
It is just four months since Masters won two gold medals at Tokyo 2020 in Para cycling. She also won another two in Para cross-country skiing at PyeongChang 2018. Her sights are now on Beijing 2022.
"Beijing is going to be very similar to the course in Lillehammer, so it has been good to know what I need to work on and my strengths," she added. 
CLOSING DAY
The Para Nordic skiing action concludes on Sunday (23 January), closing day of the World Championships, with the mixed and open relay events.
The relays will be streamed live on the World Para Snow Sports Facebook page and the Para Nordic skiing website.
Pictures for editorial purposes are available on Flickr.