What a Storey for Britain in velodrome
Cyclist Sarah Storey, 38, becomes her country's most decorated female Paralympian on first day of track cycling action at Rio 2016.
08 Sep 2016
Imagen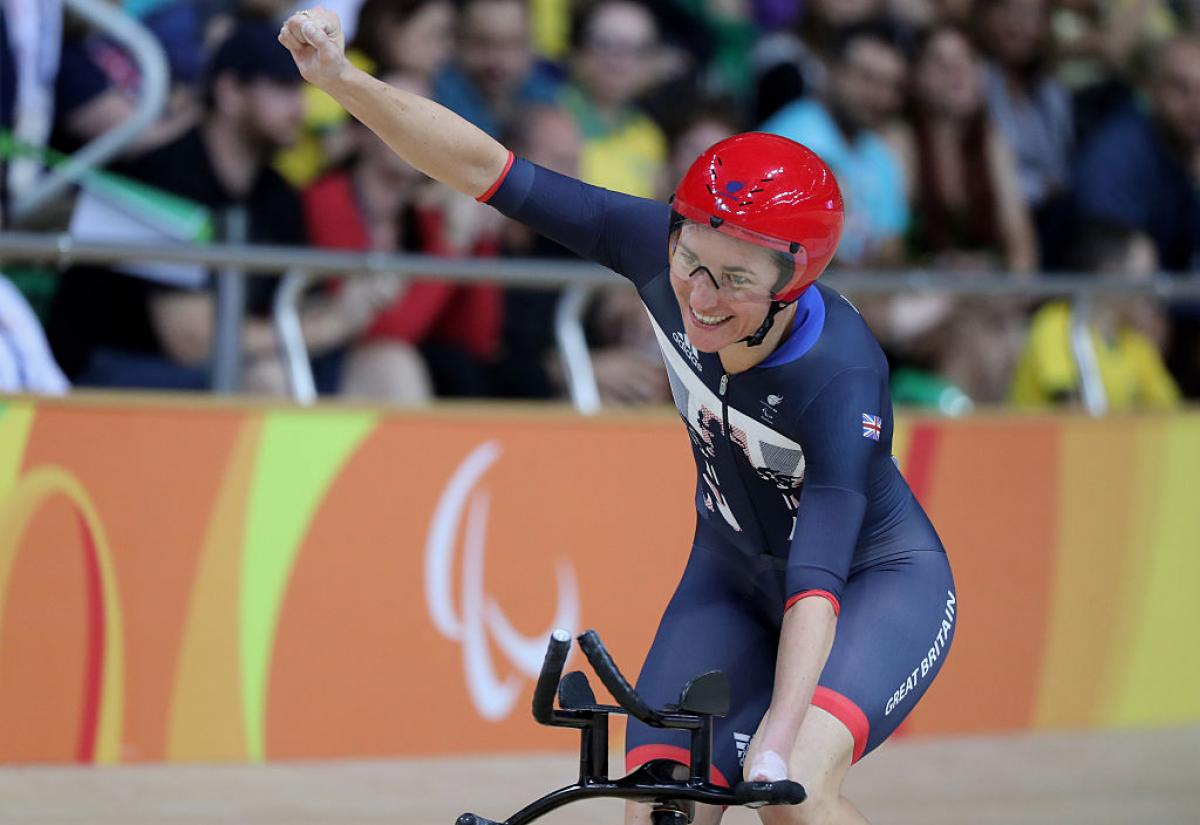 By IPC
It was Great Britain's day in the velodrome, winning three gold medals in the individual pursuit event as Sarah Storey wrote her name into the history books.
With her victory in the C5 pursuit on Thursday (September 8), Storey claimed the 12th Paralympic title of her career and became Britain's most successful female Paralympian of all time.
The 38-year-old, who had won 16 Paralympic medals as a swimmer before she took on para-cycling, once more dominated the competition in Rio.
"It is something everyone else has had over my head. I had not thought about it until two days ago when everybody kept asking me about it," said Storey, who was congratulated by her daughter after the race.
"She said, 'Well done, mummy'. It is great having her here with Barney (husband) and my mum and dad."
After shattering her own world record in qualifying with a time of three minutes 31.394 seconds, Storey wiped out Crystal Lane in the final race, after she overtook her fellow Brit after the 1000m mark.
Storey has now snatched every Paralympic track title since the Beijing 2008 Games.
In the race for the bronze, US para-cyclist Samantha Bosco (3 min 54.697secs) beat Polish Anna Harkowska by 0.004 seconds, a disappointing result for Harkowska, who won the silver in the event at the 2012 London Games.
Fellow American, first-time Paralympian Shawn Morelli (3 min 59.407s) came away with the C4 gold after beating Australian Susan Powell in the final race. World Champion Morelli shot ahead of Powell by 5.387secs.
The 40-year-old also improved the record set by the Australian at the London Games after she clocked 3min 57.741secs in qualifying.
The bronze went to American Megan Fisher (4min 04.081secs), who defeated New Zealand's Katherine Horan (+0.356s) in the race for third place.
Megan Giglia (C3), also a first-time Paralympian, took victory in the C1–3 class and came away with the pursuit gold after catching up with American Jamie Whitmore (C3) just after the halfway mark.
"It hasn't sunk in yet," said Giglia. "It will when I see everyone. I've got my teammates, my family members backing me up. To be honest I didn't think I'd even make it to Rio, so this is amazing."
Reigning World Champion, the 31-year-old Briton broke her own world record, set earlier this year, in qualifying in 4min 03.544secs.
In the race for third place, Dutch Alyda Norbruis (C2) beat China's Sini Zeng by 7.076secs. After smashing her category's Paralympic record in qualifying, Norbruis once again lowered her time in the final race, clocking 4min 10.654secs.
In the men's competition Steve Bate and pilot Adam Duggleby took home the Paralympic gold in the 4000m tandem pursuit. The British team finished the final race in 4min 08.631secs, 1.663secs before Dutch duo Vincent ter Schure and Timo Fransen.
"It feels fantastic." said Bate. "I am still trying to let it all sink in, but I just feel super stoked to have done it."
Bate and Duggleby were the fastest qualifiers, with a new world record of 4 min 08.146s. Australian Kieran Modra, who had set the world record spectacularly at the London Games, had to resign himself to sixth place this time around, alongside pilot David Edwards.
"We knew we were in form and good shape coming into the Games," added Bate. "It is just great to come here and go up against Kieran Modra in the qualifying round. He has dominated this for years, so to go up against him and beat him and break the record was just fantastic."
The other podium position went to yet another Dutch team. In the race for third place, Stephen de Vries and Patrick Bos (4 min 15.769s) beat Spanish Ignacio Avila Rodriguez and Joan Font Bertoli by 0.905 seconds.
The individual pursuit event continues on Friday at the Rio Olympic Velodrome.
Twitter: Storey of success as Great Britain land three golds in velodrome.
Facebook: How's that for a happy ending? Sarah Storey celebrates with her family in the velodrome on a golden opening day for Great Britain.