Wilkinson-Burnett shows promise at World Cup in Duisburg
The British para-canoeist strikes gold in her international debut; five other countries also claim medals.
28 May 2015
Imagen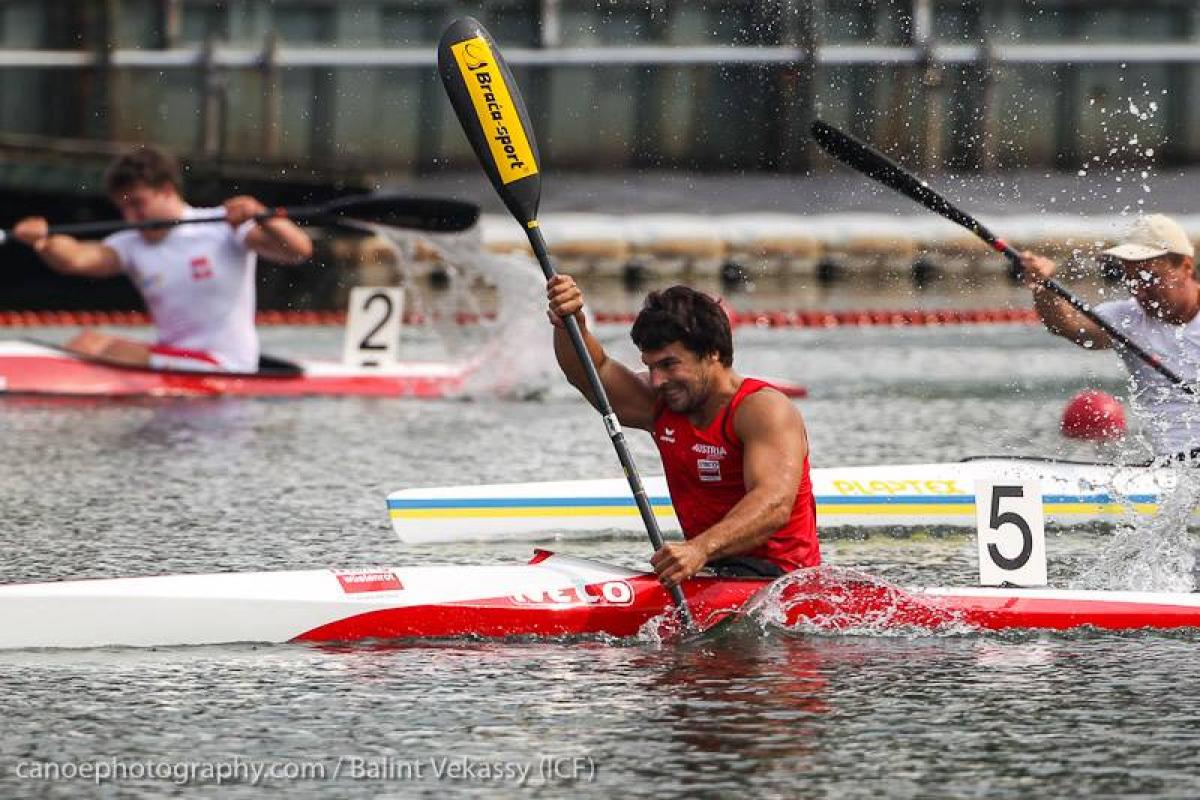 ⒸICF
By NPC Great Britain
Following Great Britain's six medals at the European Championships earlier in May, the British decided to give their developmental team experience at the International Canoe Federation (ICF) Canoe Sprint World Cup (21-24 May) in Duisburg, Germany.
British Canoeing sent a team of three men and three women to Germany to be officially classified and make their international debut.
All six made their respective finals, with Charlotte Wilkinson-Burnett making the biggest splash by capturing gold in the women's KL1 200m. She finished in 57.787, which was more than two seconds clear of Germany's Edina Muller; USA's Alana Nichols took bronze.
"It has not quite sunk in yet," Wilkinson-Burnett said. "I arrived a week (before the event) and have had to wait until one of the very last events to race. To win was awesome and I am still on cloud nine."
"We came here to get classified and to have a good learning experience rather than it being about the performance, although I did have my own expectations," she added. "If I look back six weeks, I was not sure I would get here, having battled with a shoulder injury since last Autumn. So to have won and now have the opportunity to build on this and hopefully get selected for World Championships (in August) is surreal."
Also making the podium for Great Britain was Tim Lodge, who finished third in the men's KL3 200m. Germany's Tom Kierey cruised to gold in 41.305 seconds, and Russia's Artem Voronkov took home silver.
"I knew my times were good but was not sure how I would cope with the pressure of competition," Lodge said. "I was really nervous on the start line, so to get bronze, I am ecstatic."
Added Great Britain's para-canoe programme manager Steve Harris: "We came here with the aim of giving our second and third placed boats in Paralympic events the opportunity to get international racing experience. They all coped extremely well with the step-up to the demands of competing at this level and in addition have put down some great performances, good enough to make the finals."
"Heading into our World Championship trials in July, we feel very well placed, following an outstanding European Championships earlier this month by our senior squad and now with our development squad gaining valuable experience here.
Canada's Christine Gauthier won the women's KL2 women's 200m, finishing more than six seconds ahead of Argentinean Brenda Sardon (1:00.357).
On the corresponding men's event, Austria's Markus Mendy Swoboda defeated Puerto Rico's Eddie Montanez with a time of 46.904sec.
France's Cindy Moreau claimed the KL3 event in 54.766, followed by Italy's Veronica Yoko Plebani and then Spain's Silvia Elvira.
Brazil's Fernando Fernandes de Padua won the KL1 arms-only men's event, beating Italy's Salvadore Ravalli and Argentina's Lucas Nicolás Diaz.
Find complete results of the ICF Canoe Sprint World Cup in Duisburg here.