Will 2016 be Zsuzsanna Krajnyak's golden year?
In her fifth Games, the Hungarian wheelchair fencer hopes to finally win that elusive gold medal.
11 Sep 2015
Imagen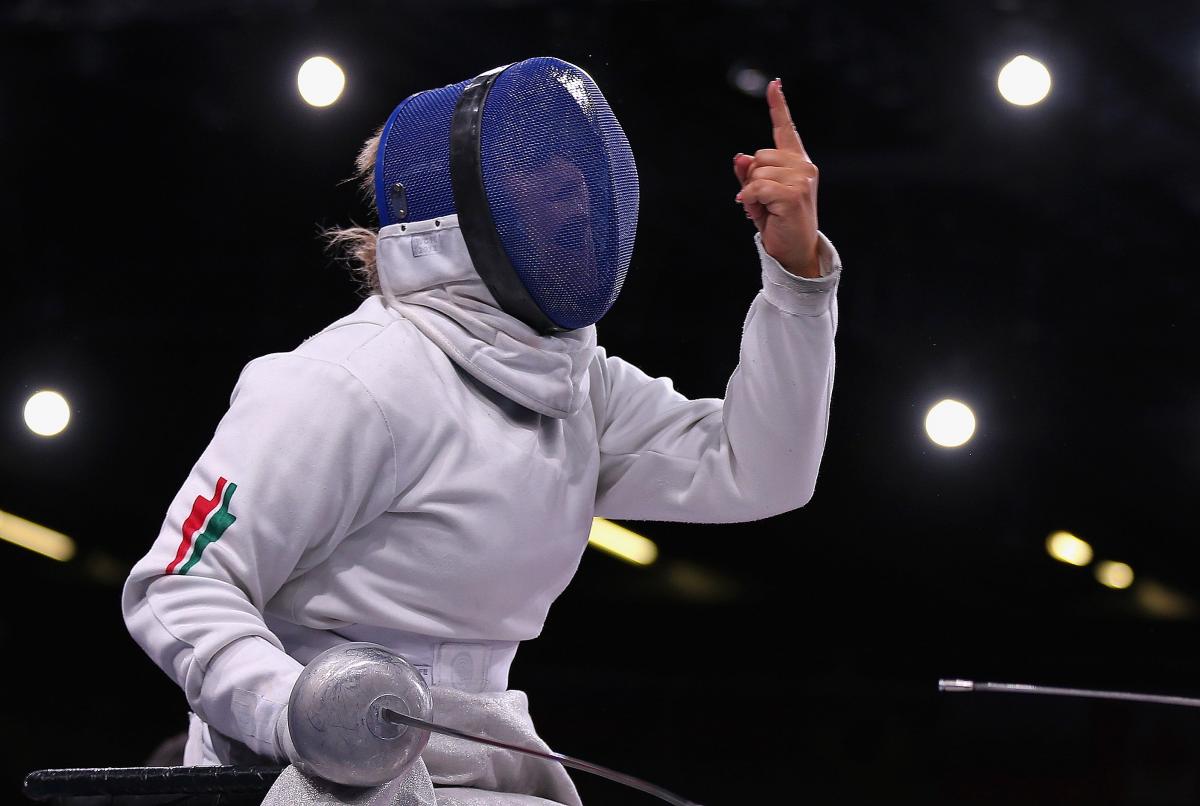 ⒸGetty Images
By Mike Stuart | For the IPC
"Whether the Paralympic Games or any other competition, my aim is always the same: winning the gold medal."
With just under a year to go until the Rio 2016 Games, Hungary's Zsuzsanna Krajnyak is closer to winning that elusive Paralympic gold medal. Krajnyak has competed in four Paralympic Games, taking home eight medals from three. But that collection is filled with too much silver and bronze.
"I know there will be many good fencers in Rio, so it will be hard both physically and mentally," Krajnyak said. "I am working to balance both aspects, and I am doing everything I can for the best result in Rio."
Near misses
At her first Games in Sydney 2000, Krajnyak won bronze in both the category A epee and foil disciplines. Then at Athens 2004, Krajnyak captured bronze again in the epee and but narrowly missed the podium after losing to France's Patricia Picot in the foil.
Beijing 2008 was the only Paralympics where Krajnyak did not win a medal, missing out by just a point in a 15-14 loss to Hong Kong's Fan Pui Shan in the epee event.
At London 2012 too, Shan's teammate Yu Chui Yee was too much for Krajnyak, who reached the epee finals but lost 15-6 to take the silver.
That elusive Paralympic title is still in reach at Rio 2016.
"Whether the Paralympic Games or any other competition, my aim is always the same: winning the gold medal," Krajnyak said. "So far I could not get the gold at the Paralympic Games, but the objective does not change."
Bringing it home
Krajnyak's training regime involves sessions of two and three hours at least once, and often twice, per day.
The important part is that she is seeing results.
Currently ranked No.1 in the world in the women's category A epee discipline, Krajnyak has taken titles in her last two World Cup events: in May's event in Pisa, Italy, and in July's competition in Warsaw, Poland.
The 36-year-old can culminate those performances into a world title, and do so on home soil this month.
Next up is the International Wheelchair and Amputee Sports Federation (IWAS) World Championships in Eger, Hungary, which begins Thursday (17 September) and runs until 24 September.
"My family and my friends will be there cheering for me, and that gives me so much power," Krajnyak said. "I think this is the biggest advantage, but I like competing, and especially winning, anywhere anytime.
"Fortunately I had a short break after the World Cup in Warsaw, but at the beginning of August, I started training again. Up until now, my preparation has been fine and I hope I can maintain this good shape."
Team gold
Krajnyak was part of the Hungarian lineup that won silver in both the women's team epee and foil competitions at Athens 2004. Krajnyak then added another team silver at London 2012, where she was part of an all-star Hungarian lineup alongside Veronika Juhasz and Gyongi Dani.
"There is a very nice atmosphere in our team," Krajnyak said. "All of us want to win, so all of our opponents need to fight hard against us."
"I adore fencing, competing and winning," Krajnyak said. "I have a coach, Viktor Feczer, who has taught me many things and still teaches me more every day. He knows a lot about fencing and gives me power. I trust him and he trusts me. We work together and win together. That is the secret (to Hungary's podium success)."
Tickets for the Rio 2016 Paralympic Games are now on sale for Brazilian residents. Overseas fans will be able to buy from authorised vendors in their countries.
Follow the IWAS Wheelchair Fencing World Championships at the IWAS's Facebook page.