Will Norman: why some top blind footballers are raving about the European club scene
Great Britain's two-time football 5-a-side Paralympian shares his view on how sports can bring together communities from across the world.
24 Feb 2017
Imagen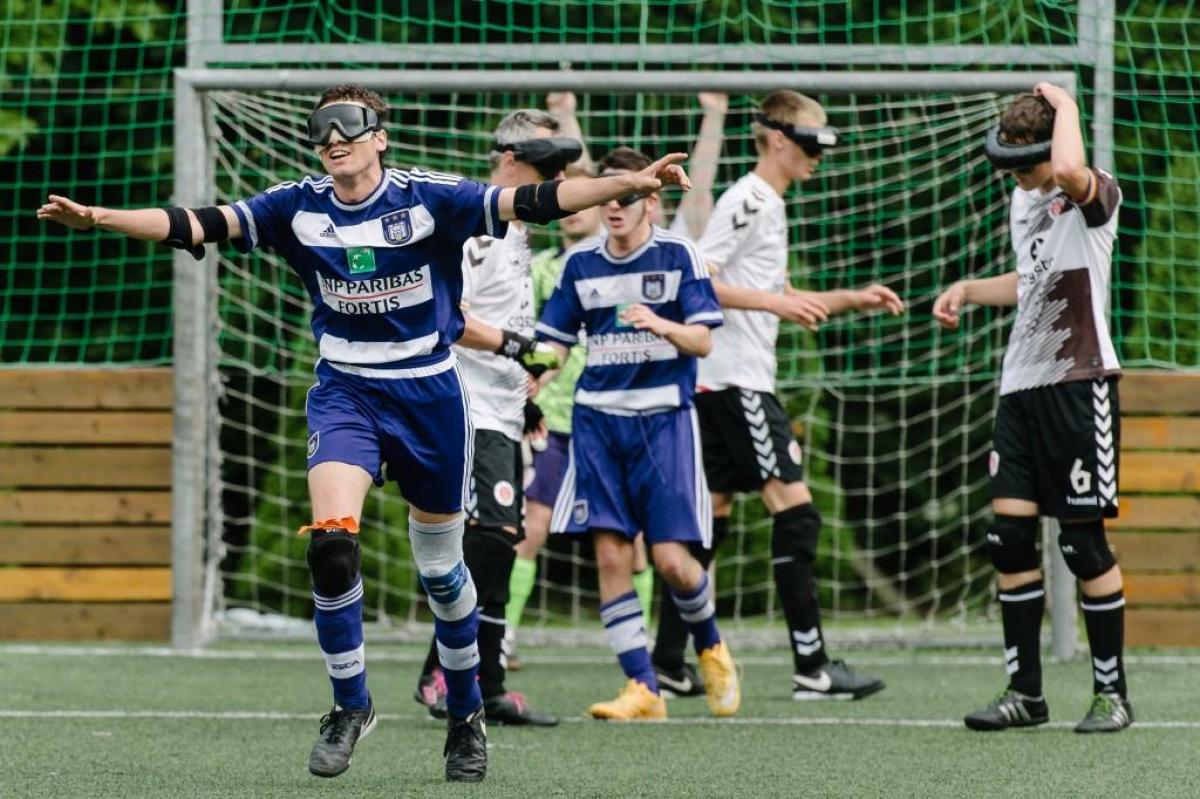 ⒸStefan Groenveld
By Will Norman | For the IPC
"The blind football community that has developed in central Europe in recent years is fantastic."
Imagine if you could have the thrill of the Paralympics mixed with the fun of the best party you have ever been too, and the warmth and friendship of a family meal. It is hard to achieve.
Intense competition does not always lend itself to fun and fellowship, but the team behind the annual Bucovice Blind Football Cup in the Czech Republic have hit upon a formula that has attracted the attention of some of the sport's biggest names from across the globe.
A dedicated team from Masaryk University, led by Jitka Graclikova, Tomas Bukovsky, and Lukas Masilko, with the support of many friends, works tirelessly to raise the EUR 18,500 needed to fund the tournament each year. This labour of love takes the entire year to complete.
Graclikova is a human dynamo with a fervent passion for blind football, but where did her love for the sport come from?
"I first heard about blind football in 2007 from a friend of mine who was a student at Masaryk Uni," she explained. "He said he had always wanted to try the sport but had not had much support from the main organisations in the Czech Republic."
"Masaryk is a big university with a lot of visually impaired students, and it struck me that, with no national team in our country and little interest from the major organisations to establish one, perhaps we could start building something at the club level, and so our club Avoy Brno was born."
As they strove to learn more about the game and develop their sporting talent, the team from Brno established a strong network of contacts throughout Europe. The first stop on their odyssey was the University of Worcester in Great Britain, where Graclikova and the Avoy team met David Mycock, Course Leader for Worcester's Innovative Sports Coaching and Disability Sport degree.
"Jitka first came over with a group of players and staff in 2009 to learn a bit more about blind football and adapted coaching methods, and it was great to be able to share some ideas and show them the basics," said Mycock. "Blind football is a hard sport to get to grips with. It is technically very complex, so in those early days we focussed more on having fun and keeping everyone engaged."
Former British team captain Keryn Seal was just one of several international blind footballers who were studying at the University of Worcester at the time, and he remembers the first Czech visit with great fondness.
"They might not have had a clue about how to play, but they were a team, even then," he explained with a laugh. "They had a passion for sport, a drive to improve, and they were determined to do it together, one in all in, as friends, and for fun. That was what struck me back then and that is what still stands out for me about Avoy now."
As Avoy Brno began to solidify in to a real team, they were invited to participate in club tournaments already established in other European countries, particularly in Germany, to help provide some invaluable match experience. In 2013, Graclikova and her team decided to reciprocate, hosting their own tournament, the first Bucovice Blind Football Cup (BBFC).
"So many people helped us establish blind football in the Czech Republic," she said. "And we just wanted to say thanks, so we decided to throw a big football party for all our friends across Europe."
With its unique blend of intense sporting competition and trans-national comradery, the annual BBFC tournament is something of a footballing utopia, an example of all that is best in sport. The Moravian sun illuminates a fierce sporting contest by day and by night, the stars glow and the beer flows as players enjoy conversation, celebration and song.
Indeed, such is the lure of BBFC that the finest players from across the world seek passage to Bucovice. Blind football superstar Jefferson Gonçalves has travelled all the way from Brazil with his Bahia team, and the University of Worcester blind football team, led by Keryn Seal and coached by Dave Mycock, and stocked with British Paralympians, won the tournament in 2016.
For Seal, a two-time Paralympian with over 100 appearances for his country to his name, the European club scene is a luminescent example of the power sport has to forge new communities where previously there were none.
"The blind football community that has developed in central Europe in recent years is fantastic. There is a lot of innovation going on there. In Germany, they are trying things like holding tournaments in shopping centres so that the game is really brought to the public's attention," he said.
But for Seal, it is the spirit of friendship that really defines this burgeoning European club scene.
"I love the fact that, eight years ago, the guys from Brno came to Worcester to learn about blind football. And now, it is I, with over 100 international caps, who is learning from them," he said.
"I have played in a couple of tournaments for Brno, and the way they share their time, enjoy each other's company at meals, travel around these European cities together, it is like a family. They are not the best team, but they have won plenty of tournaments because they play for each other, and remember to enjoy themselves.
"I was playing in a semi-final for Brno, against St. Pauli from Germany, who found themselves reduced to only three outfield players because of injuries. Our coach immediately took off one of our players, even though they were not injured, so that the game was 3-a-side.
"'There,' he said, 'now it is fair again'. You certainly would not see that kind of attitude everywhere, and yet it goes to the very heart of what sport, everywhere, should be about."