Wimbledon 2018: Diede De Groot finishes top
Dutch player takes her second consecutive trophy at the All England Club
15 Jul 2018
Imagen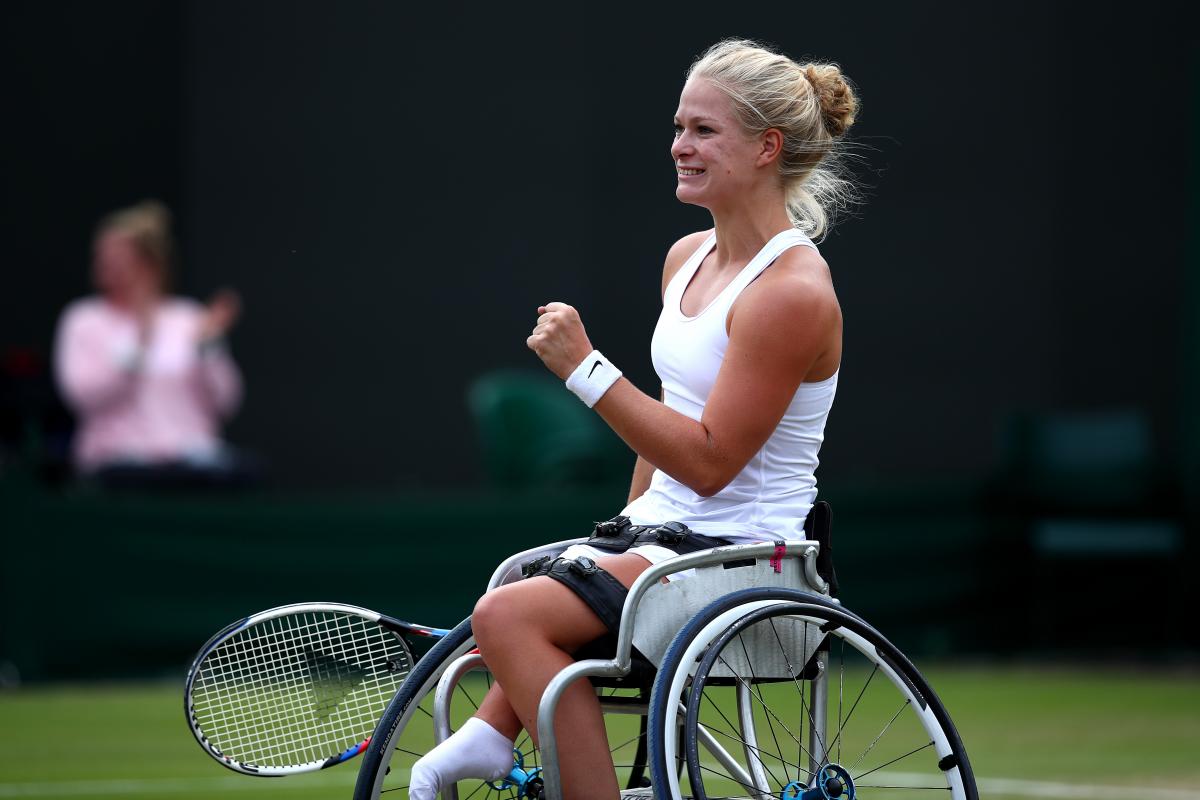 ⒸGetty Images
By ITF
Diede de Groot has rated her second Wimbledon women's wheelchair title as more satisfying than her first, for it is one thing to win a championship as prestigious and as big as this one, and another to return and back it up.
"It was my first time that I was defending such a big title. It was quite tough to get back here and make sure I did it again,'' said the Dutch world No. 1 after her 6-3, 6-2 defeat of compatriot Aniek van Koot.
"I will never forget my first Slam and that will always be something very special, but it feels amazing to come back here and be able to play a great final and win it.
"I think this year I did have to play tougher matches; the opponents were playing well and put up a big fight, so I had to fight for it as well, and it was mentally also a lot tougher.''
De Groot won the first five games, before a few more errors and double-faults started to creep into her game, but the 21-year-old was pleased she was able to steady and close out the latest contest against her and van Koot. Friendship and familiarity can be problematic, sometimes.
"It is quite a different situation. You train together, you travel together, sometimes you play in a team together, sometimes you play doubles together,'' de Groot said.
"So it's just a funny situation where you are playing someone you know very well and you know their game very well. You don't really have secrets from each other, but still you need to beat them.''
Done. A third major has been added to last year's at the All England Club and her January triumph at Melbourne Park. Her game is still a work in progress, stresses de Groot, including tactically, and her serve still a little prone to double-faults. "I have worked a lot on it. It's still something that isn't great. When it's in, it is a good serve, but it needs to go in more times,'' she smiled.
Still with room for improvement, too, is the profile of wheelchair tennis in Netherlands, a country with a rich history in the sport, but one which de Groot fears has become slightly complacent as a result.
"I think in such a small country we can play together, we can learn from each other, we can train all of us at one place. I think that really helps us to keep the level high. But I do think we need some younger players. A lot of countries are developing and we have been very lucky, and that's why we've been standing still, I think, so I think it's really important to keep that new talent coming.''
She is still a young one herself, but already at the top of the game, and keen to spread the word. "There was so much difference between the attention I got for winning Wimbledon last year and then winning the Australian Open and getting a lot more,'' said de Groot. "So I think it definitely helps, and the more you can grow your own profile, the more you can grow the rest.''
Men's doubles
In the men's doubles final, British second seeds Alfie Hewitt and Gordon Reid completed a Wimbledon three-peat, 6-1, 6-4 against singles finalist Stefan Olsson and his Belgian partner Joachim Gerard before a vocal crowd on Court No. 3.
"I think they're all special,'' Hewett said. "Every year to come back and win it, it's tougher each year. People kind of expect you just to win it. We know that's not the case. There's a lot of strong guys out there.''
The familiarity and stability that comes from spending four years together as a pair has been beneficial, according to Reid, the senior member. "We keep getting better every year as a partnership. There's not too many teams that are actually sticking together each tournament at the moment, apart from maybe us and the French guys (Stephane Houdet and Nicolas Peifer).
"I think that's something that really helped us over the years. We've got a strong bond on court. I think we make ourselves very hard to beat. Hopefully we can continue to improve in the future.''
Four matches featured on Saturday's penultimate day of play at Wimbledon, with Sabine Ellerbrock and Lucy Shuker returning to court to complete a 3-6, 6-4, 6-4 victory in their women's doubles semifinal, which was suspended on Friday evening due to bad light. Ellerbrock and Shuker resumed the contest on Saturday leading 3-1 in the final set and they maintained their two-game cushion to beat Dutch second seeds Marjolein Buis and van Koot and reach their first final in five successive Wimbledon campaigns as doubles partners.
Ellerbrock and Shuker play de Groot and Kamiji in Sunday's final.