World champions steal show in Cuijk
Olena Chynka wins four golds in first competition of season
03 Apr 2018
Imagen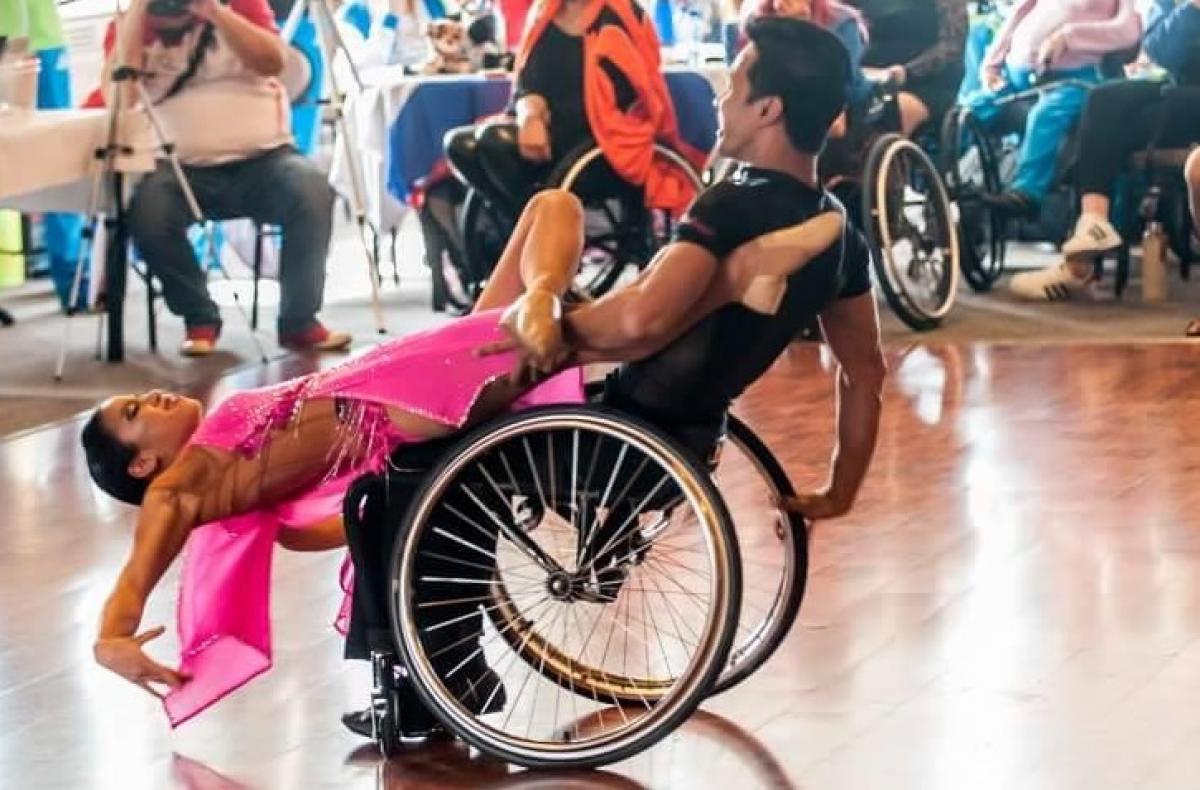 ⒸArjan Broekmans
By IPC
Returning world champions stole the show at the first World Para Dance Sport competition of the year, which concluded on Sunday (1 April) in Cuijk, Netherlands.
The Cuijk 2018 Para Dance Sport international competition saw 14 medal events, with Ukrainian dancers topping the medals table with nine golds.
Olena Chynka led the delegation, winning all four of her events, which were the same that she had won at the Malle 2017 World Championships last October. Chynka was the top performer in both the women's single and single freestyle class 2.
Joining her on the single freestyle podium were Austria's Sanja Vukasinovic with second place, followed by Belgium's Sofie Cox. In the women's single, 19-year-old Dutch dancer Jessy van de Pol took runner-up, and Cox completed the podium.
Chynka then added two more victories with dance partner Oleksandr Onischenko in the duo Latin and standard, both that combined 1 and 2 classes.
Chynka and Onischenko held off a strong performance from compatriots Illona Slugovyna and Valerii Bevziuk in the duo standard; Cox and partner Sander Deckx took home the bronze.
In the duo Latin, Cox and Deckx; and Finnish couple Hanna Ihantola and Karl Andersson completed the top-three, respectively.
Two-time world champion Slugovyna did leave with two golds, one in her strongest event – the women's single class 1. Belgium's Roswitha van Dorpe was second, and Slovenia's Nastija Fijolic was third.
Slugovyna then joined Andrii Tovstyl to win the combi standard 1, an event they took Worlds silver in. Belarusians Alesia Aliakhnovich and Maksim Shylau took the next best marks behind the Ukrainians to finish runner-up. Germans Birgit Habben-Kober and Reiner Kober completed the podium.
Another Ukrainian world champion left Cuijk with two gold medals, as Ivan Sivak out-performed compatriot Bevziuk in the men's single class 1 and 2 combined. Deckx rounded off the top-three.
Sivak's second win came in the men's freestyle 2.
Since making their World Championships debut last October, Cape Verde returned to the dance scene and dazzled in Cuijk. Nilson Pires secured his first international medal with second behind Sivak in the freestyle, and his compatriot Declanisangelo Goncalves took home bronze.
Double-reigning world champions Rhea Marquez and Julius Obero captured the judges' hearts, twice.
The Filipino couple won the combi Latin 1 and 2 combined, bumping Ukrainians Veronica Pedchenko and Bevziuk to second. Germany's Vanessa Zellmann and partner Stefan Kuhne were third.
Marquez and Obero's technical skills helped them to victory in the combi freestyle 2. Cape Verde saw its third medal in Cuijk when Miriam Medina and Goncalves danced to the silver. They bested Ukraine's Svitlana Onopa and Onischenko, who took bronze.
In the class 1 equivalent, Ukraine again took the top spot, courtesy of Veronika Pedchenko and Bevziuk. Finnish duo Tuuli Harju and Timo Pyykkonen came second, and Greece's Evanthia Champia and Andreas Stratoudakis third.
Belarusian world champions Hanna Harchakova and Roman Usmanov were the strongest couple in the combi standard 2. Dutch duo Sharon Schleepen and Alex Glijn, and Japan's Ito Katsushi and Shuto Tomomi were two and three, respectively.
Belgium triumphed in both single freestyle 1 events. Roswitha van Dorpe won the women's event, followed by Fijolic and then Finland's Pirjo Pappila. Deckx was the lone dancer in the men's equivalent.
Complete results from the Cuijk 2018 Para Dance Sport international competition are available on World Para Dance Sport's website.