Worlds rematch delivers win for Sweden
Sweden beat China on home ice
Canada are unbeaten after three games
06 Mar 2022
Imagen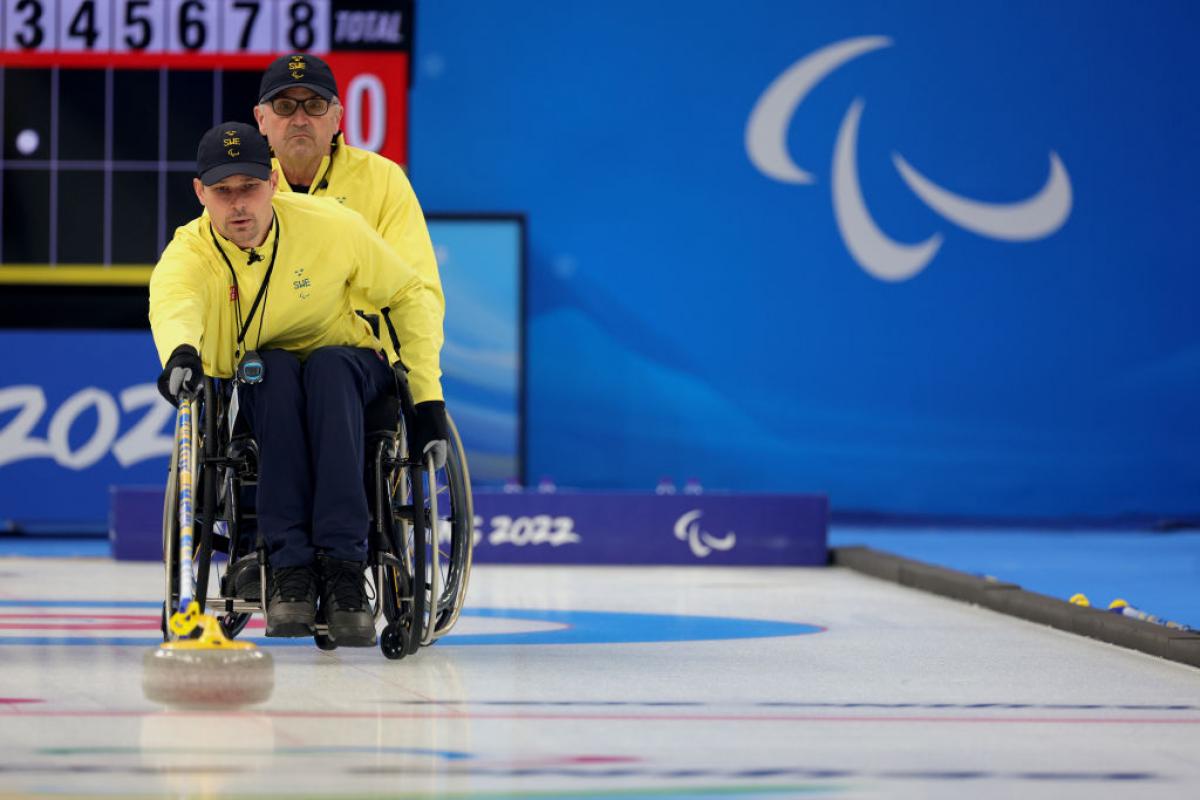 ⒸGetty Images
By World Curling and the IPC
Sweden showed their strength against defending Paralympic and world champions China in the wheelchair curling round-robin at Beijing 2022 on Sunday (6 March), in a replay of the gold medal game from the 2021 World Championships.
In their morning game, the Swedes blanked the first end and got forced to a single in the second.
They took a commanding 4-0 lead after China's skip Wang Haitao was heavy on his last draw, sliding past two Swedish stones for a steal of two points.
With another well played end by Sweden in the sixth, China faced a challenging raise take-out where they just missed, and gave up another steal for a 5-0 score.
The Chinese clustered their stones in the four-foot ring throughout the seventh end, hoping for a Swedish miss to enable a big score, but with a perfect freeze by third Ronny Persson, this would be a challenge. China made a freeze right back, but this meant they could only score one point to make it 5-1.
In the eighth end, Sweden ran China out of stones to win, 5-1.
"It feels very good today!" said Sweden's lead, Kristina Ulander. "We did a good job and stayed focused on all stones."
On the seventh end, she shared, "We felt very safe. We think they could only take one of two, so we felt very confident."
China did however get off the mark in their second game of the day against Estonia, winning 9-3.
Canada continue winning streak
Canada, who collected two wins on the opening day, faced a unique situation against Latvia in the first end of their afternoon game.
Once all of the stones were thrown, the Canadians required a measure to see if they would score one or two points. The stone needing to be measured was accidently removed by a volunteer, leaving the Canadians with a choice. They had the option to take one point or replay the entire first end. They elected to replay the end, and they scored four points.
"I've never experienced something like that before, so that was new to me and to have the choice to play the end over again or take the one, it was a difficult decision, but I think we made the right one," said Canada's skip Mark Ideson.
"We stayed patient and just regrouped, wiped the slate clean and started again", he added.
After this, Canada secured two in the fourth end with a draw to the four-foot by fourth player Jon Thurston to take a 6-2 advantage.
In the fifth, the Canadians got a steal of four when Latvia was light on their draw, on way to their 10-3 win.
Canada are ideally placed at the end of day two. Ⓒ Getty Images
Estonia make their debut
In Estonia's first ever showing at the Paralympic wheelchair competition, they opened with a single point against the USA. 
The Americans responded with a score of three in the second end and then scored four in the fifth end to go up 7-3.
The USA faced a draw to the button for one in the seventh end, but came up light giving Estonia a big steal of two, 7-6.
The Americans held on in the final end, without having to throw their final stone, to win their first game so far, 9-6.
"I think we've just concentrated more on execution," said the USA's Stephen Emt.
"Everything going on at the Paralympic Games, first day's over with, and now just hit the broom, hit the weights and execute. Yesterday we've missed a couple of shots that we shouldn't have. So just execution today and it worked out for us."
"We always have fun, no matter what's going on. That's important. We believe that having fun is gonna win games, not the other way around. We stay together and we're a family", he added.
Swiss just edge South Korea
In a game where both teams were in search of their first win, South Korea got off to a strong start scoring four in the second end to go up 4-1. 
Switzerland battled back in the fifth end with three points to level the game 5-5. In the sixth, the Swiss were looking to steal when South Korea made a perfect double take-out with their final stone to secure a 6-5 lead.
The Swiss secured two points to tie the game in the eighth, despite having a draw to win, forcing an extra end.
After a draw to the pin, behind a wall of guards, Switzerland stole one to win, 8-7.
Slovakia take on Norway
The Norwegians opened the game with a single point, followed by a steal of two in the third and a steal of one in the fourth for a 4-0 lead.
In the fifth end, Slovakia's fourth thrower, Peter Zatko made a perfect runback for three points to mend the gap, 4-3.
But, in the sixth end, after Zatko went through the house on his final draw, Norway was left with a chance for three points to take a big 7-3 jump in the game.
With a further steal of two in the seventh, Slovakia shook hands, 9-3, giving Norway their second win of the competition.
Ole Fredrik Syversen, Norway's third said, "We had a good start, we knew the ice better than yesterday, we have better feelings and we believe in ourselves and we did what we wanted to do."
Norway have two wins and one loss heading into day three of round-robin play. Ⓒ Getty Images
Commenting on the runback by Slovakia he said, "In the fifth end they got three, and we tried to make a shot so they couldn't make the runback but, he had the run-back and he made it."
"We took a very strong end back in the seventh end with three, and I think that was the game, so we are very happy. We have a good strong team, and good motivation in the team."
Slovakia and Norway both went on to lose their games against Latvia and South Korea, respectively, on Sunday. The Koreans won 9-4 whilst Slovakia lost out to the Latvians 8-4.