Day 1 review: Chinese medal rush underway at Beijing 2022
China win eight medals in Para Biathlon and Para Alpine Skiing on day one
Ukraine top the overall medals table with an incredible start that includes a trio of golds
Six different countries end the day with golds in Para Alpine Skiing, including Henrieta Farkasova's 10th Paralympic title for Slovakia
05 Mar 2022
Imagen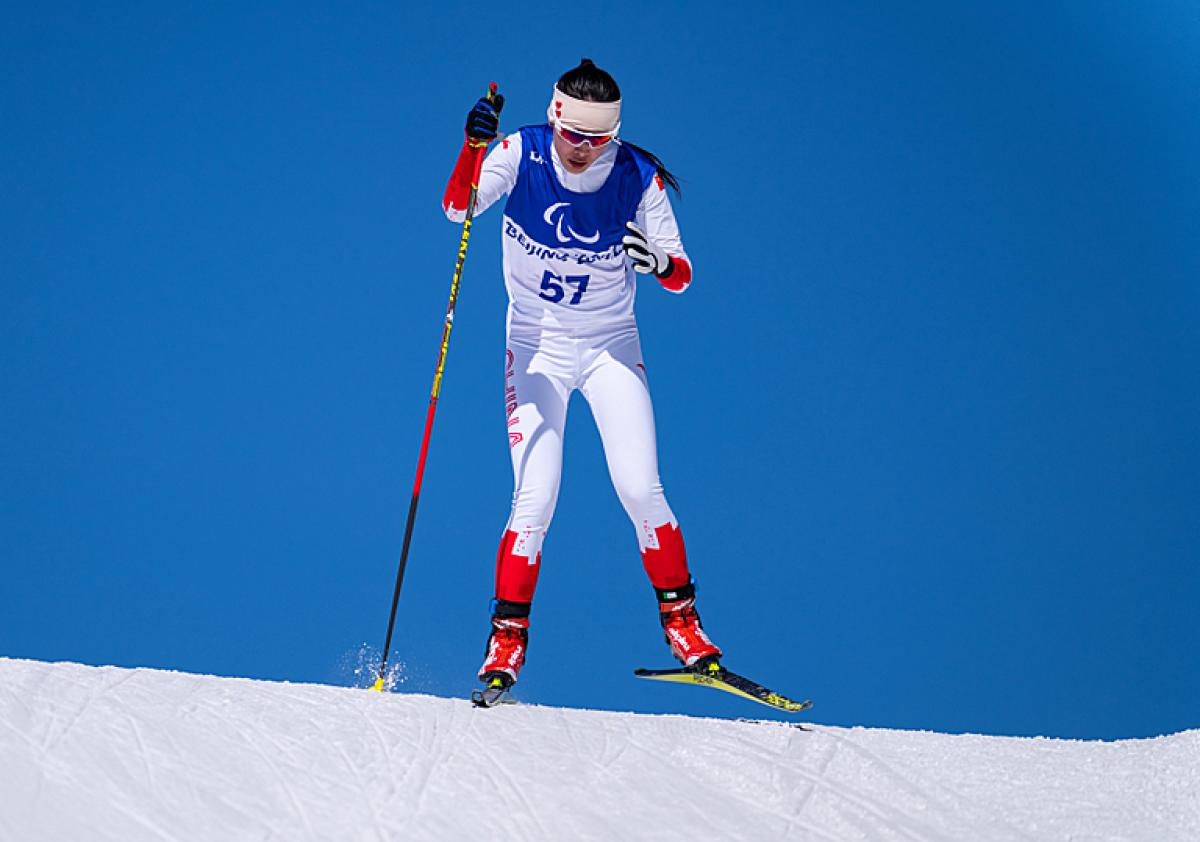 ⒸOIS Photos/Thomas Lovelock
By Lucy Dominy I For The IPC
It is only the opening day at the Beijing 2022 Paralympic Winter Games and hosts China have already increased their all-time medal total seven-fold.
Going into their home Winter Paralympics, China had won their first and only medal – gold in Wheelchair Curling – at PyeongChang 2018.
Now the team have ended their first day with eight medals across two sports. Five medals came in Para Biathlon, including two gold, and three in Para Alpine Skiing.
Ukraine top the medals table at the end of day one thanks to three golds, one silver and three bronze, all from Para Biathlon.
China, Ukraine, dominate day one
Zixu Liu and Yujie Guo were the respective victors in the men's sitting and women's standing sprint for China at the National Biathlon Centre.
Guo established a lead after the first round of targets and could not be caught. Ukraine's Liudmyla Liashenko grabbed silver to upgrade her bronze from PyeongChang 2018. Another Chinese medal came courtesy of Zhiqing Zhao with bronze.
"It's beyond my expectation," Guo said. "I thought I was skiing slow, but surprisingly, it was quite fast."
"My parents, my relatives, and my friends are watching me on TV. They are all very proud of me. I want to say that I have lived up to your expectations. I am strong."
China's Yujie Gao was rewarded with a gold. Ⓒ Lintao Zhang/Getty Images
In the men's sitting, the hosts also grabbed another gold and bronze.
Despite the "freaking cold" conditions, Liu reflected on reaching the summit of his sport's biggest podium:
"This medal means that I stood on the top platform for a Para biathlete, competing for my country internationally. I'm really proud."
Ukraine's Taras Rad took silver ahead of Mengtao Liu for China in bronze.
All but one of the other four golds on offer on Saturday went to the Ukrainians.
This included a podium sweep in the men's sprint vision impaired.
Vitalii Lukianenko led his compatriots over the finish line, guided by Borys Babar, on his Paralympic debut. Despite dropping a shot on the shooting range, Oleksandr Kazik and guide Serhii Kucherriavyi had the speed to make up for the mistake to secure silver. Dmytro Suiarko, guided by Oleksandr Nikonovych shot clean to round off the Ukrainian one, two, three with bronze.
Ukraine's Oksana Shyshkova completed her sprint vision impaired medal collection with guide Andriy Marchenko. Shyshkova took home bronze and silver from Vancouver 2010 and PyeongChang 2018 in the event.
"When I entered the start, all thoughts were only about my family, my relatives, everybody who is in Ukraine," Shyshkova said. "My race, my victory, is dedicated to them."
Teammates Linn Kazmeier with guide Florian Baumann, and Leonie Maria Walter with guide Pirmin Strecker, contributed to a great day on the tracks for Germany with silver and bronze respectively.
Rounding off Ukraine's golds was Grigorii Vovchynski in the men's standing. He led Germany's Marco Meier and Canada's Mark Arendz onto the podium.
The USA's Oskana Masters continued her incredible Paralympic Games odyssey which has seen her win eight medals across summer and winter editions.
Competing the women's sitting, Masters improved on her silver from four years ago by shooting clean for the first time this season to secure her maiden Para Biathlon Paralympic title. China's Yilin Shan split Masters and her teammate Kendell Gretsch, who settled for bronze after winning gold last time out.
"It means the world to me to be able to come here and get my first gold medal in biathlon," Masters said. "In Sochi 2014 I was a medal contender. I went the wrong way and was out of the medals.
"In PyeongChang I didn't get to race healthy, and here, my third time around - it just feels absolutely incredible. To be able to do it all in the city where I first thought about the Paralympics, and to be able to bring home USA gold is incredible."
Farkasova claims 10th Paralympic title
Slovakia's Henrieta Farkasova was unbeaten since Sochi 2014 heading into this edition and proved she still has what it takes to triumph in the women's vision impaired.
Taking her career total into double figures, Farkasova stormed to gold in the downhill with guide Martin Motyka. 
"I am very happy, it is my 10th Paralympic gold medal. I had some problems in my knees the last four years, so I am very happy to be here and to be racing."
Henrieta Farkasova entered double figures for Paralympic golds on Saturday Ⓒ Getty Images
China's Daqing Zhu added silver to her country's medal haul of three across women's events with guide Hanhan Yan. And Great Britain got off the mark with bronze courtesy of Millie Knight and guide Brett Wild.
Six different countries claimed titles as new faces emerged onto the top of the Paralympic podium in other events on Saturday.
Sixteen-year-old Johannes Aigner was the victor in the men's vision impaired, guided by Matteo Fleischmann, to finish ahead of both the defending Paralympic and world champions on his debut.
What made Aigner's victory even more incredible is the fact the pair have never raced downhill before.
Aigner just pipped Canada's PyeongChang 2018 winner Mac Marcoux and guide Tristan Rodgers to gold, finishing just 0.36 seconds ahead. France's Hyacinthe Deleplace, who claimed the world title in January, was third with guide Valentin Giraud-Moine.
"The feeling is indescribable. It was my first downhill race and I am very happy. Unbelievable," Aigner said. "We have never raced downhill before, just a few training days. I don't think we realise what we have done at the moment," Fleischmann concluded.
China's Sitong Liu's bronze, alongside gold for Japan's Momoka Muraoka, showed the growth of Para Alpine Skiing in Asia in the women's sitting.
Muraoka finished ahead of German world champion Anna-Lena Forster to improve on her silver from PyeongChang 2018. 
France's Arthur Bauchet, Canada's Mollie Jepsen and New Zealand's Corey Peters picked up their first Paralympic titles in the respective men's and women's standing, and men's sitting.
Mengqiu Zhang secured silver for China in the women's. Sweden's Ebba Aaarsjoe showed why she is a one to watch with bronze.
Bauchet led Austrian world champion Markus Salcher and PyeongChang 2018 gold medallist Theo Gmuer of Switzerland onto the men's podium.
Peters experienced the thrill of gold in the men's sitting at his third attempt, upsetting the form book.
Heading into Beijing 2022, Norway's Jesper Pedersen had claimed three world titles including in the downhill. But Peters' skiing was on point on Saturday and he improved on his bronze medal from the last Winter Paralympics.
"It's a good way to potentially finish off my last Paralympic Games. It's unlikely I'll go another four years so my goal was to come in and go for that gold medal. And it happened today.
"I put down probably the run of my life, and it showed on the scoreboard."
Taiki Morii rounded off a great day for Japan on the slopes with bronze.
China's "Little Whirlwind"
In their Winter Paralympics Para Ice Hockey debut, China delighted a noisy home crowd by defeating fellow Paralympic debutants Slovakia 7-0 with forward Shen Yifeng scoring four goals.
The 23-year-old lived up to his nickname 'Little Whirlwind', seemingly covering every inch of ice.
"I am very excited. I cannot express my feelings in words. It is a big stage for us to play and for me to score four goals, it's difficult to express my feelings now," said an overwhelmed Shen.
Shen Yifeng in action against Slovakia Ⓒ Steph Chambers/Getty Images
Defending champions the USA also got their campaign off to a 5-0 winning start against long-time rivals Canada in Group A.
Despite being just 24 years old, Declan Farmer's three assists and a goal make him the USA's highest Paralympic point scorer.
"He doesn't have to say a lot, he can just do it and the rest of just jump in behind and follow on," coach David Hoff said. "He's so important to us in that way. Very fun to watch, especially when you are wearing the same colour as him."
The Czech Republic won 5-0 over Italy in their opening Group B match.
Canada open Wheelchair Curling strong
Sochi 2014 champions Canada started their mission to reclaim their Paralympic title with two round robin wins on Saturday.
In a re-match of the semi-final from the PyeongChang 2018 Paralympic Winter Games, when Canada lost to eventual champions China, the North Americans showed their winning potential with a 7-3 victory in the morning session.
Skip
Mark Ideson
was at the forefront of Canada's efforts. Ⓒ Getty Images
After their opening game, Canada's second player Dennis Thiessen said, "I think our team came really prepared, we've had great training sessions and we changed a few things, and we worked our butts off. And hopefully it's gonna show all week."
In the afternoon session, Canada kept that promise, beating Switzerland 8-4.
Wins also came for Sweden, Slovakia, Norway and Great Britain on day one.