Shen leads China to a historic Paralympic victory
USA eases past Canada in the PyeongChang 2018 final replay with Czech Republic displaying dominant performance against Italy
05 Mar 2022
Imagen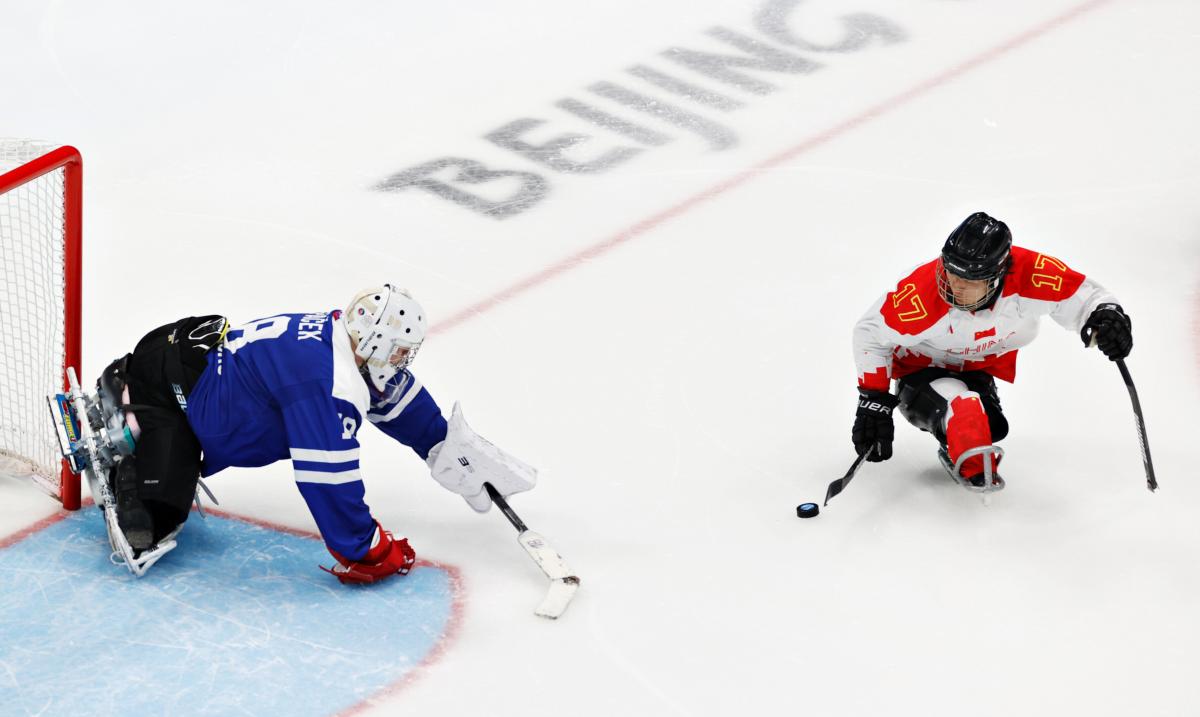 ⒸSteph Chambers/Getty Images
By OIS and World Para Ice Hockey
The Para ice hockey action in the National Indoor Stadium started on Saturday (5 March) with first round games being played in Groups A and B at the Beijing 2022 Paralympic Winter Games.
In their Winter Paralympics debut, China delighted a noisy home crowd by defeating fellow Paralympic debutants Slovakia 7-0 with forward Shen Yifeng scoring four goals.
The 23-year-old lived up to his nickname 'Little Whirlwind', seemingly covering every inch of ice.
"I am very excited. I cannot express my feelings in words. It is a big stage for us to play and for me to score four goals, it's difficult to express my feelings now," said overwhelmed Shen.
CHINA'S RAPID PROGRESS
China's captain Cui Yutao, who got himself on the scoreboard once, was not surprised by Shen's performance.
"He played as he can. He confirmed his ability."
China only started its Para ice hockey programme in 2016 and played the first international tournament in 2018. They won the Vuokatti 2018 World Championships C-Pool and a year later finished third at the Berlin 2019 World Championships B-Pool.
The host country showed a glimpse of its fine form displayed in Beijing at last year's Ostersund 2021 World Championships B-Pool where they defeated Germany, Sweden, Japan, Finland and Poland to get the promotion to A-Pool for the 2022-2023 season.
"We have the very best coaching team. We are a close team, and a young team, and we are very confident," explained Shen. "The reason we have progressed so fast is that we are very diligent."
Shen, who was the tournament's scoring leader at the 2021 World Championships B Pool, will be key if China are to upset the established order and challenge for a podium spot.
RECORD FOR FARMER
Forward Declan Farmer's all-round performance in leading the USA to a 5-0 win over fierce rivals Canada was so impressive that even the defeated captain was forced to give credit where it was due.
"He is an excellent player. He has shown it for many years now," Canada's captain Tyler McGregor said after Farmer was involved in four of the five goals Canada conceded in their opening Group A match.
"He has a high hockey IQ and always seems to be around the net. He is a guy that we have to target and shut him down [but] we were not able to do that today."
Despite being just 24 years old, Farmer's three assists and a goal make him the USA's highest Paralympic point scorer. It is an accolade that does not surprise his coach.
"He doesn't have to say a lot, he can just do it and the rest of just jump in behind and follow on," said David Hoff. "He's so important to us in that way.
"Very fun to watch, especially when you are wearing the same colour as him."
Captain Josh Pauls certainly enjoyed playing alongside the man with whom he has won two Paralympic gold medals and three world titles. It even helped Pauls achieve a rare feat.
"You didn't need to remind me of that," Pauls, 29, said when told the goal he scored from Farmer's assist was his first successful Paralympic strike since Sochi 2014.
"I saw Declan get the edge, I had the centre lane drive and I saw him put it on his left stick and I knew exactly what was happening. We have played together for so long you can see what is going on in his mind and I am just glad I was there to bury it for him."
DREAM START FOR THE CZECHS
While Pauls labelled the win a "statement", McGregor was adamant that the battle for gold is far from over.
"We don't want to dwell on it too much," he said. "Sure it was five to nothing, but we felt like it was closer than that. We are confident in our ability to improve."
Italy will need to do likewise if they are to win a first Paralympic medal. The team who came fourth four years ago lost 5-0 to a physical Czech Republic team in the opening Group B match.
"We had to win the first game. Italy were really strong, so for us it was a really important game. We didn't expect an easy game, so we are happy," said Michal Geier, scorer of the last goal for Czech Republic.
As the Best Forward from the Ostrava 2019 World Championships A-Pool, Geier will be vital in his country's success at the Beijing 2022 Winter Paralympics.
The Czech Republic will be playing China in the battle of the undefeated teams in Group B on Sunday (6 March) while Italy and Slovakia will clash in search of their first victory.
South Korea will make its Beijing 2022 debut opening gameday two against USA. The defending champions can secure a semifinal spot with a second triumph in the tournament.
Live results from Beijing 2022 will be available on Paralympic.org. You can follow all the action, behind the scenes and news on World Para Ice Hockey social media channels on Facebook, Instagram and Twitter.