Zixu Liu strikes gold to put hosts China in top three
Ukraine on top of the medal table after day one
05 Mar 2022
Imagen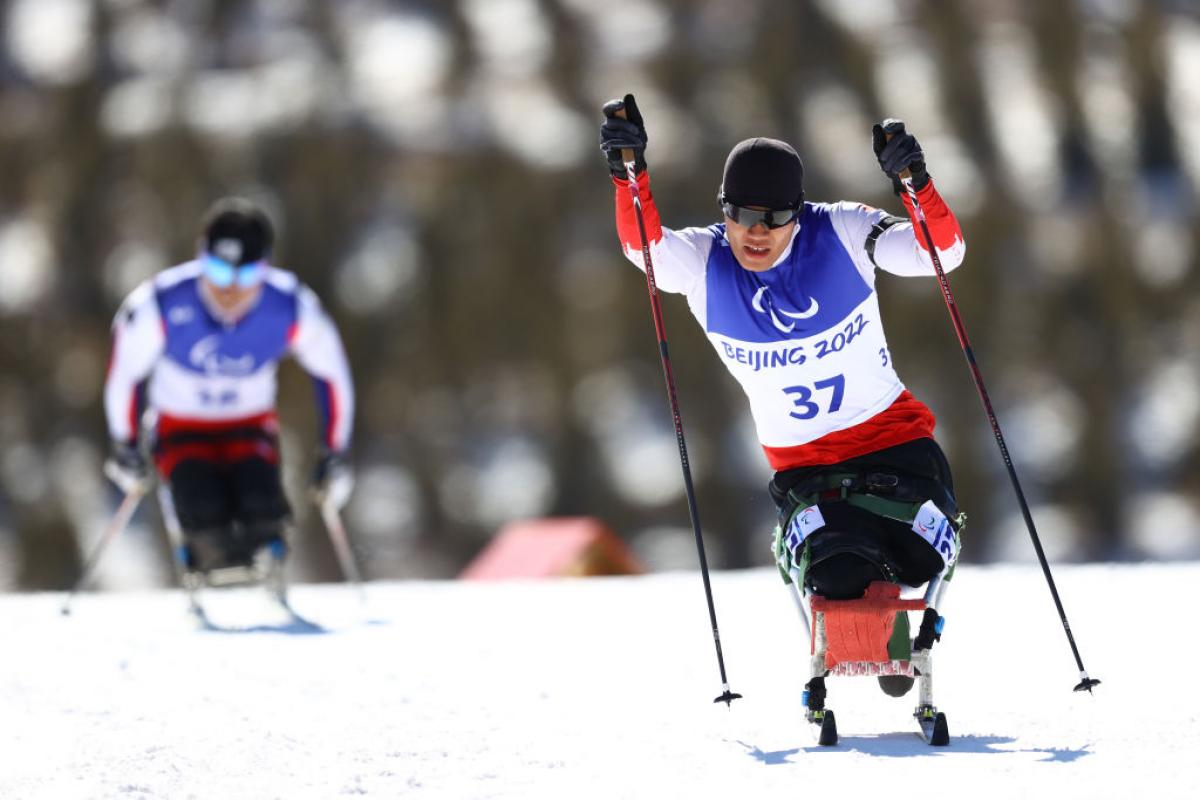 ⒸMichael Steele/Getty Images
By ND Prashant | For the IPC
It was certain that the Beijing 2022 Paralympic Winter Games would shape a new era for hosts China and their Para athletes.
And they made their intentions clear of bettering all their previous accolades as soon as Zixu Liu gave China the much needed boost by winning the country's first gold medal in the men's sprint sitting in Zhangjiakou. This was followed by another gold by Yujie Guo in the women's sprint standing. The 17 year-old finished the 6km course in 19 minutes and 43.4 seconds, missing just one shot in the two rounds of prone.
Along with these two gold, the hosts also won three silver and three bronze.
UKRAINE MAKES A MARK STRAIGHTAWAY
Day one also belonged to the Ukrainians as they put up a superlative performance to clinch three gold, three silver and a bronze.
Grygorii Vovchynskyi clinched Ukraine's first gold in the men's sprint standing ahead of Germany's Marco Maier and Canadian Mark Arendz.
Vovchynskyi's effort was followed with another gold by Oksana Shyshkova, who won the women's sprint vision impaired. Later, Vitaliy Lukianenko led a Ukrainian clean sweep in the men's event along with teammates Kazik Oleksandr and Suiarko Dmyto.
17-YEAR-OLD GUO HOGS LIMELIGHT
China had previously only won one medal at the Winter Paralympics and that was at the PyeongChang Games four years ago, when Haitao Wang, Jianxin Chen, Wei Liu, Meng Wang and Qiang Zhang won Wheelchair Curling gold.
Guo, who was one of the two flag bearers during the Opening Ceremony, said her performance was beyond her "expectations".
"Pretty good. It's beyond my expectation. I thought I was skiing slow, but surprisingly, it was quite fast. Skiing uphill was hard for me.
"I didn't expect that I was very good and powerful. In fact, I always thought I wasn't that good," said Guo after the win.
On the opening day of the competition, apart from Zixu, teammate Mengtao Liu settled for the bronze in the same event, while women's sprint sitting entrant Shan Yilin won silver.
"This medal means a lot as I have become the top Para Biathlete, competing for my country. I'm really proud," said Zixu, who was always a firm favourite going into the contest following his dominant showing at the European circuit ever since he switched over from Para Archery.
"Biathlon is a sport both dynamic and static - very challenging. Shooting well is hard, skiing fast is difficult, as well. However, I like that challenge and have been enjoying it since I took it up," said the 24-year-old.
Wind has been creating a bit of a havoc for athletes here in Zhangjiakou but the 24-year-old revealed that it wasn't much of a bother for him and he was in total control from the start.
"It's fine. A bit cold, but way better than the really cold days when a cotton-padded jacket won't even help. You'd have your hands and feet frozen in those days. But, yes I would like to go back to my room and avoid this freaking cold," said Zixu, who had China's first Para Biathlon gold medal at the Para Cross Country Skiing Europa Cup in Finland, last year.
Mengtao, speaking about his bronze medal winning performance said, "I had a quite good performance today. I didn't expect to win a medal before the Games. No special feelings now, I just feel very happy. I just want to step up my efforts consistently in the future. I want to attribute this success to my family who gave me a lot of support before the Games."
Shan stole the limelight in Para Biathlon women's sprint by splitting American ace Oksana Masters and defending champion Kendall Gretsch. Understandably, the 20-year-old was beaming with excitement and said: "I'm very happy. My shooting went really well but I think I can ski a little bit faster. It was amazing to compete with Masters and Gretsch."
At the Para Alpine Skiing in Yanqing, Zhang Mengqiu and Zhu Daqing were also on a roll. They finished with silvers in the women's downhill standing and women's downhill vision impaired events respectively, while Liu Sitong also added a bronze in the women's downhill sitting.