Yu Xiaowei seeks to better himself at Paralympic debut
The newly minted Para canoe world champion has greater expectations for himself at Rio 2016.
25 Aug 2016
Imagen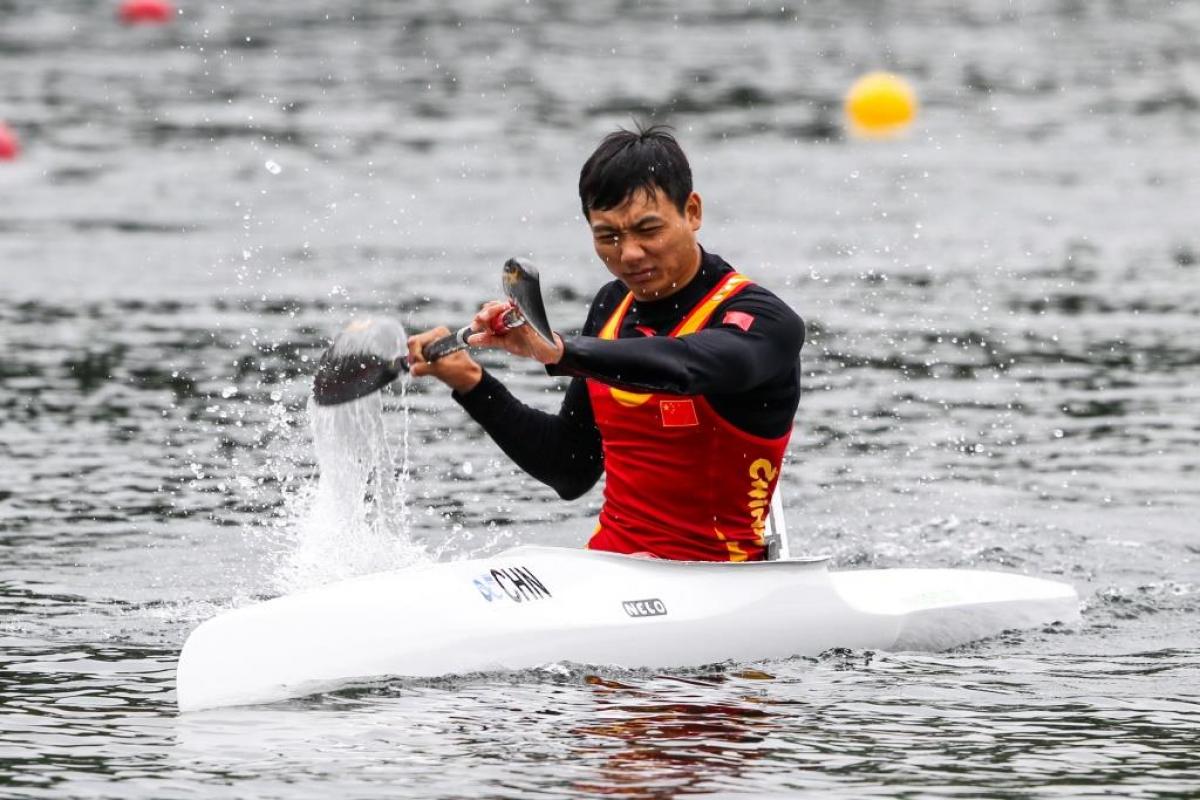 ⒸBalint Vekassy
By Sophie Feng | For the IPC
"I want to fly the Chinese flag on the top step of the podium."
Yu Xiaowei was not satisfied when he won his first world title in May. The Chinese Para canoeist believed he could have done better. But this September, he has the opportunity to do so at the Rio 2016 Paralympic Games, where the sport will debut.
"I had a great start, but couldn't hold onto it until the end," Yu said. "I could've had a better time if I had been able to keep up my speed."
Yu stunned when he won the 2016 International Canoe Federation (ICF) Para Canoe World Championships in the men's KL1 200m in Duisburg, Germany. Just last year, Yu reached the finals, where he finished eighth.
In Duisburg, Yu won the final with a time of 50.596 seconds, ahead of Poland's European champion Jakob Tokarz (50.855) and Brazil's defending world champion Luis Carlos Cardoso da Silva (52.233).
Yu believed his gold medal performance at the 2016 World Championships was overall a representative display of his biggest strengths and weaknesses.
"I always go out really fast, but I can never close as well as I want to," he said.
In an event that is usually dominated by Brazilian canoers, Yu became only the second non-Brazilian winner in the men's KL1 200m, after Hungary's Andras Rozbora won it at the 2014 World Championships held in Moscow, Russia.
In Rio, Yu will have to battle favourite Cardoso and the home crowd rooting for him.
"The Brazilian and the Polish really pushed me until the end," he recalled. "I think it will be a very close race in September."
Yu, who turned 27 in June, knows where he stands in the world despite upsetting all the heavy favourites in his category earlier this year. He recognised that his lack of experience is something that could potentially impede him.
Unlike Cardoso, who has won multiple World Championships and Tokarz, who is a four-time European champion, Yu has not had that many titles and competition experience.
"I've only been to two big competitions ever," Yu said. "Rio will be my first international multi-sport event.
"I'm nervous and excited. There is a lot of pressure, but also a lot to be happy about.
"I'm still inexperienced. I know I have a lot to learn from my opponents. Hopefully, in Rio, I'll be able to learn from them and take away some experience for myself.
"Right now, I just trust my coach with what to do as we are in intensive training in Hangzhou," the Zhejiang native said. "He knows what's best for me."
While he reached the top of the Worlds podium in May, he wants to do similar in September.
"I want to fly the Chinese flag on the top step of the podium," he declared. "There are many factors that can go into making that happen, including luck, but I will try my best."
Para canoe competitions will take place from 13-14 September at the Lagoa Stadium.
__
Sport fans from around the world can now buy their Paralympic tickets for Rio 2016 from authorised ticket resellers (ATRs)
The IPC's Global ATR is Jet Set Sports, and Rio 2016 tickets and packages can be purchased on the CoSport website.
Residents of Brazil can buy 2016 Paralympics tickets directly from the Rio 2016 website.
Visa International is the exclusive payment card and the official payment system for the Paralympic Games.