Georgian Para karate athlete Tophuria tastes success just years after starting sport
Georgia's Joni Tophuria started Para karate after meeting his coach Gocha Surmanidze in 2019 and won a bronze medal at the 2022 European Karate Championships
05 Jan 2023
Imagen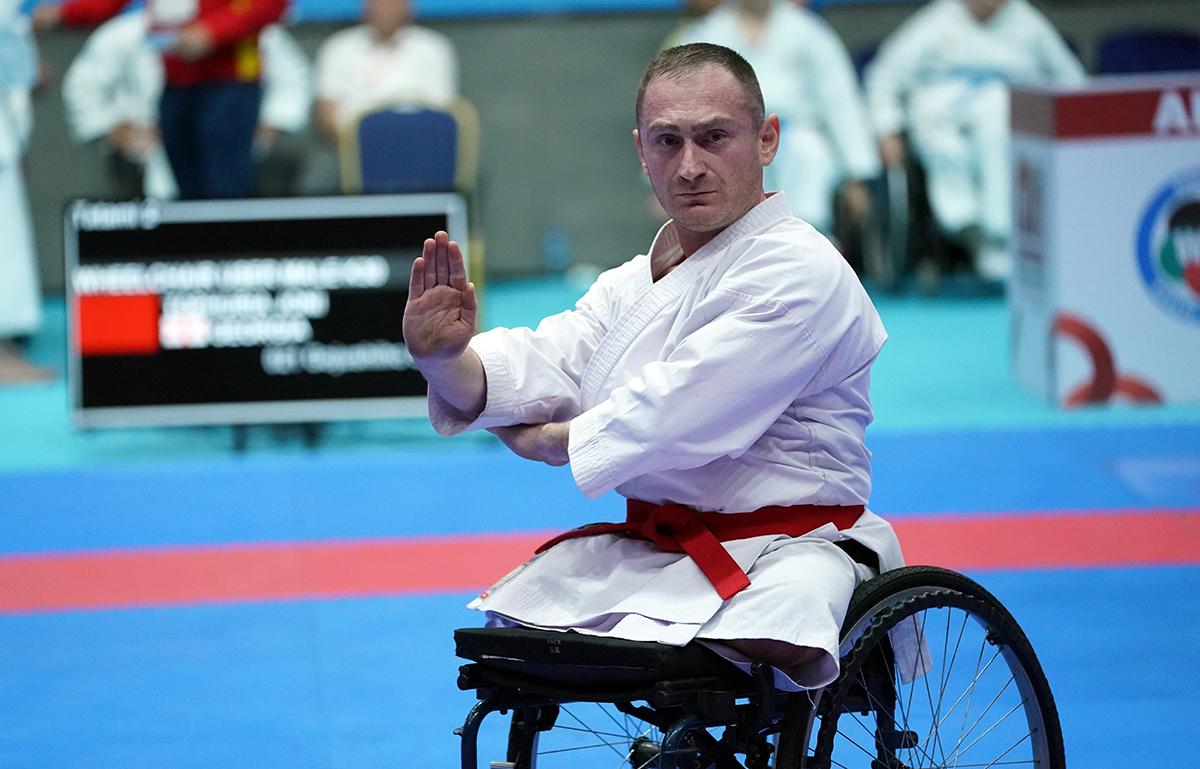 ⒸWKF
By PARA SPORT
On the karate mat, Joni Tophuria breathes slowly before beginning his routine. The Georgian Para karate athlete crosses his arms in front of his chest, delivers a "tsuki" punch and maneuvers his wheelchair.
Wearing a white uniform known as "karategi", the athlete yells out to wrap up his performance at the 2022 European Karate Championships in Gaziantep, Turkey, where he won the bronze medal in the men's wheelchair use K30 category.
In 2012, Tophuria was injured in a mine explosion in Afghanistan, where he went as a member of the International Security Assistance Force. As a result, both of his lower limbs were amputated and he also sustained various injuries.
While he tried different sports, including Para rowing and hand cycling, after his injury, Para karate was the sport that he became most interested in despite not knowing anything about it. It was through his meeting with his future coach, Gocha Surmanidze, that Tophuria's successful journey in Para karate started.
"I got an offer [from Surmanidze to start the sport] and got interested in it. Subsequently I accepted that offer and I started practising to the best of my abilities," he said.
Passion for Para karate
Para karate features the ancient discipline of "kata" and sees athletes performing a series of choreographed defensive and offensive movements.
Athletes are awarded points based on their technical performance, which include their transitional movements, timing and correct breathing, as well as athletic performance that is based on their strength, speed and balance.
"Performing a kata is an immense pleasure for me. When people look at me, I feel they like my performance and I get the greatest respect from them," Tophuria said. "My goal and thought during my competition is simply to win."
Mastering the sport
The coach-athlete duo has seen great success despite only meeting three years ago. While the COVID-19 pandemic led to postponements of a number of competitions, Tophuria has already achieved glory in Georgia by winning the national championships.
"I have mastered the performance of kata and I have achieved success in such a short time," he said, thanking his coach for his efforts to make him one of the best Para karate athletes in the world.
"I am so grateful to him. He has made my life more interesting and fundamental," Tophuria added.
So, what are his goals now? 
To begin with, he wants to win the European championships after finishing behind gold medallist Ahmadov Eldar of Azerbaijan and silver medallist Yanguez Santalla Vicente of Spain. Spain's Sepulcre Fuentes Juan Antonio was the other bronze medallist in the men's wheelchair event.
But Tophuria also wants to take it to the next level and capture the gold medal at the world championships, and see the sport make its debut at the Paralympic Games.
"Every success is important and I am happy that my hard work is valued and appreciated," Tophuria said. 
Para karate competitions, sanctioned by the World Karate Federation, have events for athletes with vision impairments, intellectual impairments as well as athletes using wheelchairs.