Andy Barrow: Wheelchair Rugby Heating Up
British Wheelchair Rugby player Andy Barrow writes about his new chair, promoting himself as an athlete and the London 2012 test event.
18 Apr 2012
Imagen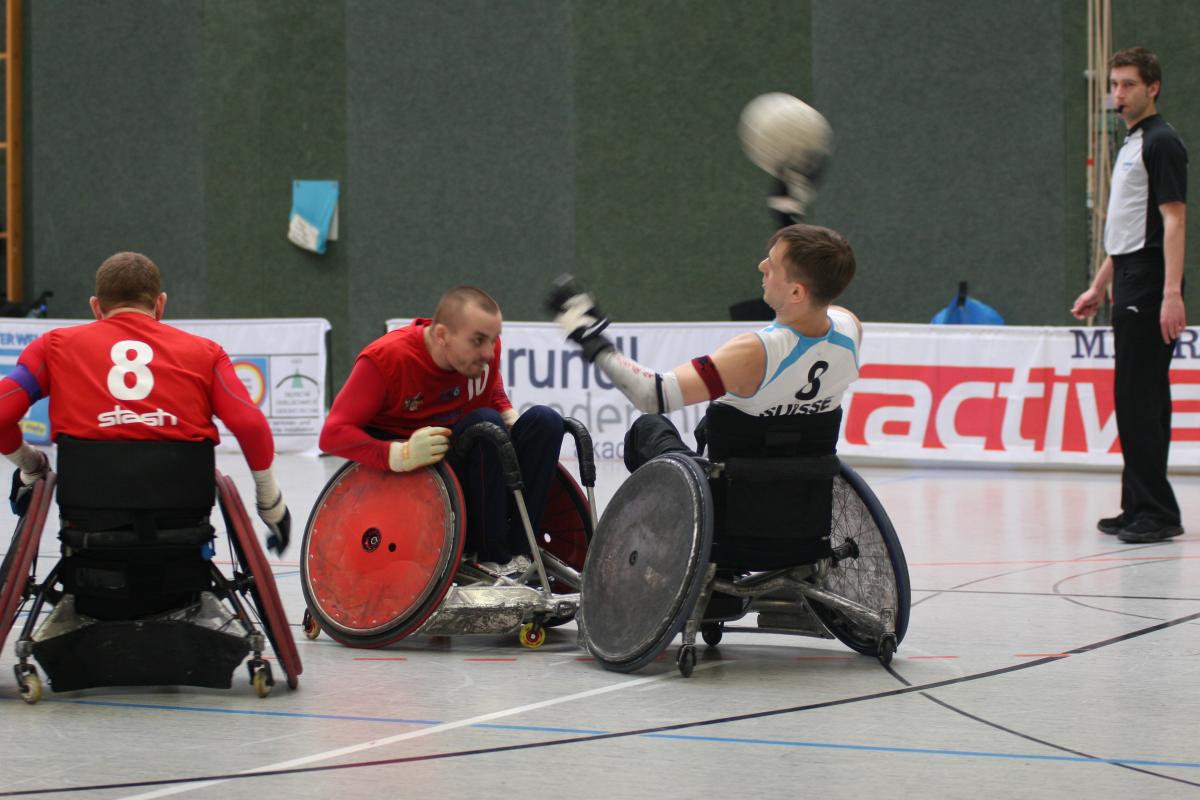 ⒸAndy Barrow
By Andy Barrow
Five wins out of a possible six confirmed that Great Britain is definitely on the right track in 2012.
As the Paralympics draw closer, it's no surprise that my blogs are getting fewer and farther between.
If you've read my posts before, you'll know that this is always a tough time in terms of training volume. Right now, we're laying down the base work to give us the durability to complete the training programme that will see us peak in September.
It's a heavy workload without many breaks in the monotony. Fortunately, it's not all dull and I do have a couple of things worth sharing…
After a very intense training block throughout February, the squad played host to Poland in a six-match series at Stoke Mandeville. There was a lot of good rugby played and some exciting new lines proved their worth with the coach looking on.
Five wins out of a possible six confirmed that Great Britain is definitely on the right track in 2012.
I took a very special delivery in early March: my new VMC Rugby Chair.
Our sports chairs are integral to our performance and at international level, each one is tailor-made to its user.
Your chair is your F1 car and you strive to make it part of you so it moves with you.
VMC has been making my chairs since 2003 and this latest chair is my seventh with them and my eleventh chair since I began playing in 1998. Everyday it feels faster and more in tune with me, so hopefully you'll see it and me in action this September.
My new chair was ready just in time for the first Super Series weekend of the year in Medway, Kent.
Unfortunately. Crusaders' squad was somewhat depleted. We only numbered five and could field a maximum of six points on the floor. Despite this we had a cracking opening game, losing narrowly 42-44 to London rivals Storm. We then took a comfortable 55-46 victory over an out of sorts Pirates, which set up us with a semi-final against Marauders the following day. The Marauders shocked us early using their point advantage to gain an early lead that we never recovered from. We clawed back the deficit several times during the game, but ultimately couldn't overhaul them and they took the win 46-42, consigning us to a third/fourth playoff and re-match with Storm.
Our second meeting of the weekend was even more intense than the first with the game going goal-for-goal for nearly the entire first half.
Suddenly, three quick turnovers helped the Crusaders pull away, but the reason became evident at half time. Justin Frishberg (2.0), a key member of Storm's start line had to retire injured. From then on the game became very one-sided, finishing with a 60-41 win in the hands of the Crusaders.
In the final game of the weekend, West Coast Crash comfortably defeated the Marauders to claim their first Super Series weekend title. This makes them the early front-runners for the overall championship.
The next day, I was on the road early to speak to pupils at Ringmer School in Lewes.
PR is a big part of being an athlete now and when you play a relatively small sport, spreading the word is vital. The kids are always a pleasure to speak to and come out with some fantastic questions. This isn't the first talk I've done this year; I recently spoke at Sutton-at-Hone School, where my niece and nephew (Nina and Aidan) are both pupils.
School talks make up part of the PR we do for Great Britain Wheelchair Rugby, but the squad is well known for getting people's attention by playing Wheelchair Rugby in some unexpected places.
On 31 March, a crowd of over 83,000 was treated to a pitch side Wheelchair Rugby demonstration at Wembley Stadium. Although Astroturf isn't our preferred terrain, we still managed to have a game and entertain the spectators as well as having a video broadcast in the big screen.
That's all from me for now.
Be sure to catch my next post, as I'll be sharing my thoughts on the Wheelchair Rugby Test Event that's happening this week in Olympic Park. Great Britain will face Sweden, Canada and Australia as we test our London 2012 venue and its facilities.
Goodbye until next time!