Beau Greenway: My experience covering Rio 2016
The IPC's wheelchair rugby beat writer was called up to help cover the Paralympic Games, and he reflects on his time in Rio.
17 Oct 2016
Imagen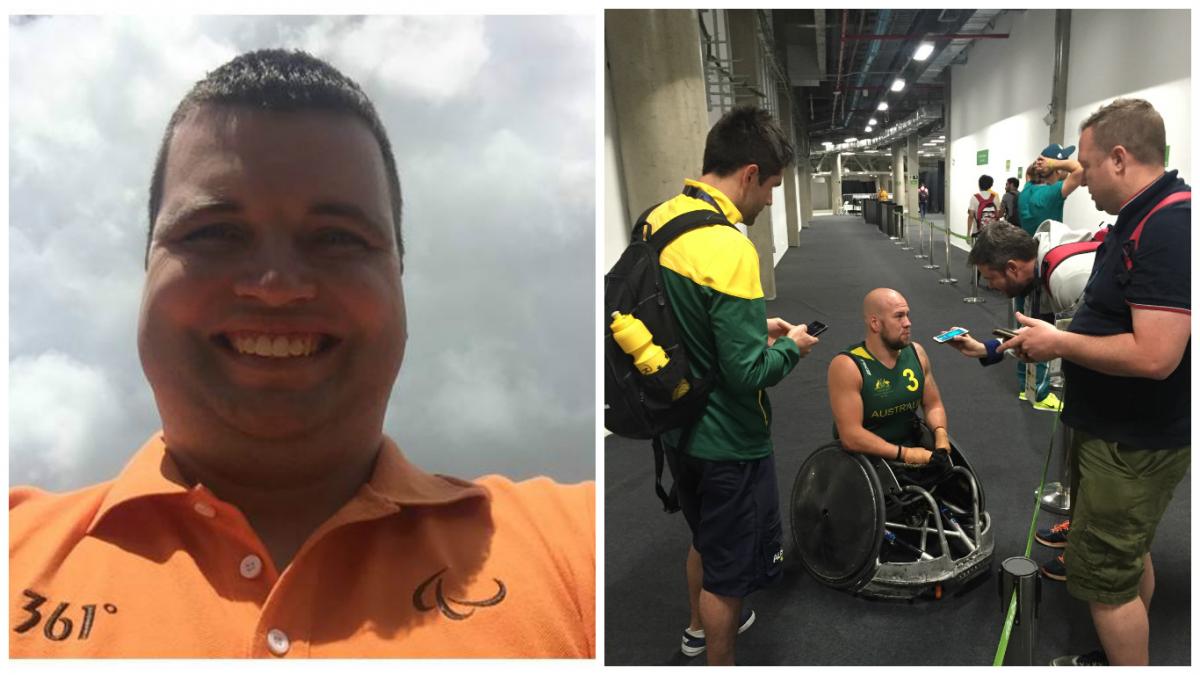 ⒸBeau Greenway
By Beau Greenway
I'm from a small country town in Australia called Temora. Not many have heard of it.
And I recently returned home from the greatest experience of my life – reporting on powerlifting and wheelchair rugby at the Rio 2016 Paralympic Games.
Now you may ask how a journalist from tiny Temora got the opportunity to cover one of the biggest sporting events on the planet?
I've asked myself that a few times.
During the third year of my journalism degree at university in 2013, I applied to become a volunteer writer for the International Paralympic Committee (IPC) and was given wheelchair rugby as my sport.
In the past four years, I have conducted interviews over the phone, Skype and email with some of the sport's best athletes, and shared their stories on Paralympic.org.
Never in my wildest dreams did I think it would lead to the opportunity I was about to be given.
In January of this year, I received a message from the IPC's Director of Media and Communications Craig Spence asking me if I would like to go to the Paralympics and cover my chosen sport live.
Without any hesitation, I said yes and the eight month countdown to my journey officially began.
For that, I must thank John Bishop, Eron Main and the team at the International Wheelchair Rugby Federation (IWRF), who also supported me to get to Rio for the Paralympics and have always been there to help since I took on the writer's role in 2013.
However, it came with a slight catch.
Because the wheelchair rugby tournament only ran for five days, I needed another sport to cover to fill in the opening week of the Games.
So I was delegated powerlifting, a sport I had no previous experience with, but was asked to report it to the rest of the world.
No pressure, right?
I spent plenty of time researching who to look out for and felt confident I could complete the task.
All of sudden the weeks rolled by and it was time to take the lengthy 30-hour journey to Rio de Janeiro, arguably the longest time one can spend on a plane.
I safely made my way to my hotel room, before enjoying the Opening Ceremony in Portuguese on television and getting a good night's sleep on something other than an economy airplane seat.
The next morning, I woke up to meet my roommate and fellow IPC volunteer writer Mike Stuart, an Englishman living in Switzerland who was there to cover judo and wheelchair fencing.
He was a top guy and we seemed to hit it off right away as he had started writing for the IPC the same time as I did.
Mike showed me to the restaurant at the hotel where we had breakfast each morning, before I took the first of many long walks to the main press centre (MPC) to meet the rest of the media team.
Once I picked up my uniform, I was off to my first day of competition at the powerlifting at Riocentro Pavilion 2.
I was simply blown away by the set-up of the venue and the friendly volunteers and venue staff, who were only too happy to help me out when I needed it.
I witnessed 13 powerlifting world records broken from 20 events. Most of my Rio powerlifting coverage can be found here https://www.paralympic.org/powerlifting/news.
Unfortunately, there was a crossover with the final day of powerlifting and the first day of wheelchair rugby, and I was unable to see Iranian superstar Siamand Rahman lift 310kg.
While I was busy everyday with competition, I could not pass up the opportunities to watch as many Paralympic sports as I could. So before and after my sports were held, I would rush to other sporting venues.
I saw seven sports total: swimming, football 5-a-side, table tennis, wheelchair basketball, wheelchair fencing, as well as my designated sports of wheelchair rugby and powerlifting.
There was so much to watch, and so much ground to cover, yet so little time.
I felt a massive pride when I learned Temora's own Scott Reardon became the Paralympic champion in the men's 100m T42. Unfortunately, I was unable to see Scott run live, but I was extremely happy to see the support flooding in from the Temora community as he came away with gold.
Another top moment was getting to see my Danish mate Peter Rosenmeier, whom I got to meet while working at the European Para Table Tennis Championships in Denmark last year, win gold in the men's class six singles event against his Spanish arch rival Alvaro Valera.
To watch an athlete you've covered achieve the biggest success of his career is part of what makes me happy with what I do.
After a week in Rio, the moment I had been waiting for had come, with the wheelchair rugby tournament finally getting under way.
I can safely say it was the best five days of live sport I have witnessed. Four games went into overtime and crowds crammed inside the Carioca Arena 1.
There was so much exciting action that I had plenty to write about here https://www.paralympic.org/wheelchair-rugby/news.
The gold medal game lived up to my expectations. Australia defeated the USA in double-overtime, 59-58, in front of a packed crowd.
The atmosphere was electric and Australian captain Ryan Scott was lost for words when I interviewed him after the match, as four years of preparation resulted in another gold medal.
While I was on such a high from seeing arguably the greatest wheelchair rugby match in Paralympic history, I quickly came to the realisation that this was also the last day of my journey.
I filed my final stories for the games, packed my bags, rested in the hotel and watched the Closing Ceremony, also in Portuguese, before making my way to the airport for another mammoth flight back to Sydney, which departed at the convenient time of 2 am.
It was sad that the trip had come to an end so quickly and I was unable to see any more of the sights in Rio. However I plan to return one day to catch up on everything I missed.
The experience was yes tiring– from having to adjust your food diet and the huge amounts of kilometres I covered on foot each day – but Rio 2016 certainly lived up to its reputation as "The People's Games," and I will cherish the memories and friendships I made for the rest of my days.
I can't wait to see what Tokyo 2020 will bring!
Beau Greenway is the beat writer for wheelchair rugby. Follow his work at paralympic.org/wheelchair-rugby/news and follow him on Twitter at @BeauGreenway. The IPC volunteer writers programme was launched in 2013 and currently consists of more than 30 volunteers from around the world helping produce content for Paralympic.org.