Rob Howell: Covering Rio 'was my gold'
The IPC's Para equestrian beat writer shares his experience covering the sport at Rio 2016.
13 Oct 2016
Imagen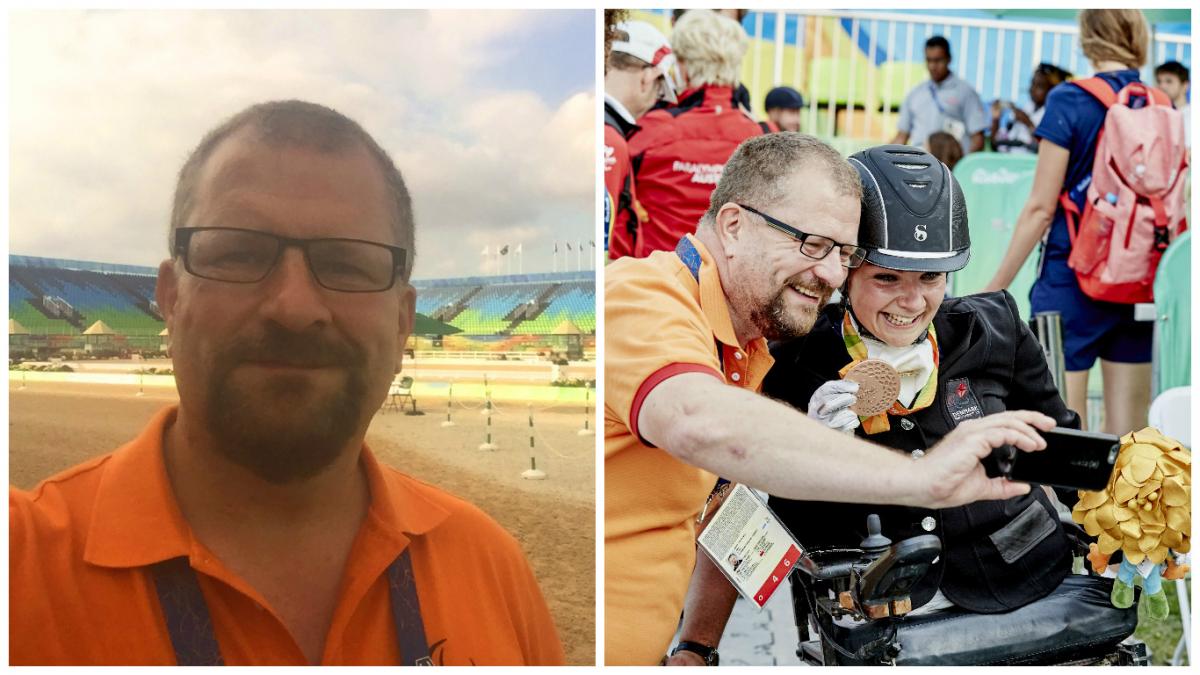 ⒸFEI/Liz Gregg
By Rob Howell
Just over four years ago, as I left the stadium at the end of the Closing Ceremony of the London 2012 Paralympic Games, I made a vow to myself that I would go to Rio in 2016 as a volunteer. I had been a Gamesmaker volunteer at the London Paralympics, and I wanted more. I didn't know then what form that would take, but I knew I had to go.
My initial plan was to train as an athletics judge and then apply for some kind of field of play role, but that didn't work out for a number of reasons. A few months later, in a hotel room near Portsmouth I logged on to Twitter and saw a tweet from the International Paralympic Committee (IPC) reminding people that there were just two days left to apply for a role as a volunteer IPC journalist, writing for Paralympic.org.
I write for a living and thought I'd give it a shot, and duly sent off my letter of application and CV.
The IPC came back to me and said they'd like me on their team, and asked what sports I was interested in. I told them the sports I most enjoyed watching – athletics, cycling, swimming – and they came back and asked if I'd like to cover Para dressage.
I knew nothing of the sport except that Paralympics GB had just had a great Games, and I knew nothing about horses except that one end could bite and the other could kick. But I said yes anyway. And that turned out to be one of the best decisions I ever made.
I made contact with the press team at the International Equestrian Federation (FEI), quickly becoming firm friends with media director Grania Willis and her colleague Ruth Grundy. They explained the sport, we discussed some story ideas, and I figuratively dived in.
Jump forward to 2016 and I have just returned from the most amazing summer in Rio de Janeiro. I spent seven weeks in the city, volunteering at the Olympics, and then working for the IPC at the Para dressage competition. I wrote daily reviews of the competition and daily previews as well, and I loved every hot, exciting second if it.
It was the culmination of more than three years of following the world's top Para dressage riders and writing about their successes and challenges. What made Rio so special was that, in that time, I got to know so many of the sport's top names, and sharing the ups and downs of their Rio experiences was a real privilege. They are used to seeing me at their competitions. I keep in touch with many of them by email and Facebook, but I still have to pinch myself that I was there, with them in Rio.
It's hard, and slightly unfair, to single out individual competitors at the Games, but one of the real highlights for me was the double bronze success of Denmark's Stinna Tange Kaastrup. She was the first Para dressage writer I ever made contact with and wrote about, in 2013. I had to tell the story of how her horse, Snoevs, had tragically died in the run up to the London Games, and what her plans were to come back.
Stinna is one of those people you meet who affect you. She's happy, smiley, funny and a beautiful rider. Her lead up to Rio was, in many ways, as difficult as London. She gave up the horse she had been riding for the last few years, Steffi Graf, just months before Rio, and was working to build her relationship with her new horse, Smarties. In the build up to the Games she even told her team manager not to select her as she was convinced she wasn't ready.
And then in Rio itself Smarties didn't pass the initial horse inspection and she faced an anxious 24-hour wait to find out if she would be able to compete or not. She described it as "the worst night of my life." All of us who know her felt the same, and all of us were so happy when, on the first morning of competition, Smarties was cleared to compete.
When she won her first medal, in the ultra-competitive grade Ib competition, she came into the media mixed zone with the biggest of smile on her face. She finally had a Paralympic medal. I walked towards her, grinning madly myself (I may have even been doing a little dance to Pharell Williams' Happy which was playing at the time, but if I did I hope no one saw me) and she held her arms out and we hugged.
There was a lot of hugging in Rio.
Being there brought home just how important the Paralympics are to the athletes. I've covered two European and one World Championships, both huge events in their own right, but the Paralympics are noticeably a significant step up from those in terms of their importance to the riders. That was brought home to me when the Brazilian rider, Sergio Oliva, won two bronze medals in front of his home crowd. He said that, for him, the bronze was as good as gold, and you could see he meant it.
For me, simply being there was my gold.
Rob Howell is the beat writer for Para equestrian. Follow his work at paralympic.org/equestrian/news and follow him on Twitter at @RobertHowell8. The IPC volunteer writers programme was launched in 2013 and currently consists of more than 30 volunteers from around the world helping produce content for Paralympic.org.