Chuck Aoki: Every sport matters
USA wheelchair rugby player Chuck Aoki explains why Olympic or Paralympic sports cannot just be removed from the programme overnight.
17 Mar 2013
Imagen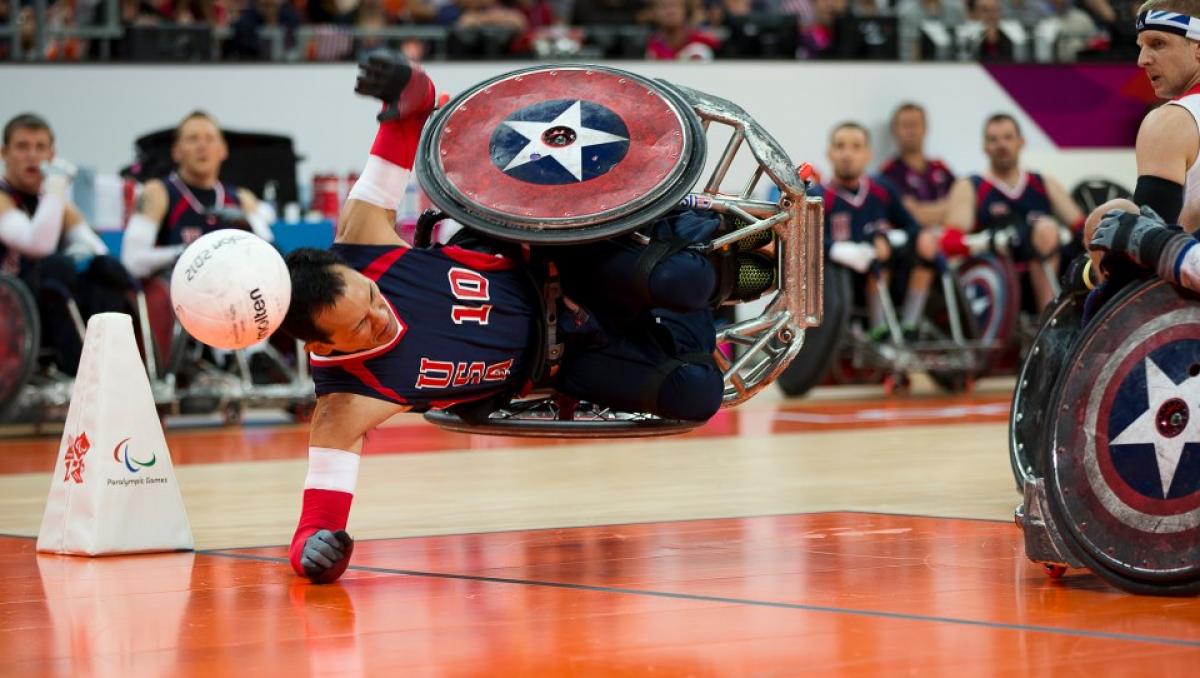 ⒸUSA Wheelchair Rugby
By Chuck Aoki
It may seem silly to some that we can care this much about a sport, but when you spend most of your waking hours dedicated to a sport, it makes sense.
This past February, the IOC announced wrestling would no longer be a part of the Olympic Games after Rio 2016.
This news shocked and disappointed many, myself included, and led me to reconsider and think about what the Olympics and Paralympics mean to me, both as a spectator, and as a competitor.
When we think of the Olympics today, we think of Usain Bolt sprinting faster than any human before and of Michael Phelps winning more medals than any other Olympian in history.
(Trivia question: Can you name the all-time Paralympic medal record holder?)
But when I think of the origins of the Olympics, no sport comes to mind quicker than wrestling.
It was one of the original sports contested in 708 B.C. There have been cave drawings of wrestling found that date as far back as 3000 B.C. If this is not one of the most traditional Olympic sports, I guess I don't know what is.
Unfortunately, as much I would like to, I don't have much influence with the IOC. Sorry everyone. I know I'm a disappointment to you all.
But what I do have is my own personal experience with how much Paralympic sport means to me, and I can tell you all about it.
Since you are reading this, I'm sure you are all waiting on the edge of your chairs to hear it.
So here it goes.
My sport is my life.
I plan my school schedule around it. I plan my social calendar around it. Especially during a Paralympic year, like 2012, pretty much everything comes second to training and wheelchair rugby events.
I couldn't imagine my life without the Paralympics.
And I've only been to one!
When the news broke about wrestling being removed from the Olympics, I thought about how I would feel if wheelchair rugby was going to leave the Paralympics after 2016.
I couldn't do it. I couldn't even fathom not having that ultimate goal to strive for, that desire to be a part of something bigger than oneself. Being forced out before I was ready to leave.
The devastation would be like losing a part of who I am.
It may seem silly to some that we can care this much about a sport, but when you spend most of your waking hours dedicated to a sport, it makes sense.
So what is the answer?
Get rid of table tennis? Modern pentathlon? Rhythmic gymnastics? Trampoline? Boccia? The lowest classes in Paralympic athletics?
The merits of these sports can be debated to no end.
But I would say the answer should not always be about what needs to go all the time. Table tennis requires hand-eye coordination and quickness few have. Modern pentathlon is actually an eclectic mix of sports – go check it out, and tell me you think you are great at all five events.
Rhythmic gymnastics is an elegant, graceful sport that is much harder than it appears.
Trampoline … I'm sure there's something redeeming about trampoline, I just haven't found it yet. Google is still working on it for me.
Boccia and T51s and 52s work as hard as anyone to hone their craft. But that's beside the point.
Each sport is in the Olympics or Paralympics for a reason. Let's work to keep these sports in, rather than finding reasons for them to go.
Thanks for reading! Be sure to tweet at me, or comment on Facebook with your own thoughts, or if you know the answer to the Paralympic trivia question!
Related Images