Chuck Aoki: Why NBC can change the Paralympics forever
Now that the NBC Paralympic Games deal has been announced, USA wheelchair rugby player Chuck Aoki urges fans to spread the word and host viewing parties.
23 Oct 2013
Imagen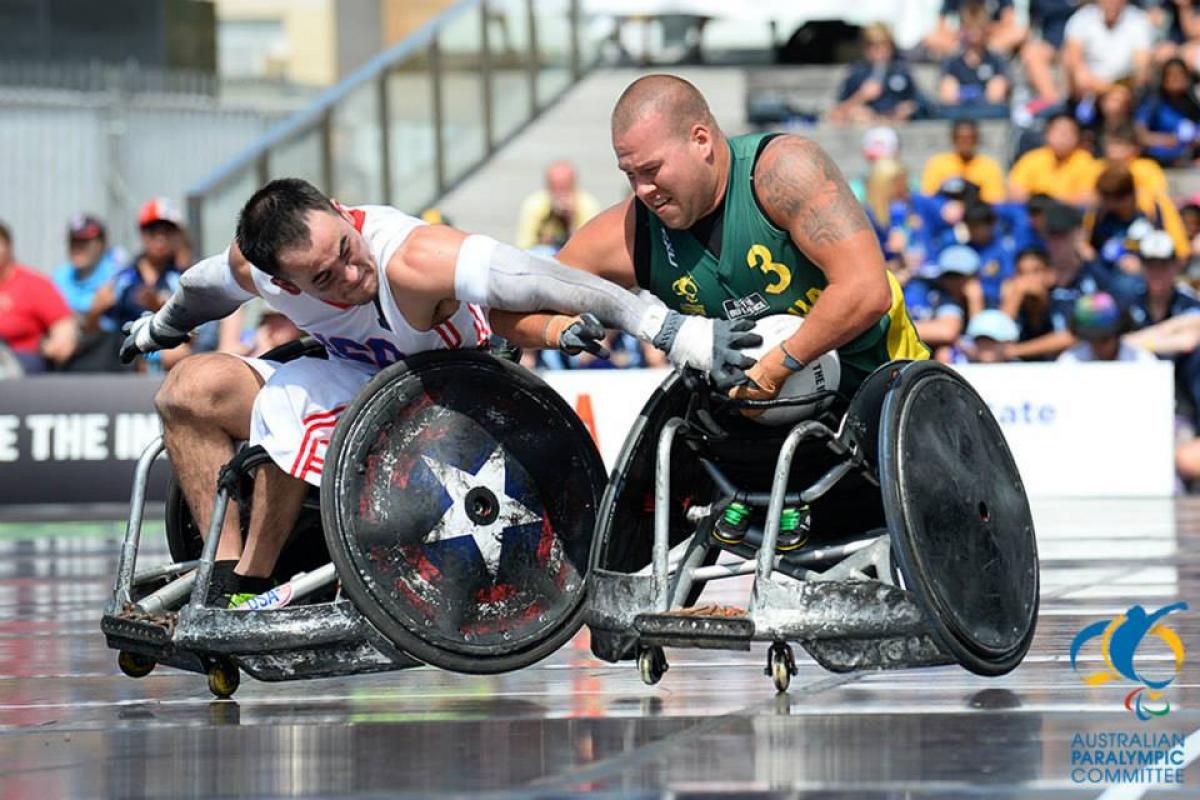 ⒸSport the Library | Jeff Crow
By Chuck Aoki
What can we do to make sure these next few years are the greatest we've ever had for Paralympic sport?
Hi everyone!
I apologise for my absence in blogging the last few months. It's been a crazy last few months for myself and USA Wheelchair Rugby.
We've been to Sydney and back, won a couple of gold medals, held onto our No. 1 world ranking, and qualified ourselves for the 2014 IWRF World Championships.
Of course, this was not nearly the biggest news for us in the last few months.
As I am sure most of you know by now, NBC announced unprecedented Paralympic coverage in the United States for both Sochi 2014 and Rio 2016.
While we don't know the full details just yet, there will be some live coverage on NBC, along with comprehensive coverage on NBC Sports Network and a dedicated online website which will offer coverage of all US Paralympic athletes and their events.
It almost seems too obvious to say that this could transform Paralympic sports forever.
The US has multiple TV channels dedicated just to sports, like ESPN, Fox Sports 1, NBC Sports Network and the like.
Our country loves sports like nothing else.
The NFL dominates Sunday TV coverage, the NBA has worldwide appeal, and the MLB is still considered America's pastime.
And every two years, the Olympics come on and create new stars, and bring attention to sports we rarely see during their off years.
Simply put, Americans love sports.
The Olympics also have a special appeal, as they unite our country, which as we have seen recently is not something done easily.
Sports transcend nearly every difference we have as people.
The Paralympics bring that same power to the table. I watched in London as Great Britain rose up to support their incredible stars like Ellie Simmonds, Johnnie Peacock, and David Weir.
Americans will have no trouble doing the same behind our many phenomenal athletes as well, like Jessica Long, Tatyana McFadden, Brad Snyder, and since we do love our team sports, men's and women's wheelchair basketball, as well.
And my sport of wheelchair rugby? Let's just say in a country where American football is beloved, I don't think we will have much trouble finding fans of the hardest hitting sport in the Paralympics.
So what can we do to make sure these next few years are the greatest we've ever had for Paralympic sport?
Shout it from the rooftops!
Read and share my blog. Ok, you don't need to do the last one, but it can't hurt.
But seriously, spreading the word about the Paralympics is the best thing we can all do. And then when it is airs on NBC, watch it.
Host viewing parties. Tweet and Facebook about your favourite athletes, and show the world that America loves Paralympic sports just as much the Olympics, if not more.
And then get ready.
The next three years will change Paralympics forever.
Thanks for reading, and as always, feel free to continue the conversation on how we can grow the Paralympics on Facebook and Twitter.