Craig Spence: Peacock's 100m win by far my 2012 highlight
IPC Director of Media and Communications picks out his best moment of 2012
27 Dec 2012
Imagen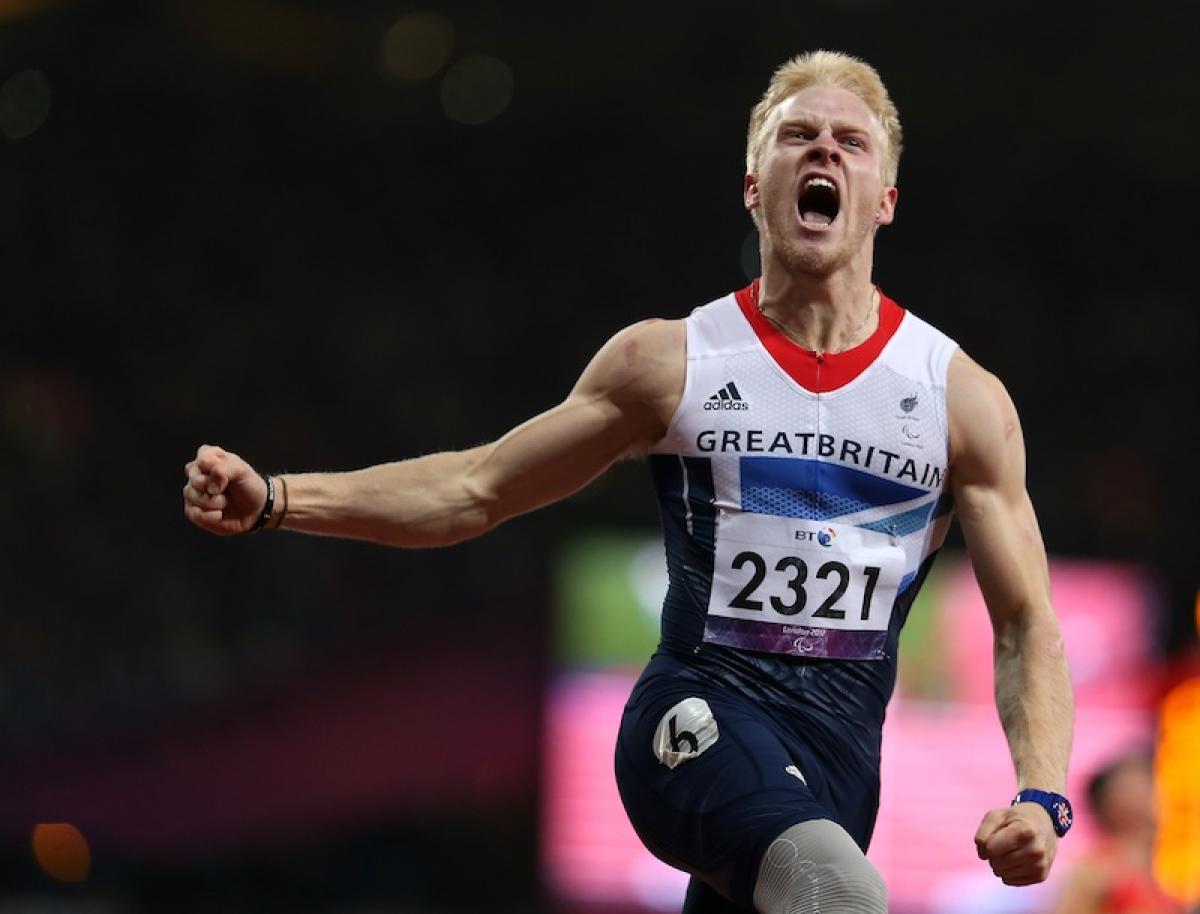 ⒸGetty Images
"I don't think ever before in world sport 80,000 people in one stadium have supported one team or one athlete, but in London it happened – in unison the crowd chanted 'Peacock, Peacock, Peacock!'"
In a year of many highlights, too many to mention really, I have to say mine is witnessing Great Britain's Jonnie Peacock win gold in the 100m T44 on 'Thriller Thursday' at London 2012.
Since January 2011 when Jerome Singleton won the world title in New Zealand in a thrilling photo finish, I'd made it my goal to build the men's 100m T44 Paralympic final into the 'must see' race of London 2012. I think all sporting events need a defining moment and I was determined that 'Thriller Thursday' would be ours for the Paralympic Movement.
As with all of the athletics sessions in the Olympic Stadium, the venue was packed well before the first race. There was a real sense of excitement and expectation which only grew exponentially as the clock ticked towards 21:24 and race-time.
Sometimes in sport when events are built up to epic proportions they fail to live up to the months of hype.
Thankfully, the 100m duly delivered. The race had everything.
Contenders
For a start it had unbelievable strength in depth. All eight finalists had the potential to win gold, and I doubt anyone could have correctly predicted the three medallists before the race.
It says a lot about the growth and development of the sport that world champion Jerome Singleton, defending Paralympic champion Oscar Pistorius and new 200m Paralympic champion Alan Fonteles Oliveira were all considered outsiders for gold.
Instead, people were focussing their attention on American Blake Leeper, who had equalled Oscar's five year old T43 world record two months prior the Games, and of course Jonnie Peacock, who had announced himself on the world stage in July when he had broken the T44 world record with a scintillating time of 10.85.
Historic moment
As the athletes took to the starting blocks it was pretty obvious who the home crowd were backing. They had just seen Dave Weir win his third gold of the Games in a thrilling 800m T54 race and were hungry for more British gold.
I don't think ever before in world sport 80,000 people in one stadium have supported one team or one athlete, but in London it happened – in unison the crowd chanted "Peacock, Peacock, Peacock!" It was a very special spine tingling, goose bump inducing moment. The emotion was raw, every single spectator had adrenalin coursing their veins, everyone felt part of the race.
Like a seasoned matador Peacock calmed the crowd. I'm not sure how he coped with the pressure or the emotion of the occasion, as I was in bits, but he did. It was the sign of a champion in waiting.
A stumble by Oliveira on the start line only added to sizeable tension.
Just before the starting gun I recall looking to the left of where I was sat in the media seats. Absolutely everyone in the crowd - including all Royals, world leaders and VIPs - appeared to be recording the race on their mobile phones. Everyone knew this was a historic moment, not just for the Paralympic Movement, but for world sport.
BEST 11 SECONDS IN SPORT
The starter's gun sounded, and then possibly the best 11 seconds of sport I have ever seen unfurled in front of my eyes.
Peacock stormed to the front.
Although all the sprinters were running into a headwind of 1.6m/s, Peacock had a tailwind of 80,000 screaming fans willing him to the finish line with deafening cheers.
There was not a chance of him not winning gold, the crowd simply would not have allowed it.
He crossed the line in 10.90, a new Paralympic record, and the stadium went ballistic. As did Peacock, who lost for words, let out a number of four letter expletives. Who could have blamed him! This was the greatest night of his life, and I think most of us would have screamed the same had we been in his position.
Out of nowhere the USA's Richard Browne took silver in 11.03, a stunning personal best, whilst South Africa's Arnu Fourie took a thoroughly deserved bronze in 11.08. As in Christchurch at the 2011 IPC Athletics World Championships, all eight finishers were under 12 seconds, a hugely significant achievement.
Inspire a generation
Even now months on from that famous night, I still get very emotional watching the race (my colleagues will certainly testify for this!) To hear an entire stadium chanting one athlete's name was unforgettable and will live with me forever.
My favourite image is about 7 seconds into the race when Peacock takes a sneaky look to his left to see if anyone is ahead of him. The glowing smile that replaces the tension in his face tells you all you need to know. He knows he is Paralympic champion and that his life has changed forever.
When joining the IPC in September 2010, I knew the biggest challenge for the Movement was creating household names. Many knew Oscar Pistorius, but few people could name another Paralympian. That's why the amazing team I have back in Bonn developed the 'London 2012 Ones to Watch' list.
I'm sure now after a magical 2012, there are millions, if not billions of people around the world who know who Jonnie Peacock is. And what is most pleasing is that Jonnie is already inspiring the next generation of athletes. I've lost count of the number of news stories I'd seen whilst back in Britain for Christmas that include the line 'Inspired by Jonnie Peacock'.
London 2012 should maybe consider changing its strapline to: 'Inspire a generation, inspired by Jonnie Peacock!"
I'm already counting down the days to next July's 2013 IPC Athletics World Championships in Lyon, France when I get to see many of the athletes who lit up the Olympic Stadium once again inspire and excite the world.
Related Images