Credit to the coach, the unsung heroes of para-athletics
The joint 100m T42 world champion pays tribute to his coach Iryna Dvoskina, the woman he credits with his success.
11 Nov 2014
Imagen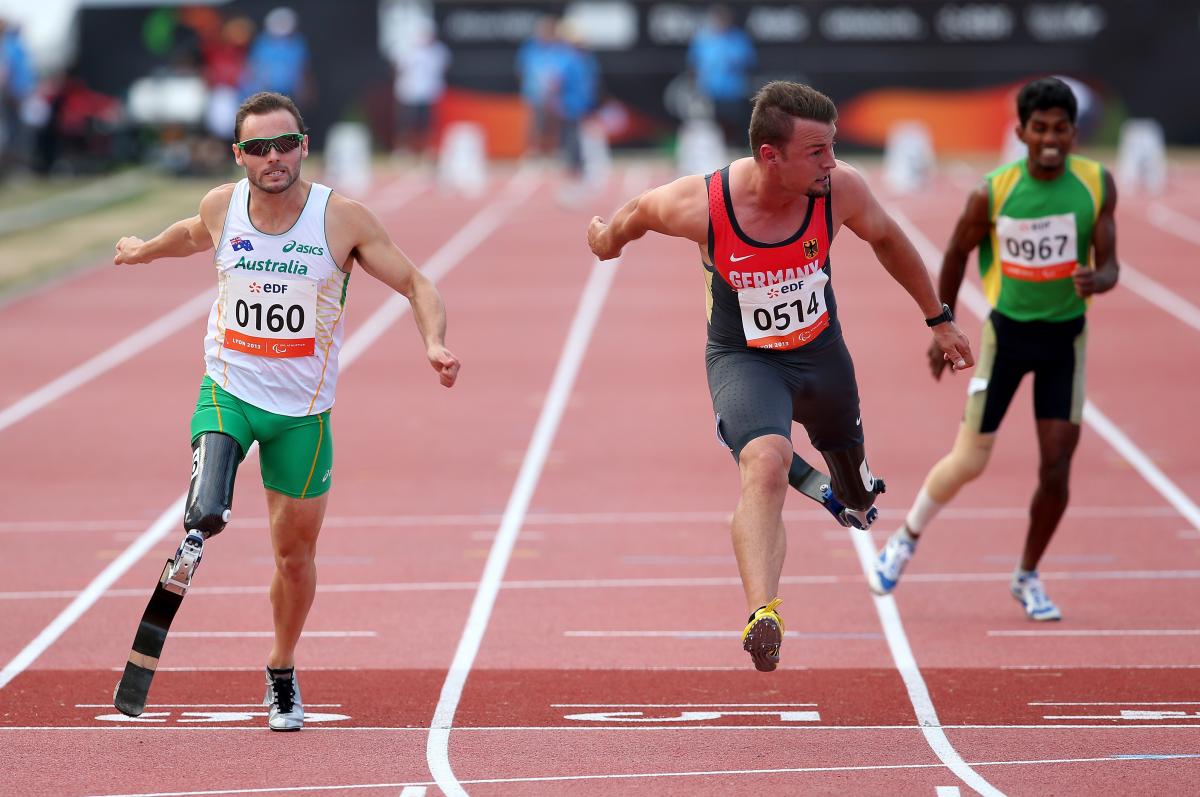 ⒸIPC
By IPC
It has been a long time between blogs, but I thought as university winds down for the semester, what better time to put something together.
As some that follow the IPC would know, I uploaded a video to my Facebook fan page last week showing my progression on the track over the years.
It is clear that improvements have been made, but I thought it was only showing one side of the story, a side that doesn't even begin to reveal the whole story.
When looking into it, there are really only two reasons that I am the athlete I am today, both physically and mentally.
The first is that I met an amazing coach Iryna Dvoskina who saw potential in me as an athlete. It could have been really easy to overlook me as a potential Paralympian, with what I have naturally been given. I am a short guy who was a water skier and had never before run as an amputee. I had a lot to learn in a short amount of time. But Iryna saw something in me and believed that she could take me from nothing to something.
The second reason is that this amazing coach started coaching me.
Spectators usually only see the polished final product once every four years at a Paralympic Games, and, more often than not, neglect to realise the reality, that every aspect of the performance has taken years of dedication and work, not only from that athlete, but in my case with Iryna, the coach.
I have never known someone with such a passion for developing athletes, some more talented than others, into champions.
Her results speak for themselves.
When I joined the squad in 2008/09, they were a group of highly successful athletes that were successful for the same reasons that I am the athlete you see in the video. They had 100 per cent trust in the plan and the process that was in place, knowing that on the right day at the right time they were going to be ready to run fast. The trust was there because of Iryna's work behind the scenes, spending hours and hours planning and implementing a winning process.
Although when I look back and see the progress that has been made over the past years, I am surprised with how far I have come. I also realise that to get to where we want to go and to go as fast that we want to, and need to, requires as much, if not more, work than has already been put in. But I know under the guidance of Iryna, as we work together as a team, we will be able to achieve even more into the future.
With trust and belief that what you're doing is right, you can do amazing things.
With a resume as good as Iryna's there is no reason not to believe that in the future I am going to be better and faster than ever before. This really excites me as we push to one day take the T42 class into 11 seconds.
Next time you are watching an individual sport, give some thought to the coaches behind the scenes that are the reason athletes run fast, even though it's recognised and appreciated by the athletes involved, coaches don't get the recognition that they really do deserve.