Esther Vergeer: Losing a Set to Dutch Teammate
The world's top Wheelchair Tennis player got a scare from up-and-coming Aniek van Koot while competing in her new chair.
14 Apr 2012
Imagen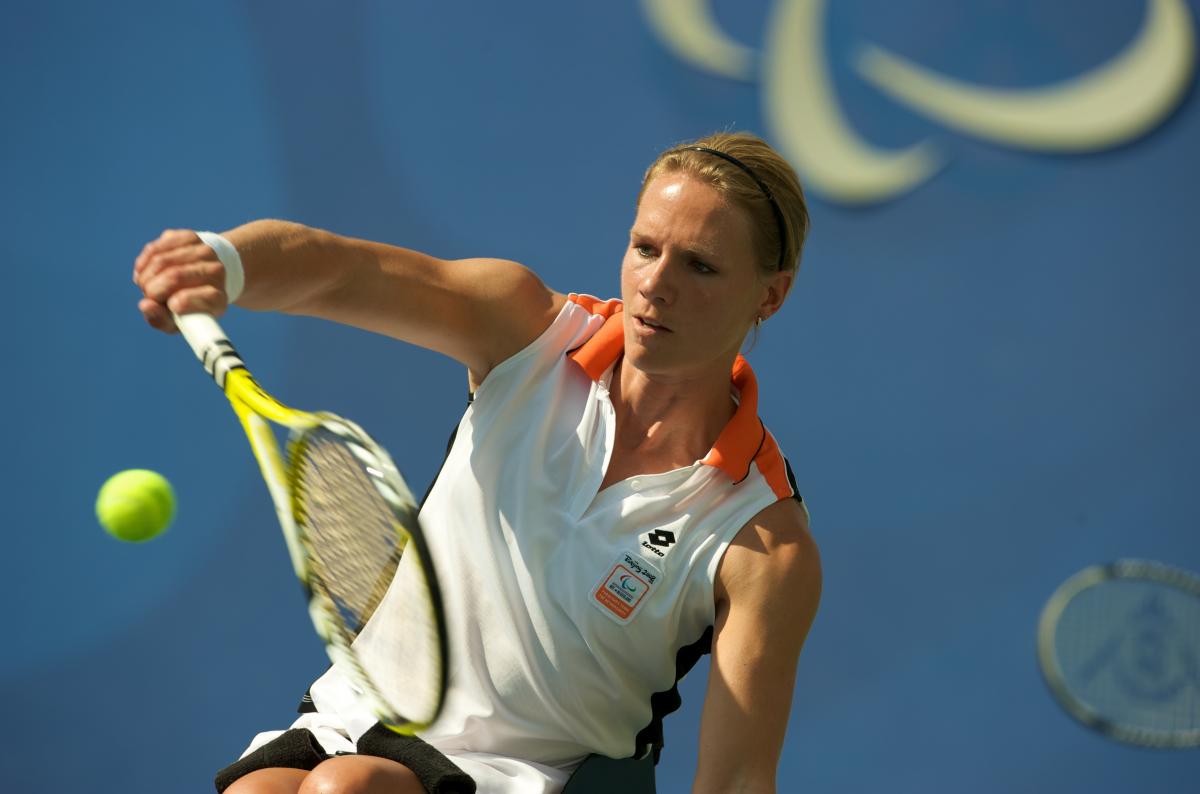 ⒸLieven Coudenys
By Esther Vergeer
What happened to me? There must be something terribly wrong.
As a novelty in Wheelchair Tennis, my new wheelchair, designed by Quickie and Welzorg, did not miss its efficiency.
Wednesday, I returned from the United States, where I played two tournaments and I won twice. So far, little aberrant news, but in the first final at the Pensacola Open, I lost a set to compatriot Aniek van Koot, which caused rather a lot of commotion.
What happened to me? There must be something terribly wrong.
That's what the questions and comments were about that I received from the Netherlands (and from the players and coaches).
At the event, they pointed straight to my new chair.
But no, it was a combination of things, and yes it was simply Aniek who played very well.
That's sport.
The competition is getting stronger.
For sure, the Pensacola Open and the Florida Open were a test case for me in two ways. Both tournaments were my first games in my revolutionary chair, in which I sort of nest myself in a cup. It appeared that Aniek had a good gameplan in the final. Many spin balls; she continued to harass me and won the second set. It was the first time in a long time that I was mentally challenged. The audience clapped harder after that set win for Aniek. They could have been witnessing my first loss in nine years.
But in the third set, I responded well, but it was so long ago that someone on the tennis court battled me so hard.
Therefore, this match was a very important moment for me, because on the way to the Paralympics, I could lean on my strong mental toughness, but this was really put to the test a few times lately.
Every time I easily won the finals and I were the one deciding how the game was played. Now, Aniek had a response, which is a compliment to her.
Besides, it was true that I was less convinced and I had less trust in my game, my chair and myself. I already trained a lot in my chair indoors and I was used to how men's No. 1 player Maikel Scheffers, hits the ball.
Now, I was faced with sun, wind, rain and a completely different style of play. Therefore, I had to correct myself in order to position the ball properly and this chair responds to every small correction. If I misjudge, the chair responds to this correction immediately. This is a process of habituation, but I had the feeling that I danced and floated so lightly.
I was nervous in that match, but in the games after the final, I already felt closer to my chair.
The new chair definitely evoked questions by players, coaches and the organization because it was the first appearance at the tournament in the U.S.
Why two wheels at the back and why fat tubes? Why covering the knees and sitting in a closed cup? Are you more agile?
Others were immediately linking the result against Aniek to a judgment. It might not be scientifically proven, but I noticed that I no longer have unnecessary energy loss by the movements that I cannot control because of my paralyzed legs.
And I also received many positive comments on it.
In two weeks I will be playing during the test event in London on the venue for the Paralympic wheelchair tennis players, where I will be with friends and my new chair once again.
That is where I finally have to win a gold medal again.
Esther writes a column every three weeks, together with Eddy Veerman, editor at De Telegraaf.
Related Images