Kurt Fearnley: My 4th Paralympic Games
With nine Paralympic medals, including three golds, to his name, Australian wheelchair racer Kurt Fearnley talks about being a veteran on the track.
03 Aug 2012
Imagen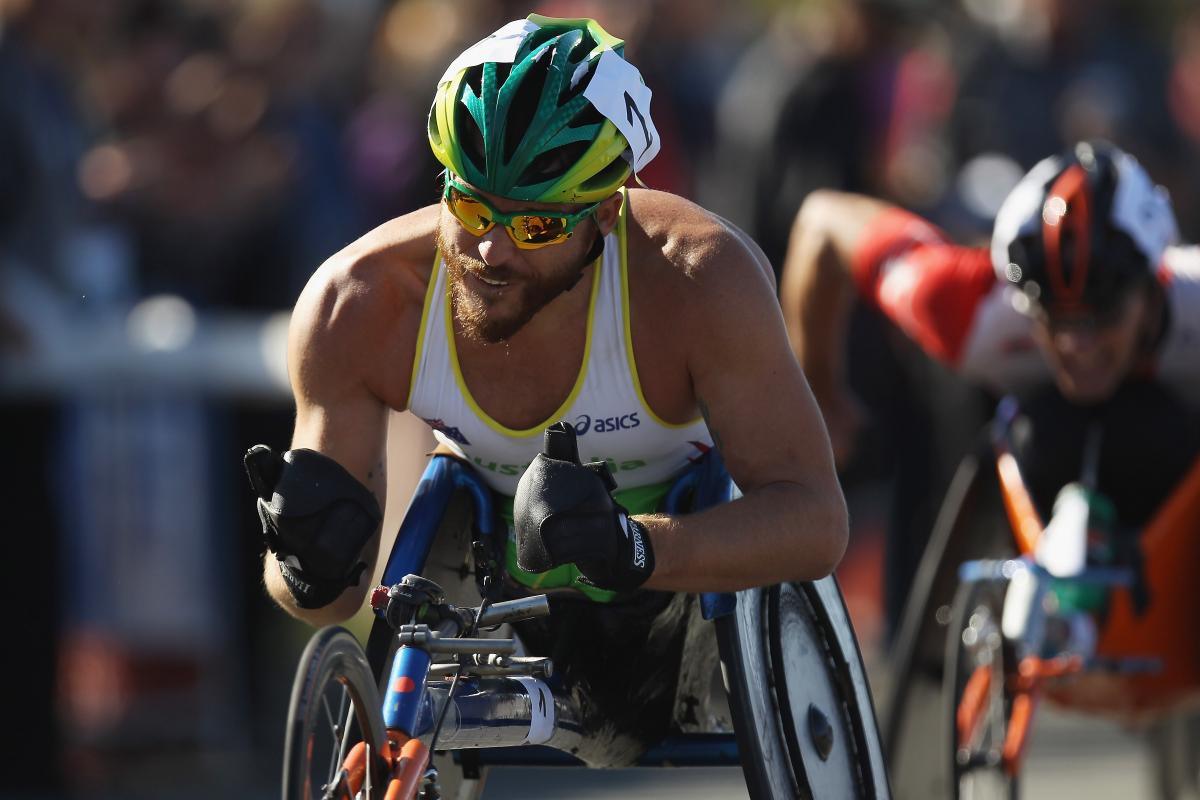 ⒸGetty Images
I'm not sure what London will hold for me, but I know I'll be ready.
The London Games will be my fourth Paralympics, and I'm just excited about number four as I was about number one in Sydney 12 years ago.
It's a different feeling going in as one of the older members of the team, but I'm enjoying the extra responsibilities that come with being one of the more experienced athletes. To think that my London teammate Rheed McCracken was just three years old when I first hit the Paralympic start line makes me feel as old as I look with the grey hairs starting to poke through my beard.
I enjoy spending time with the younger athletes, sharing my experiences and the things I've learned over the last 12 years that I hope will hold them in good stead when they get to their respective start lines for the first time.
The sport has changed a lot since I started in Sydney. It has moved from a part-time, mostly amateur sport that you pick up in your late teens or 20s, to an elite, professional movement with kids racing their first games in their mid-teens, having been in race chairs since they could first get around.
Athletes are better prepared, better looked after, fitter and faster.
Each Games have offered me a unique experience and I'm sure London won't be any different.
In Sydney, I managed to sneak in with a couple of silver medals and a massive lesson learned in the Marathon when I led the pack early before passing out in my chair midway through, finishing middle of the field, dazed and confused.
By the time Athens came around in 2004, I was racing regularly around the world, sniffing for a major international win but
not quite breaking through. I ended the games as the 5,000m winner, a Paralympic record-holder and Marathon champion, having pushed on my own to surprise the pack and breakthrough for my first major 42.2km win.
When I entered the village in Beijing in 2008, I was a marked man. I was one of the favourites for all of my races, having won more than 20 marathons around the world, almost every major road race and four world championships. I left the games having learned a lot.
I won silver in the 5,000m after underestimating an opponent. Another silver in the 800m after a controversial start-line incident and a bronze in the 1,500m after being involved in a crash with 500m to go.
For me, though, the Games were still a major success as I left Beijing as a two-time Marathon champion, having won in the Birds Nest stadium on the final morning, by less than a metre, in the fastest Marathon in Paralympic history.
I'm not sure what London will hold for me, but I know I'll be ready.
I've spent the last few weeks dotting my I's and crossing my T's making sure that when I hit the start-line in London I've done everything I possibly can to be ready to race. From fixing my leather gloves with the local cobbler, to shipping a spare chair to London by freight, replacing my push rims, collecting uniforms, fine-tuning the mechanics of my chair, to putting in those last few hundred kilometres in my chair, I've ticked all the boxes, dotted all the I's, crossed all the T's.
I can't wait to get started in just four weeks' time.