Luc Percival: Sportsmanship in para-sport
IPC blogger and sports photographer Luc Percival details an incredible moment of sportsmanship he recently witnessed when covering para-sport
09 Aug 2014
Imagen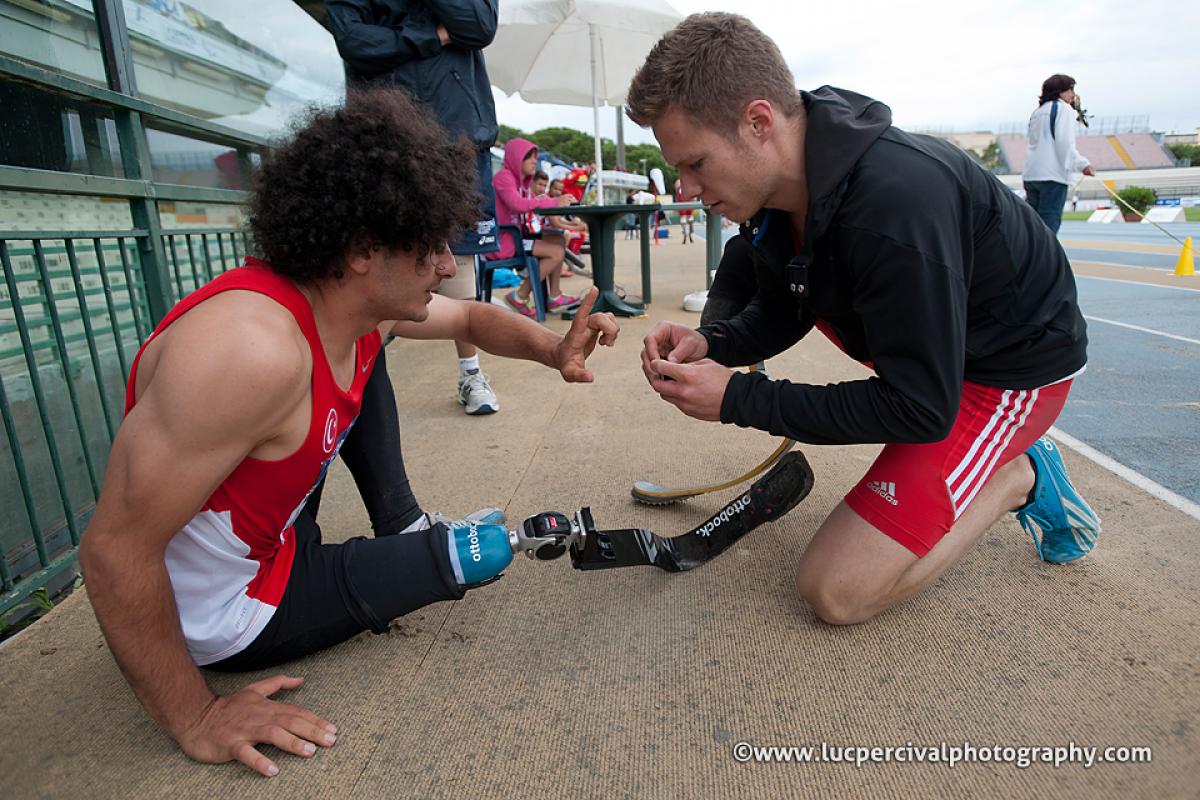 ⒸLuc Percival
By Luc Percival
"Markus Rehm is so close to clearing the sandpit. He's jumping further than any para-athlete has done in history."
From the privileged position of the infield, peering through my viewfinder I get to cover some incredible para-sport.
My job involves anticipating those moments when records are broken, medals are won and champions are made. However there is more to sport than this and sometimes one happens to be in the right place at the right moment to witness things which transcend the competition.
Covering the T42-43-44 long jump at a recent IPC Athletics Grand Prix, I've was working the sand pit from all possible angles bar being in it, trying to get an original angle on the jumps that I haven't yet shot.
From the side, head on, low down, in tight and out loose and wide. Each jump I am showered with sand. Each jump I have to move away to brush the tiny grains from my equipment and be ready for the next competitor.
Germany's Markus Rehm is so close to clearing the sandpit. He's jumping further than any para-athlete has done in history. Sometimes through the viewfinder it feels like I am too close. Indeed one frame looks like I'm about to receive the foot of his prosthetic squarely in the middle of my lens. Each jump is slightly longer than the last - Markus is in a class of his own.
In the midst of his massive jumps one would think that he'd be sat, reflecting on his last effort and visualizing, concentrating and focusing on the next jump; an internal process cutting him off from the other competitors; his rivals.
Instead Markus is just next to me with Turkish T42 jumper Baris Telli examining his prosthetic. Out comes a mutli-tool and Markus is helping Telli adjust his knee to help him jump better. They spend some time tweaking it and then Telli is ready to go. Perfectly positioned with my camera, I grabbed a few frames to capture this example of true sportsmanship.
There is, of course, nothing quite like coming first in competition. However there is nothing quite like winning when you know you've been up against strong competition. For me Markus' actions showed a great respect for his fellow competitors and demonstrated clearly what it means to be a part of the Paralympic Family.
A true champion who is likely to need a longer sandpit very soon.
To see more of Luc Percival's pictures, please visit www.lucpercivalphotography.com/