Alicante 2013: Nakovska-Bikova, the shooter's apprentice
Heading into the 2013 IPC Shooting European Championships, Paralympic Champion Nakovska-Bikova will be looking to add to her historic gold medal from London 2012 under the guidance of her coach and fellow shooter.
19 Oct 2013
Imagen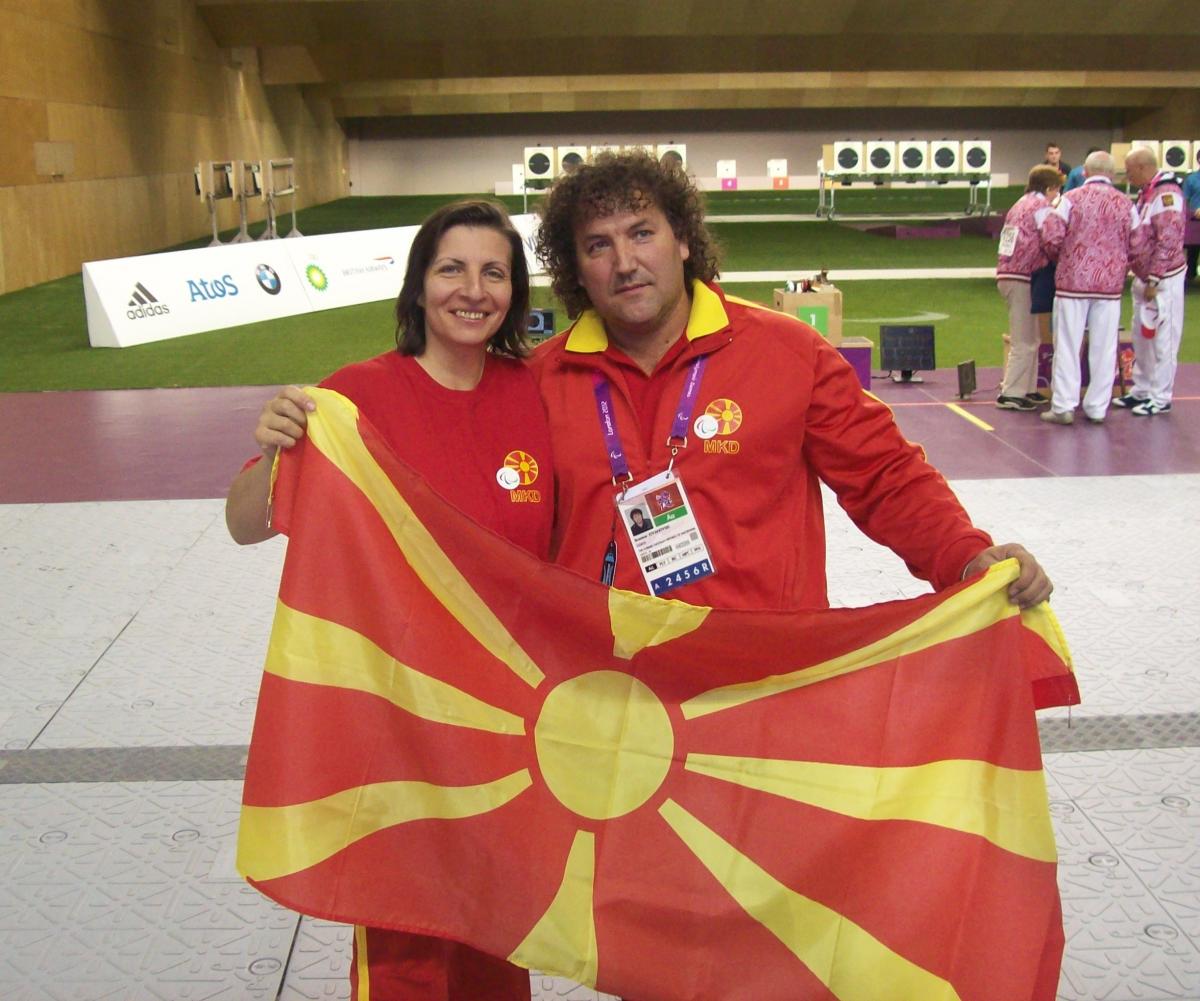 ⒸIPC
By Jake Wright | For the IPC
"He gives me the needed confidence and real support during every competition. I am proud of bringing the gold medal 20 years after my trainer's medal"
Olivera Nakovska-Bikova describes creating history at London 2012, where she set a new Paralympic games record in P2 (10m air pistol SH1) to win gold, the first under a Former Yugoslav Republic of Macedonia flag, as "beautiful and amazing."
After a period of rest, soaking up congratulations from the likes of President Gjorge Ivanov, and winning sportswoman of the year in her country, the three-time Paralympian picked up where she left off, winning her first P2 gold in 2013, at the 2013 IPC shooting World Cup in Turkey.
"[Winning gold was] wonderful, considering that the result with which I triumphed wasn't in the framework of my possibilities - I can achieve far more," said Nakovska-Bikova.
With the 2013 IPC Shooting European Championships in Alicante less than two days away, the reigning P2 Paralympic champion and current European record holder is favourite to win gold. But a potential title threat comes in the form of Ukraine's Anastasija Skok, who has been on fine form this year, winning gold and silver at World Cups in Poland and Great Britain.
Yet any discussion of a rivalry between the two shooters is quickly put to bed by Nakovska-Bikova who makes it clear that regardless of results and medals, she has the utmost respect for her fellow competitors.
"Every shooter's biggest rival is himself."
"I respect all my shooting colleagues. Some of their results are over others and that makes them medal rivals, but in sport there aren't certain medal winners – I strongly memorise the words of my coach that every shooter's biggest rival is himself."
The coach Nakovska-Bikova is referring to is the legendary Branimir Jovanovski who competed as an Independent Paralympic Participant (IPP) under the Paralympic flag, at the Barcelona 1992 Paralympic Games, winning gold in the P1 (men's 10m air pistol SH1).
Jovanovski's exploits at Barcelona inspired a 24-year old Olivera to take up shooting in 1998 and subsequently became her coach – forging a partnership that is nearly 16 years old.
"My interest [in shooting] appeared during my school days. I was lucky to have Branimir as a coach at the beginning of my career.
"He gives me the needed confidence and real support during every competition. I am proud of bringing the gold medal 20 years after my trainer's medal," said Olivera.
For a country that only made its début as a Paralympic nation in 1996, Macedonia have a fierce competitive shooting pedigree that has been honed and guided by Jovanovski. Working as head coach for the shooting team and as President of the Former Yugoslav Republic of Macedonia Paralympic Committee, his passion for shooting success was initially driven by a promise he made to himself to see medals won under that flag.
Realising his promise
"I arrived in Barcelona" said Jovanovski, "I played, I won, achieved a new world and Paralympic record, but waving on the mast was the flag of the IPC. I was proud because I won a medal for my country and I promised myself that the next time the mast will have the flag of Macedonia."
Despite making three further Paralympic shooting finals at Atlanta 1996, Sydney 2000 and Athens 2004, the 52 year-old missed out on winning a medal, but went onto realise his promise as a coach helping firstly Vancho Karanfilov to silver in Athens and secondly Nakovska-Bikova to gold in London.
"I was exclusively proud of her achievement, firstly as her coach and then as a President of the National Paralympic Committee. It's a great feeling when a small and underfunded committee succeed and win medals at the Paralympic Games," said Jovanovski.
"I expect a successful performance."
Despite 2013 being a shooting season plagued with financial difficulties, Macedonia have shown they intend to make their presence felt at Alicante 2013, fielding a team of four shooters each with huge potential to contend for medals – including three Paralympic medallists in Nakovska-Bikova, Karanfilov and Jovanovski himself, as well as Lidija Krsteska - ranked in the top ten 2013 European shooters for P2.
"We're training hard in very difficult occasions with serious financial problems, said Jovanovski, "that's the only reason why we presented at only the one World Cup in Turkey. We have a lack of small-bore ammunition and it is quite difficult to carry out training with my shooters.
"[The] Macedonian shooting team [going to Alicante] is composed of experienced shooters who won many individual and team medals from European, World Championships and the Paralympic Games. I expect a successful performance at the European Championship - at least one medal in individual and team competition," added Jovanovski.
The 2013 IPC Shooting European Championships begin on 20 October with the Opening Ceremony, followed by five days of competition from 21-25 October. Featuring nearly 170 shooters from over 30 countries, it will be the biggest shooting competition since London 2012.
You can follow IPC Shooting on Twitter @IPCShooting, on Facebook.com/IPCShooting and watch live results.
Related Images