Aurelie Rivard is swimming everyday like it is her last
'I'm appreciating the small things that I took for granted like swimming long course, going outside, and sitting in the sun'
30 Jun 2021
Imagen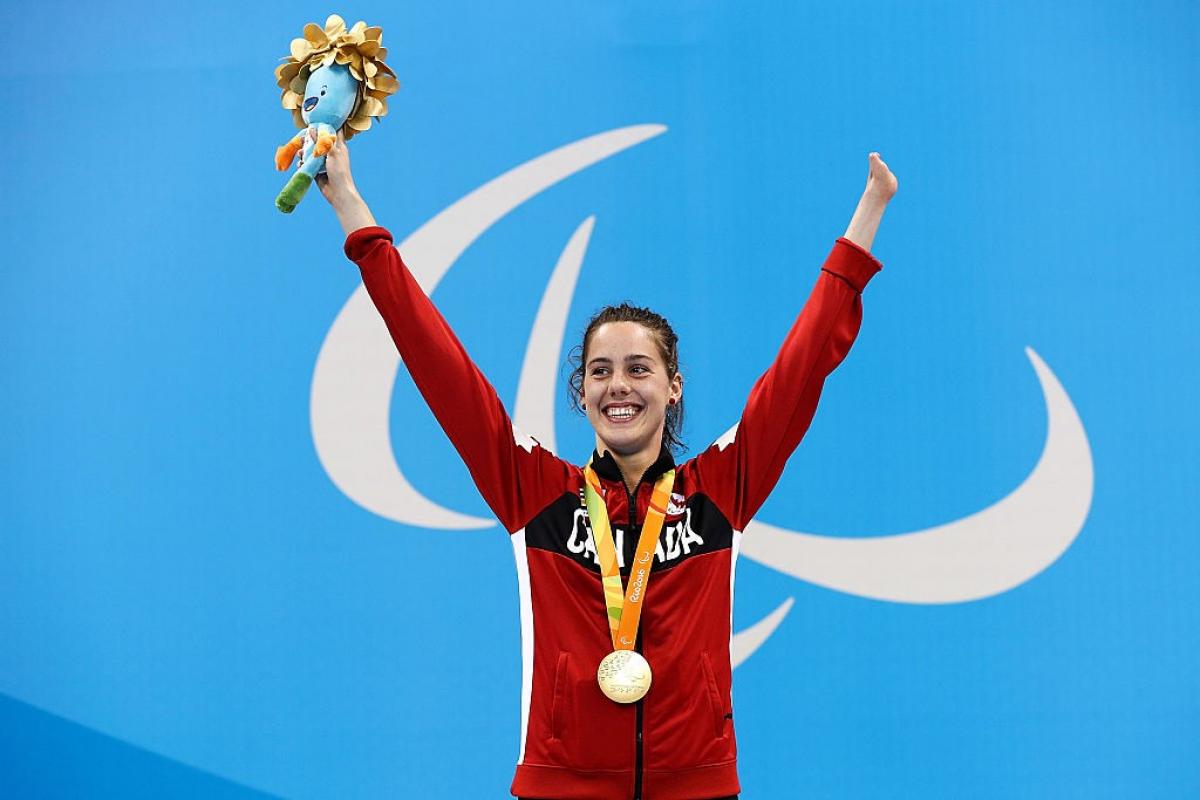 ⒸHagen Hopkins/Getty Images
By Tokyo 2020
In January 2020, Para swimming star Aurelie Rivard along with 11 other of Canada's highest-performing swimmers from the 2019 World Para Swimming Championships took part in a 10-day meet in Wakayama Prefecture, Japan.
With just eight months until the Tokyo 2020 Paralympic Games, the swimmers were in Japan to experience not just the sites, culture, and food the host nation had to offer but gain familiarity with their pre-Games location.
"It was like the final sprint until the Games. The main purpose of this trip was to kind of know where everything is so we would feel comfortable eight months later," Rivard told Tokyo 2020.
"I thought back then that 'okay well, I'll be back here in a bit'. But that's not what happened."
Just two months later, with the COVID-19 pandemic spreading across the world, the Canadian Olympic Committee and Canadian Paralympic Committee made the decision that if the Games were held in 2020, they would refuse to send teams.
While Rivard, who made her Paralympic debut at London 2012, agreed it was the right decision, it was difficult to hear.
"We had no Games whatsoever because the Games were going to go ahead [at that stage] and we were just not going to go. That would have been my worst nightmare ever," said the 25-year-old.
"What's worse than a cancellation is just me sitting at home watching everybody competing and not being able to attend. I was upset, I feel like I went through all the emotions in three days, and I feel like everything happened so quickly.
"Within two weeks my entire life changed completely. I didn't know where I was heading, where I was going, what I was going to do and I still kind of feel this way."
With her whole life revolving around swimming, Rivard started questioning her worth, identity, future because the sport could be taken from her in an instant.
"Every single week my mum would tell me, 'what happens if you can't swim anymore?' And I would always say, 'I'm always going to be able to swim'… and suddenly swimming was taken away and it was out of my control," she said.
But with everything that has happened since March 2020, Rivard believes it might sound cliché to say that she's learnt to not take anything for granted.
"I'm appreciating the small things that I took for granted like swimming long course, going outside, and sitting in the sun. It's like the highlight of a day or usually who cares about that, you know?"
SWIMMING INTO THE UNKOWN
While the postponement of the Paralympic Games to 2021 offered some relief to the two-time Paralympian, the last 14 months have been full of unknowns.
Will she be able to swim today? Will it be in a 50m pool? When will she race again?
Rivard quickly learnt that with restrictions regularly changing and never knowing what the next month let alone the next day would bring, there was only one thing she could do.
"What I started doing is just show up at the pool every single day, like [it] would be the last one," she said, explaining that athletes do not have priority or exemptions to use facilities. "We knew that everything can be taken away any day, so we were going day by day and not thinking about the next day."
Coming into the original Paralympic year of 2020, athletes were putting the final touches on their races as they prepared to go for glory, especially after the World Para swimming Championships in September 2019 – the last time Paralympic hopefuls generally see each other before the Games.
Then swimming stopped. There was nothing from March until July 2020 with indoor home workouts the go-to-training until the pools started re-opening in the summer. But like many countries winter brought a second wave.
In Canada, they went back into lockdown in October but after a month and a half, special exemptions for athletes training towards the Paralympics were granted. After being back in the water again minus her coach who wasn't allowed on the pool deck, Rivard was out of the water once again during Christmas.
While the back and forth has continued into 2021, Rivard has been able to swim long course (50m) since January – after swimming in a 25m pool from August to December 2020 – something the six-time Parapan champion is thankful for despite the uncertainties she and her teammates still face.
Rivard has also been unable to swim competitively except for a simulation race in December last year, which she did alone.
"I had to learn, and I'm still learning how to try and validate myself as an athlete, even to motivate myself with absolutely nothing, with no swim meets, no racing, no travelling, no events, nothing," the Rio 2016 closing ceremony flag bearer said.
"I really have to focus on a moment and it's the hardest thing ever, but it's really just try and do it again with what I have."
BELIEF AND TRUST IN HERSELF
"I have to thank that episode of my life for who I am today, I kind of went through the worst to experience the best …it just made [me] who I am as a person and as an athlete," Rivard said of her experience of being bullied when she was younger.
Growing up Rivard, who was born with an underdeveloped left hand, never saw herself as different from anyone else and neither did her identical twin sister, Charlotte.
But when she went to a special sports school to train for swimming more seriously, she started to become the victim of bullying. They would yell insults, throw food, and exclude her from activities which led the young athlete to hide her left hand believing that was the issue whilst also suffering from anxiety and panic attacks.
The bullying ended when Rivard stood up for herself one day at training when a teammate threw an ice-cold water bottle and Rivard decided to throw it back.
"I don't think that I would be as competitive and as motivated as I am if I didn't want to prove to people that I was good at something or even better than them. That was my very first goal in swimming, to prove to my classmates that I could do great things because they treated me like I was not worth anything," she recalled.
By focussing on what she could control, herself and her swimming, Rivard, who had lacked confidence in her abilities, started to prove others wrong.
"It just built my confidence and it opened up so many other doors. I'm so thankful for that because I feel like if I needed that to kind of bounce back up again and live the life that I'm living, I don't think it would be the athlete I am if I didn't doubt myself 12 years ago," she added.
DEFENDING PARALYMPIC TITLES, WORLD RECORD AND MORE
There is no hiding Rivard's desire to defend her 50m, 100m and 400m S10 freestyle titles from Rio along beating her current world records – she holds four (S10 50m, 100m, 200m, 400m freestyle).
And while she usually doesn't think about medals, with it being her first-time having titles to defend, it's on the top of her list.
But there is one thing that has remained the same… she feels like she is an underdog.
Heading into Rio 2016, Canadian media had dubbed the then 20-year-old as the one to watch and originally ahead of Tokyo 2020, Rivard thought she would be the one to beat.
"I'm like the one that most girls want to beat because I'm the oldest now and I have gold medals but I'm still the underdog because everybody else in the world right now is swimming, is racing, is travelling. I've watched them compete. I know the results," she said, adding, "None of them know what I'm doing."
In April, Swimming Canada made the decision to cancel the Paralympic Trials – usually held in conjunction with the Olympic trials. Thankfully due to her performance at the 2019 World Para Swimming Championships, Rivard earnt pre-selection for Tokyo 2020.
While she acknowledged there is pressure not knowing where she is at compared to her competitors, who she'll face this summer in Tokyo, pressure comes in other forms.
"It's pressure because I have no way of knowing where I'm at. I can see where they're at, but I would say that the pressure comes from me not from them. And I'm trying to use that as an advantage rather than a disadvantage."
"I like to think that the entire Canadian team actually is in the same position. And I like to think that it's going to serve us in some way.
"Once we're in Tokyo, we're going to be for a year, [when] we pushed [ourselves] mentally to try and be at the same level as everybody else with absolutely nothing, and if we can do that, then that means like we're going to end up a lot stronger."