Australia's O'Hanlon No Longer a Newcomer to Podium
The T38 sprinter is the reigning world champion in the 100m and 200m races.
27 Jul 2011
Imagen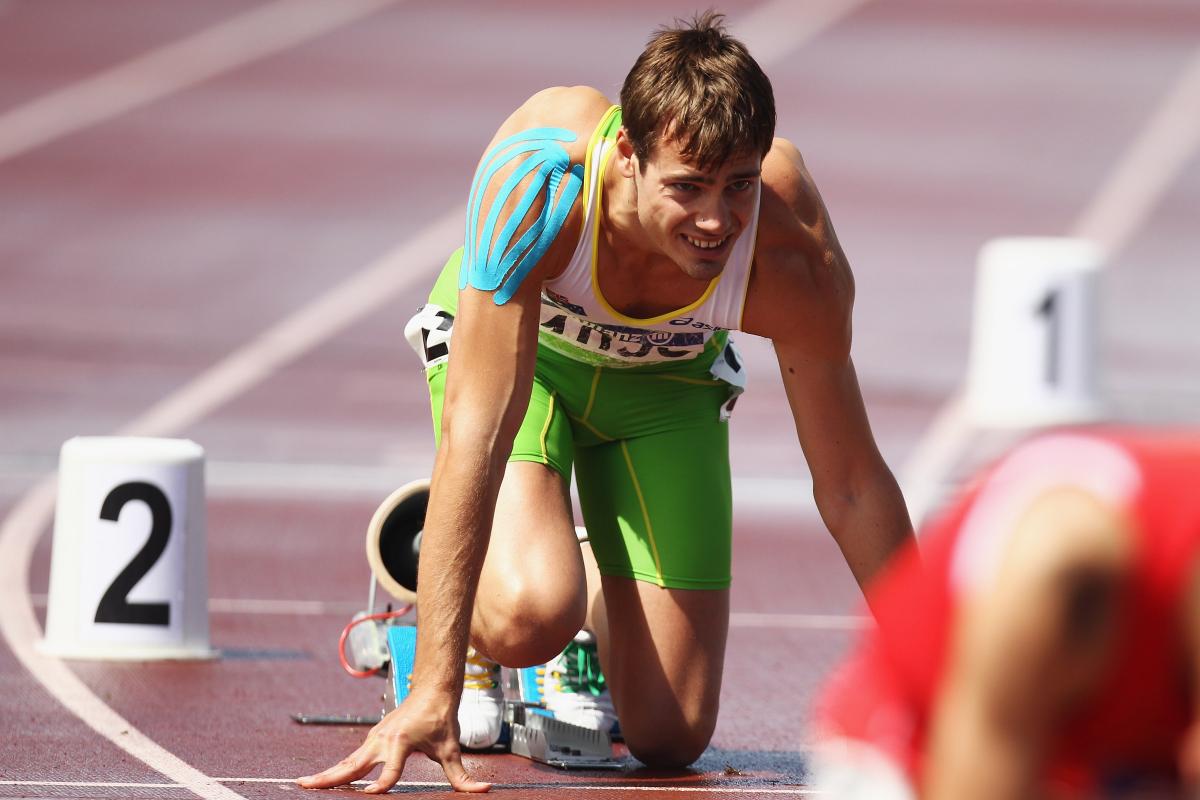 ⒸGetty Images
By IPC
"I wouldn't call myself a veteran … but I'd like to think I'm not a beginner anymore."
Editor's note: This is Part 1 of an eight-part series featuring some of the top competitors in Athletics as we approach the one-year mark to the London 2012 Paralympic Games.
Evan O'Hanlon likes his coffee straight.
No sugar. No milk.
Just a long black cup of coffee does the trick for the Australian Paralympic track star while he is warming up for a race.
Of course, O'Hanlon will then offset that with a few gulps of water or Gatorade so he does not get dehydrated.
He will to deny this pre-race ritual if you ask him about it, though.
"I try to keep superstitions to a minimum before racing because I don't want to get to the line and think, 'Oh, well, I haven't done my right shoe up before my left shoe, so I'm not going to run fast.'"
But then he will tell you the truth about superstitions.
"Most people have them. Everyone likes to wear a comfy pair of undies or something," O'Hanlon joked.
But, hey, whatever works, right?
O'Hanlon is certainly finding success with his own rituals. The 23-year-old, who was born with cerebral palsy after suffering a stroke before birth, will be the reigning world champion in the 100-metre and 200-metre sprints in the T38 classification entering the Paralympic Games next summer in London.
He took the gold in both events at the 2011 International Paralympic Committee (IPC) Athletics World Championships in Christchurch, New Zealand, in January, and he grabbed silver in the 400m.
"I wouldn't call myself a veteran … but I'd like to think I'm not a beginner anymore," said O'Hanlon, a three-time gold medallist at the Beijing 2008 Paralympic Games.
O'Hanlon said he hopes to compete in the 100m, 200m, 400m and 4x100m relay races in London, but he does not want to overwork his body just yet.2011_Evan_O_Hanlon
"I was laid back for the first couple of months after Christchurch," O'Hanlon said. "I took a bit of time off because my programme was so heavy. I raced every day for a week at worlds, so after that, I took a fair bit of time to go really light. But now, it's starting to get strict again."
At the World Championships, O'Hanlon relied heavily on massages, ice baths, spas and plunge pools, which allowed him to quickly recover for his next race.
Since Christchurch, O'Hanlon's purposely packed on an additional 10kg to add more strength to his sprints. He is experimenting with his coach, Iryna Dvoskina, on how to add an extra punch of power to give him a stronger edge than he had in Beijing and Christchurch.
And so far, he said, it is working. He just hopes it will benefit him in the 200m race in London, in which he will most likely be challenging Tunisia's Muhamed Farhat Chida and Ukraine's Mykyta Senyk for the title.
"The 200 I like because you can get up and feel yourself take over people and feel everybody else around you a little bit more than in the 100 metres," O'Hanlon said.
No matter what happens in London, though, O'Hanlon has something to fall back on afterward – the landscape architecture degree he is currently pursuing at the University of Canberra in Australia.
His parents and older sister run their own architecture firms in Sydney and Newcastle, and while O'Hanlon said at times it is difficult to balance school and training, he knows it will be worth it in the long run.
"I hope to end up back in the family business somewhere," O'Hanlon said. "It's nice to know that I have a job to go to straight after training. A lot of people that come from sport either haven't done university or really don't know what they're going to do once they finish sport, because they've been doing it for so long that they don't really have any job experience."
But for now, O'Hanlon's actually looking forward to some added pressure as the Paralympic Games approach.
The Australian Paralympic sensation already has the girls chasing after him.
Or at least his five sisters.
"I just run away – pretty fast," O'Hanlon joked.
Related Videos