Ballard to open 2013 season in Dubai
Great Britain's Graeme Ballard hopes to keep his outstanding performances rolling into 2013, starting with the 5th FAZZA International.
23 Mar 2013
Imagen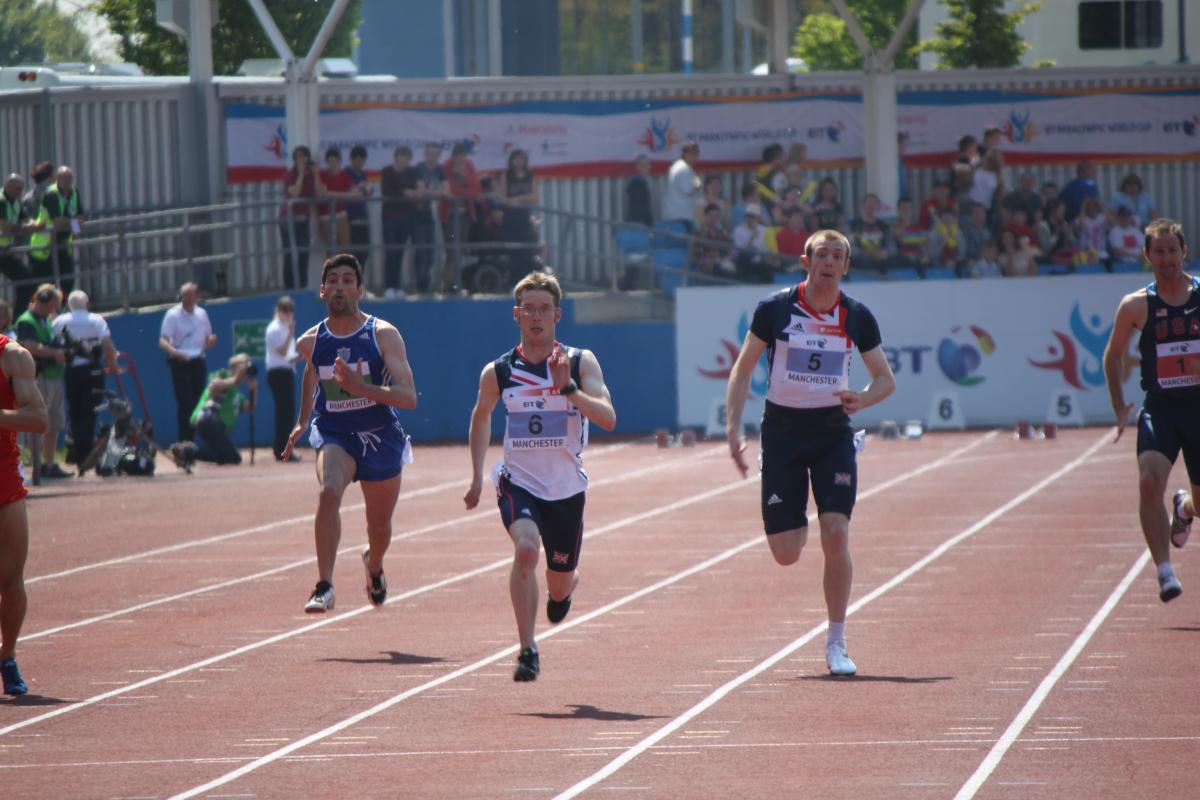 ⒸIPC
By Ros Dumlao | For the IPC
"(My husband and I) were there to see him break the world record. It was just amazing … but he's the healthiest he's ever been."
After an outstanding 2012 season, Graeme Ballard is looking to keep his momentum rolling toward the 2013 IPC Athletics World Championships in July in Lyon, France.
A world-record run, followed by a Paralympic medal means that Ballard is coming off his best athletics season so far. Even his mother, Barbara, wonders if he can continue those performances in 2013.
"I don't think he can beat that," she joked. "(My husband and I) were there to see him break the world record. It was just amazing … but he's the healthiest he's ever been."
On Saturday (23 March), Ballard is expected to compete for the first time since those unforgettable Paralympics in London last summer. He will take part in the 100m and 200m T36 at the 5th FAZAA International in Dubai, the first of six events in the 2013 IPC Athletics Grand Prix calendar.
At last year's Paralympic World Cup in Manchester, Ballard became the first athlete with cerebral palsy to run under 12 seconds in the 100m T36. That qualified him for the London 2012 Paralympics, where he won silver.
It was his first Paralympic medal since Athens in 2004, when Ballard took bronze in the 200m. But he had to contend with a back injury and his performances took a downward spiral.
In Beijing 2008, he finished eighth, sixth and eighth in the 100m 200m, and 400m respectively. Despite the disappointing performances, Ballard wasn't downhearted.
"I was injured in Beijing," Ballard said. "But once I got the injury out of the way and got back to fitness, I knew I had something more to give."
The 2011 IPC World Championships in New Zealand saw slight improvements from Ballard but he wasn't yet where he wanted to be as he finished fifth in both the 100m and 200m.
"I was getting back to form from New Zealand from my back injury," Ballard said. "So to me, that was a good stepping stone."
With London in his sights, Ballard knew all he needed was time to heal as he bid to qualify for the Games.
But time was running short.
The BT Paralympic World Cup came in May 2012, and Ballard had one of his last chances to earn his ticket to the Games.
He did more than that.
Ballard smashed the world record in the 100m, clocking 11.98 seconds. Though nano-seconds off his goal of 11.90, he was overwhelmed by his accomplishment - especially as his proud parents were able to share the moment with him.
Ballard's new record conveniently came just a 30-minute drive from his home in Chorley, Great Britain, and a chance for his parents to watch him.
His mother suffers from blood clots and can't make long trips to watch him compete. But she wanted to take advantage of every chance she had to watch her only child run on the big stage.
"Knowing that they were there just gave me a massive lift," Ballard said.
Following the Paralympics, Ballard has enjoyed doing school visits and sharing his Paralympic experiences with children.
"Everybody recognises him on the street," Barbara said. "We can't go shopping without someone stopping us to say well done."
But with the World Championships in Lyon in July, Ballard is refocusing, aiming for the A-Standard (12.4 seconds) in the 100m.
Dubai will give him a chance to see what he's capable of.
The world-record holder changed coaches in October and is working with Tabo Huntley.
"It's taking a while, but we've got a good understanding, and he's very patient," Ballard said of Huntley. "We're just working on the techniques now and trying to get faster."
Getting faster is now the name of the game but at least Ballard knows that nobody has gone faster than him.