Is Beating Australia All About Ryley Batt?
Ryley Batt is arguably the world's best Wheelchair Rugby player, but although the focus often falls on him, there are other players who are coming to the fore.
05 May 2012
Imagen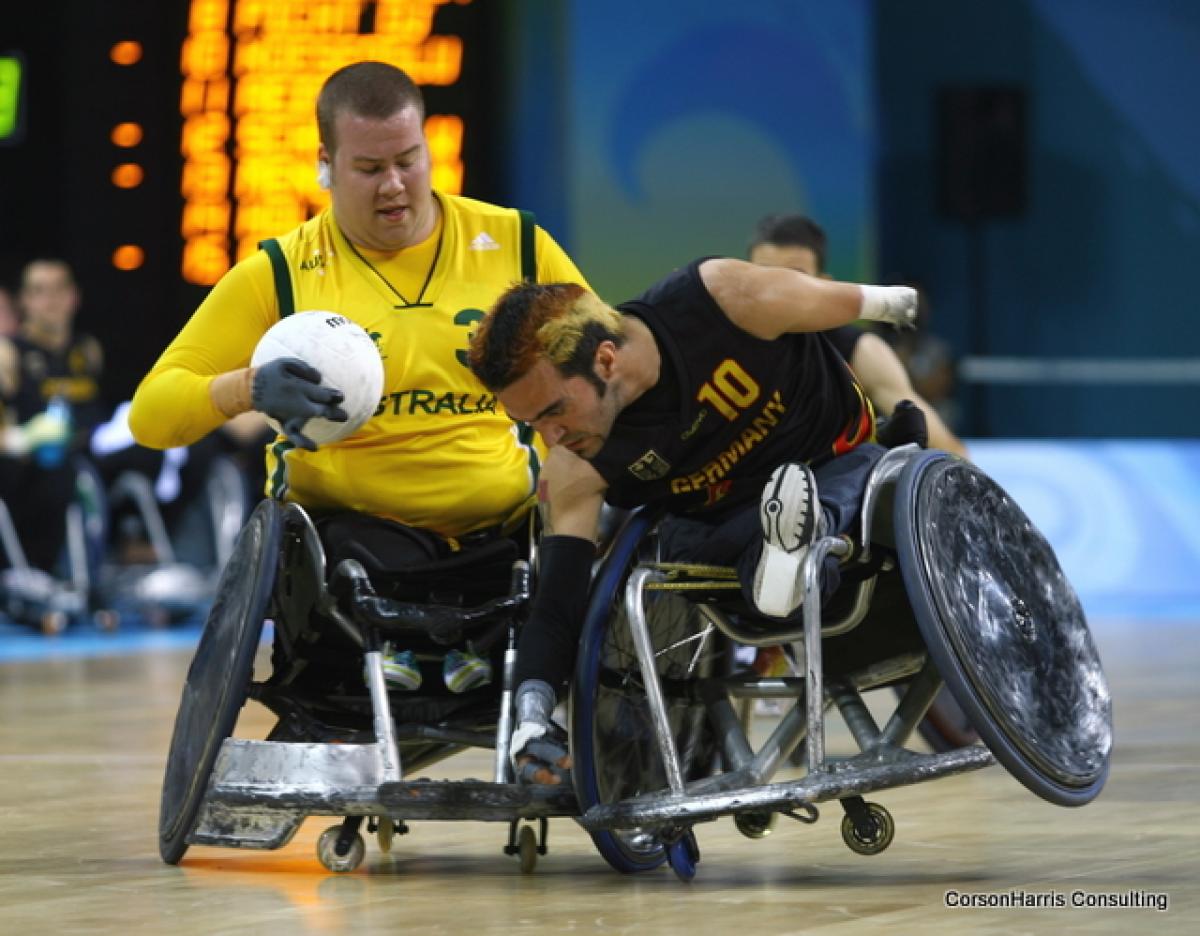 ⒸCorson Harris Consulting
Ask any player about the Australian Wheelchair Rugby team, and the word "Ryley Batt" will most likely be mentioned, usually with the word "world's best player" following shortly afterwards.
Ryley Batt is a very dominant, talented 3.5 player, meaning he is one of the most functional athletes on the court.
"Stopping him from playing is the key to stopping Australia," said Great Britain's Mike Kerr.
The trouble is that trying to stop Ryley Batt is like trying to stop a freight train. Often it takes two or three players to contain him.
"It's going to be a real challenge for us to handle him, but that's what this elite sport is all about: that challenge and competing at the highest level," added Great Britain's Ross Morrison.
"Having watched him over ten years of playing, it's his skill level: what he brings to the table makes him a very unique player and a very big threat to handle."
But for other players the dominance of Batt is Australia's weakness.
"Ryley Batt's a good player, but not one player's going to win it, not when you go up against the US," said USA's Scott Hogsett. "You've got to be able to have a full squad to beat us and that's why we're number one in the world."
Batt is fiercely covetous of the ball on court.
"I am an aggressive player," admitted Batt, who also goes wake-boarding and races quad-bikes. "Out of the court, I'm sort of a nice guy, I guess, but when I'm on court, I'm just a totally different person. Yeah, I get a bit too wound up sometimes and do some stupid stuff, but it's just the way I play.
"I'm just full of energy."
Team player
Batt enjoys being the main man – usually his teammates pass to him as soon as possible - but the 22-year-old always stresses that it's a team sport: his teammate are the ones who carve out a route for him to score.
"A lot of people say it's all Ryley Batt, but it's not. We have a good team behind us and they're the ones pushing us for that gold medal in London," said Batt, who has been recovering from a string of shoulder, elbow and wrist injuries this year.
As the top scorer, Batt is often targeted and locked down by up to three members of the opposing team, who try to wear down his energy, and take control of the game.
"I do feel like I'm targeted during games, but it's part of the nature of the sport. If you're a higher classification player, you're going to get targeted. It does get frustrating, but I'm gonna use that frustration in the offence or getting out of those traps in defence."
The emphasis is not exclusively on Ryley Batt. Australia also have another, newer player in Chris Bond, a fast, athletic player, who plays the ball off his teammates more than Batt.
Bond, also a 3.5 player, has only been on the team for 18 months, but already he is proving to be another key component of the team.
"Training under someone like Ryley has just helped me develop that much quicker," said Bond "That learning curve is a lot steeper. It's been great."
Bond, who normally walks on prosthetic legs, is learning everything from Batt including how to move his trunk and use the wheelchair, to where to be positioned on court.
In the coming months the Australian team will knuckle down to train for the Paralympics. They have a solid work-ethic and a determined spirit.
"It's a big commitment and we're always exhausted by the end of training, but we know we've got a goal in mind, which is the end of the year, the Paralympics," said Bond. "Hopefully we'll win the gold. That's what we're aiming for, so that goal in itself is worth it."
Bond trains in Australia's Brisbane training hub with Cameron Carr, Ben Newton, Cody Meakin and team captain Ryan Scott, who is one of the more experienced players on the team.
Scott balances out the youthful hunger of newer players, with his experience of pressured match situations.
"I think it helps me, but it probably helps the younger guys too, just being able to explain to them what to expect, experience on court – I can help guide them at times," said Scott, who has been on the national team since 2001.
Not just relying on raw talent
One thing Scott will be ensuring is that all teammates take their training seriously. Australia lost to USA at the last Paralympics, which he puts down to lack of preparation.
"We were in a transitional period. We had a new coach," said Scott. "I think as players we let ourselves down a little bit. Overall we probably didn't have enough guys doing the hard work and it showed in the end. I think we got by on natural talent, rather than hard work and natural talent."
This time everything has changed, and they are mentally and physically prepared to do whatever it takes to win.
Team coach, Brad Dubberley thinks the line-up this year is pretty strong with a mix of experienced players and first-time Paralympians.
"Mixed with the other guys who have been to the Paralympics before, we've got a great blend and everyone gets on pretty well and we've got a very successful team," he said.
The Australian team generally runs one of their 3.5 players with two 2-pointers and a 0.5.
Ryley Batt without doubt features in most of the line-ups, but the Dubberley insists that he is a team player, though his high skill level means that he often dominates the goal-line.
"Ryley's a great athlete to have on our team for a number of reasons. There's no doubt he's a great player, but he does the fundamentals so well," said Durberley.
"In terms of our team dynamics, he's just one of the boys. He gets on really well with everybody, doesn't have a big head."
As other teams have brought in 3.5-point players to match Batt, those athletes have begun to style themselves on Batt.
Learning tricks from Batt
"Ryley in my opinion is the best player in the world at the moment," said Great Britain's Aaron Phipps, who has been pitted as Great Britain's answer to Batt. "I'm just watching what he does and trying to be as good as he is and work as hard as I can to potentially match up with him one day."
Another 3.5 player is Canada's Zak Madell, who has been watching how Batt plays to pick up new skills. Madell has a similar functional ability to Batt and has been tipped as a star of the future.
"I'm trying to learn what he does on the court because he does it so well, so just trying to pick up new things," Madell said.
"I'm just trying to watch his style, how he plays positioning on other players and his defence."
One team though is not answering Batt with a 3.5 player: world number one USA. They believe that with a team a predominantly 2 point players they can wear Batt down, until they can take control of the game.
"We just run waves of line-ups at those players [3.5-pointers] and kind of just wear them down," said Hogsett. "We absorb their first blow, and hopefully come the second half of the game, those players are worn down and we just take control and win the game."
Australia will meet USA at the Canada Cup in June, which is seen by many players as a dress rehearsal for the London 2012 Paralympic Games.