Bonnie Bunyau Gustin living his father's dream
Malaysia's double world champion takes inspiration from video game, Valentino Rossi and Siamand Rahman
15 Aug 2019
Imagen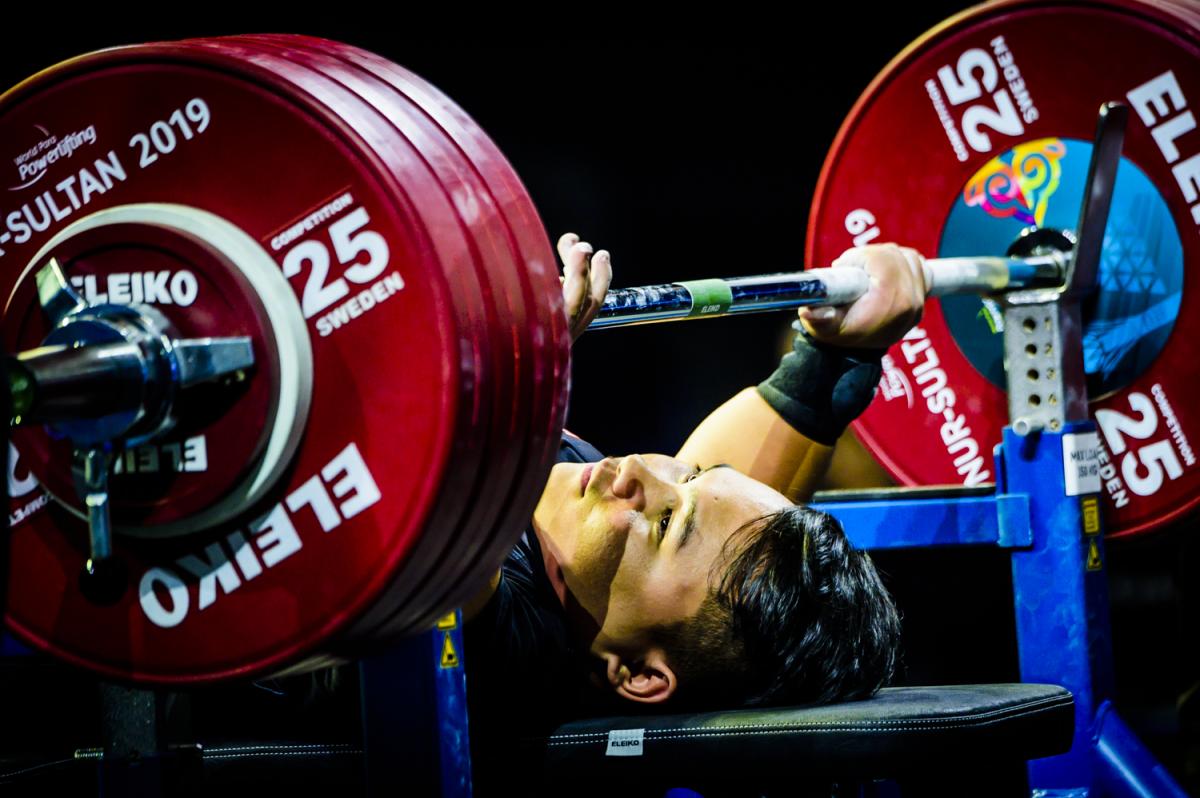 ⒸHiroki Nishioka
By Priyanka Sharma | For World Para Powerlifting
Bonnie Bunyau Gustin is living a dream. The dream, his father Jenang Gustin dreamt of for his son several years ago – becoming a world and Paralympic champion.

Still a junior athlete, Gustin had his moment of glory at the Nur-Sultan 2019 World Para Powerlifting Championships when he surprised everyone with double world titles. Something that will push him closer towards his Paralympic goals. 

After clinching the men's up to 65kg junior title on opening day, Gustin went on to shock Paralympic champions Paul Kehinde and Liu Lei on his way to his first senior major title. He lifted a massive 207kg for the up to 65kg gold.

"I am very happy that I am able to live his [father] dream. It was his dream that I would become a world and Paralympic champion. I made a promise to myself to make his dream come true. The journey has just begun," he said. 

The excited 20-year-old left Kazakhstan eager to meet his father back home in Sarawak, Malaysia.

"Now I want to win a Paralympic gold for him. I will have to train harder," he added. 

Gustin's powerlifting journey began at a very young age, when he followed his father to the training centre in Kuching.

And he picked up the nuances of the sport in very little time. 

His father Jenang was an international Para powerlifter who had participated in the Kuala Lumpur 2010 Worlds, while his elder brother Bryan Junancey Gustin was a national athlete.

Once he had fallen for the sport, Gustin left studies to focus only on powerlifting. And results slowly followed him. Starting with the National Junior Championships title, Gustin went on to win the gold in his international debut at Dubai 2017 Fazza World Cup.

"He is always motivated to win gold. And he goes for it with no fear; he is very strong-headed and resilient, which makes him unique. This was also the reason he could beat Paralympic champions in Nur-Sultan," said his coach Jamil Adam, who has been training Gustin for the last six years. 

Upward surge

Adam revealed that Gustin's improvement started in 2018, when he kicked off the year lifting 157kg at in Dubai and ended the season with an impressive 204kg at the Indonesia 2018 Asian Para Games. 

"His trajectory of progress in 2018 has been very impressive – from 157kg, 166kg, 180kg to 204 kg. He is a one in a million athlete who rises so fast. He is special; genetically talented, determined and very focused. He knows in which direction he has to go and how to reach there," Adam said.

PUBG & Valentino Rossi


Meanwhile, Gustin finds uses his other passion to improve his concentration on online game PlayerUnknown's Battlegrounds (PUBG).

"After powerlifting, this is one thing I love to do. It also helps me improve my focus. I have friends in Kuala Lumpur [at the training centre] who join me. It's one of the best things to unwind myself," he said.

Gustin also likes the adrenaline rush of racing and thus, he is fond of MotoGP and follows Italian racer Valentino Rossi in that case. 

"He [Rossi] inspires me with his speed. He motivates me to do better in my game."

In his own sport, his idol comes from Iran.

"In powerlifting, I look up to champion Siamand Rahman. I admire the way he breaks world records. My target now is to lift 212 kg in Dubai next year before taking a shot at Tokyo 2020 Paralympics."

How far he can go in Japan is a question he does not want to answer yet.

"Well, that's a secret about the weight in Tokyo. You have to watch me for that."