Brazil's Carneiro twins share same tattoo and almost the Paralympic swimming podium
Debora Borges Carneiro just missed out on joining Beatriz among the medals
29 Aug 2021
Imagen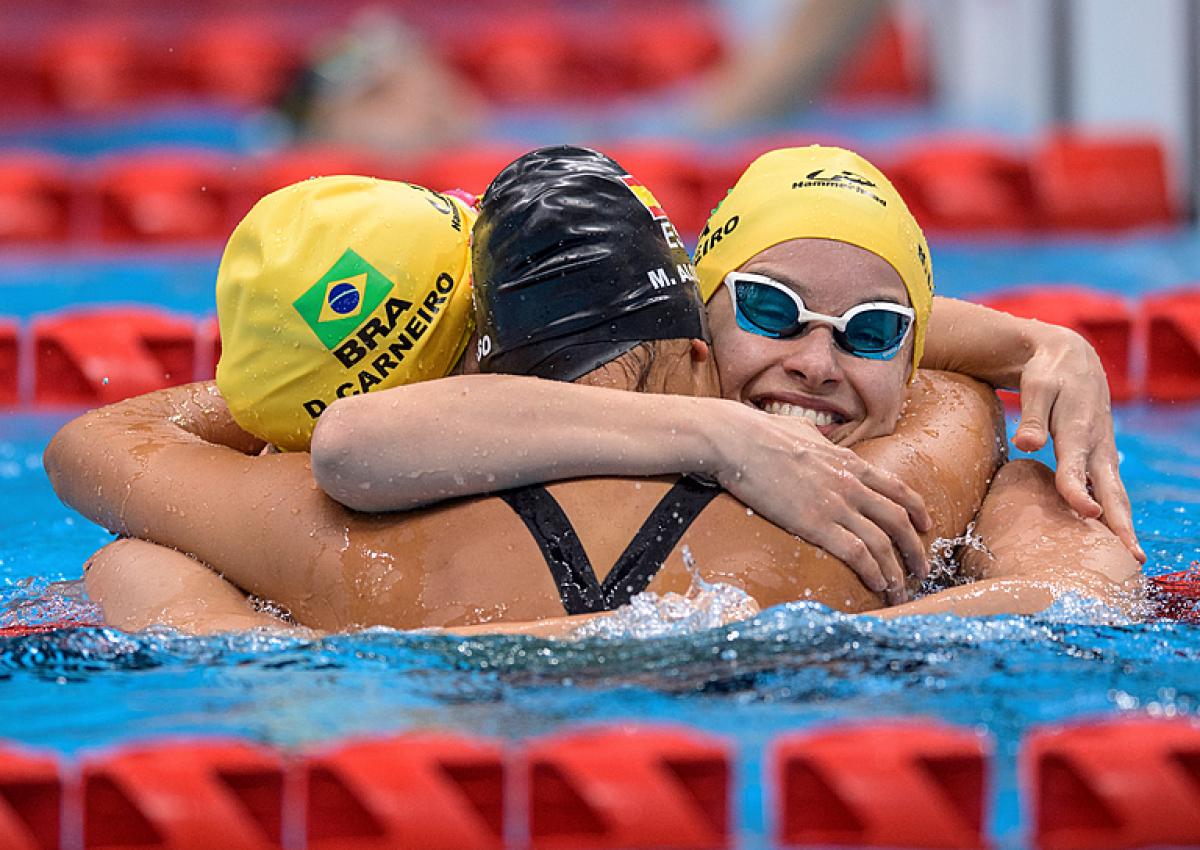 By Ros Dumlao | For the IPC
They share the same tattoo, the same blue highlights in their hair and they almost shared the same Paralympic medal at the Tokyo 2020 Games.
But it was Beatriz Borges Carneiro who just beat her twin sister Debora by a quarter of a second to secure the final podium spot in the women's 100m breaststroke SB14 on Sunday (29 August). 
"I left the water crying," Debora said. "I never have seen my sister so pumped for an event. I told Bia, 'This is your event.' 
"Before the event, I told her, 'You will win this medal. Medal means money. The important thing is the money,'" she said laughing with her sister. 
For the first time in their swimming careers, the Carneiro sisters reached a Paralympic final together. It was a moment they hoped for, after an injury crushed Debora's hopes of qualifying for her home Rio 2016 Games. 
They raced against each other at the 2019 Worlds in London, where Debora won the bronze medal, and also the Lima 2019 Parapan American Games. 
This time at the Tokyo Aquatics Centre, the two were side by side, Beatriz in lane three and Debora in two. Spain's Michelle Alonso Morales was a second off her own world record to take gold but the final two medals were up for grabs, with Great Britain's Louise Fiddes touching the wall for silver. 
"I didn't realise that I got a medal," said Beatriz, who competed at her home Paralympics in 2016 and finished fifth in the same event. "In Rio, I was only 18. I had no experience, no idea about the Paralympic Games. Now I can't really explain what I am feeling. I fought really hard to be here.
"When we are in the water, we can't see each other or realise our positions, but once we see the screen, it's kind of crazy that we arrived in third and fourth." 
After coming just shy of making the podium, Debora said: "As for me, it's the first time making it to the finals, it was very emotional. I never had this before, but it was very exciting. For a short person like me, only 1.68m tall, it's a lot."
Though representing a big country with a delegation of 241, the 23-year-old sisters said being together and putting their home town of Maringa in southern Brazil on the map is important. They are the only Brazilians from there in Tokyo. During the Covid-19 pandemic, when it was difficult to find a pool to train in, they at least had each other to stay motivated, doing stationary strokes in a tiny pool.
Motivation also comes from a well-known cartoon character, who is tattooed on their arms with the phrase "Continue a nadar…"
"We are huge fans of Dory from (the animated film) Finding Nemo because she has an intellectual disability and she suffers from recent memory loss, so we tattooed 'keep swimming.' We're just like her," Debora said.