Canada's Marcoux brothers turning into teenage sensations
At 16 and 19 years old, alpine skiers Mac and B.J. Marcoux are heading to their first Paralympics with little to lose.
24 Feb 2014
Imagen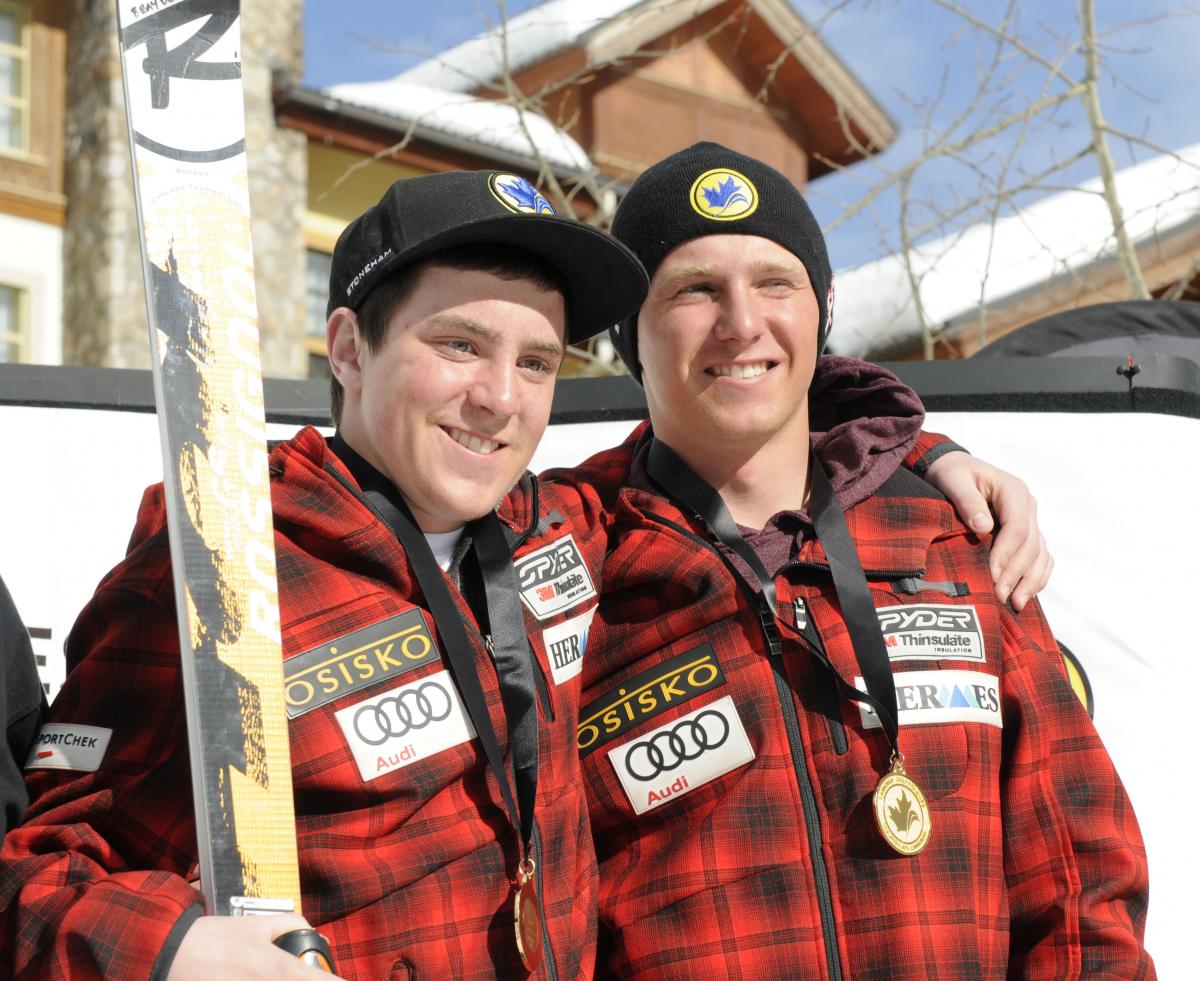 ⒸAlpine Canada
By Justin A. Rice | For the IPC
"Sometimes I go down the hill and I crap my pants, and to be blind and follow me, it's like 'Wow."
The YouTube video flashes so quickly it is hard to comprehend after only one view.
During the second and third views, however it becomes clearer that a skier in the video is catching a hurling ski dislodged from the athlete who wiped out in front of him.
A fourth view is necessary just to marvel a little more.
The clip, with more than 10,000 views to date, would be amazing even if the skier corralling the razor-sharp projectile was not visually impaired.
But, alas, the man in the video is Canadian Paralympian Mac Marcoux.
Caught during January's IPC Alpine Skiing World Cup in Panorama, Canada, the errant ski belonged to Marcoux's older brother Billy Joe Marcoux, or B.J. — who serves as his younger brother's guide.
"I thought he was just trying to slow down, but really it was him falling," Mac said. "I just came through the snow dust and got hit by (the ski) in the chest.
It did not take long to realise how badly the incident could have gone.
"Yeah, it kind of occurred to me there that could have been real bad," Mac recalled. "If it hit me anywhere else but in the chest, it would have been real bad. As it hit, I just wrapped my arms around it and stopped and handed it to my coaches."
No reservations
Mac, 16, and his 19-year-old brother from Sault-Ste Marie, Ontario will make their Paralympic debut at the Sochi 2014 Winter Games from March 7-16.
A year after becoming one of the youngest skiers on the World Cup circuit, Mac has medalled at the Word Cup three times, including a gold in the men's super-G in Mt. Hutt, New Zealand, last August with a time of 1:25.00.
He also won silver in giant slalom at the IPC Alpine Skiing World Championships in La Molina, Spain, last year as well as national titles in slalom and giant slalom.
"It means so much," Mac said. "To think about how quickly we've come from being nobody skiing in northern Ontario to really coming up and skiing and representing Canada in the Paralympics, it's pretty surreal. It's pretty awesome."
The brothers have had a need for speed ever since they were racing go-carts as little kids and started going on family ski trips when Mac was three.
When Mac started to lose his eyesight at age nine, the family started looking into adaptive sports for him to play. Inspired by Canada's McKeever brothers, Mac thought about Nordic skiing before the Canadian para-alpine team contacted his mother and asked if her sons wanted to try downhill racing.
Mac had no reservations.
"I'm always someone who wants to go faster," he said. "It's something I kind of feed off of as a person. As soon as I heard you get to go fast I was all in. It's just like racing a car downhill. And there's snow."
Initially, his mother was not completely convinced.
"Someone from the IPC called her and just told her straight up on the phone 'I think Mac has lost enough. He should decide what he wants to do.' That made her think. We went out to dinner (to talk it over.)"
'It felt natural'
Mac, who went from 20/20 vision to 20/250 in the span of two months as a nine-year-old, was not scared his first time down the mountain as a visually impaired skier because he said he was so young when he started to lose his sight that he adapted to his new reality relatively quickly.
"It kind of felt like normal," said Mac, who currently has 20/450 vision with no central vision and only six per cent peripheral vision.
"I don't remember what it was like to see perfectly. It just seemed normal. I didn't really notice it. Sometimes I feel it when I'm going downhill at 100 or 110 miles per hour and I can't see the gate. That gets to you, like 'Oh where am I going here.'
"But (otherwise) it felt natural. It felt good to be skiing. Almost a relief."
When he does lose a gate, he tries to make out his brother's tracks and cling to them as closely as possible. When he gets into a tight spot, nothing is more reassuring then the sound of B.J.'s voice over the headset.
These days, B.J. and Mac care in constant chatter as they go downhill. That was not the case when B.J. first started guiding his brother. It was not until after Mac won three gold medals and a bronze at the national championships in 2011 that they started to receive formal coaching.
"We got radios and tried it," B.J. said. "We had a lot of flaws trying to teach ourselves."
The brothers not only had to improve their communications during races, B.J. also had to work with the coaches to sure up his own skiing.
"My skiing wasn't the greatest," he said. "The coaches put in a lot of work with me because they wanted to keep the brother bond. Going into this year I felt 'I can ski,' and it's nice to go downhill confident in your own skiing so you can be more focused on the person behind you."
Double the success
The experience has brought the brothers closer and they do not argue and fight like they did when they were younger, as they had to learn how get along while traveling alone together and competing against athletes in their 20s.
"We have our disagreements every now and then but what brothers don't?" Mac said. "You realise the big picture – 'You guys are brothers' – and you don't realise how tight you are until you think about it for a while. You think, 'How many other people travel around the world with their brother and are doing what they love to do?' It's really insane to think. He's give up so much to come ski with me. It means a lot. To be with him so much year round all the time you're so much closer."
B.J. said the pleasure is all his. He said he would not have the courage to do what his brother does on a daily basis.
"Sometimes I go down the hill and I crap my pants, and to be blind and follow me, it's like 'Wow,'" B.J. said.
"I do not have the attitude he has toward everything he does. He's always happy and in a good mood, joking around. He's the kind of guy that's always bringing other people's spirits up. I don't think I could do that. I think I'd definitely have a harder time. I definitely have lots of respect for what he does."
The brothers now have all the confidence in the world going into Sochi, and nothing would mean more to them than winning a medal together.
"We grew up doing everything together," B.J. said. "To be able to come this far and do this together means a lot because it's something we'll always look back on in life; even when we have kids we'll tell them how much it means."
Mac added: "Having that bond so tight I trust him to guide me and don't even think twice about it. If we win the gold medal it would be the greatest feeling in the world.
"Especially to do it with my brother."