Canada's Stilwell Rolls With the Flow
The Paralympic wheelchair racer's career is peaking, as she is on track to repeat her Beijing 2008 success in London next year.
17 Aug 2011
Imagen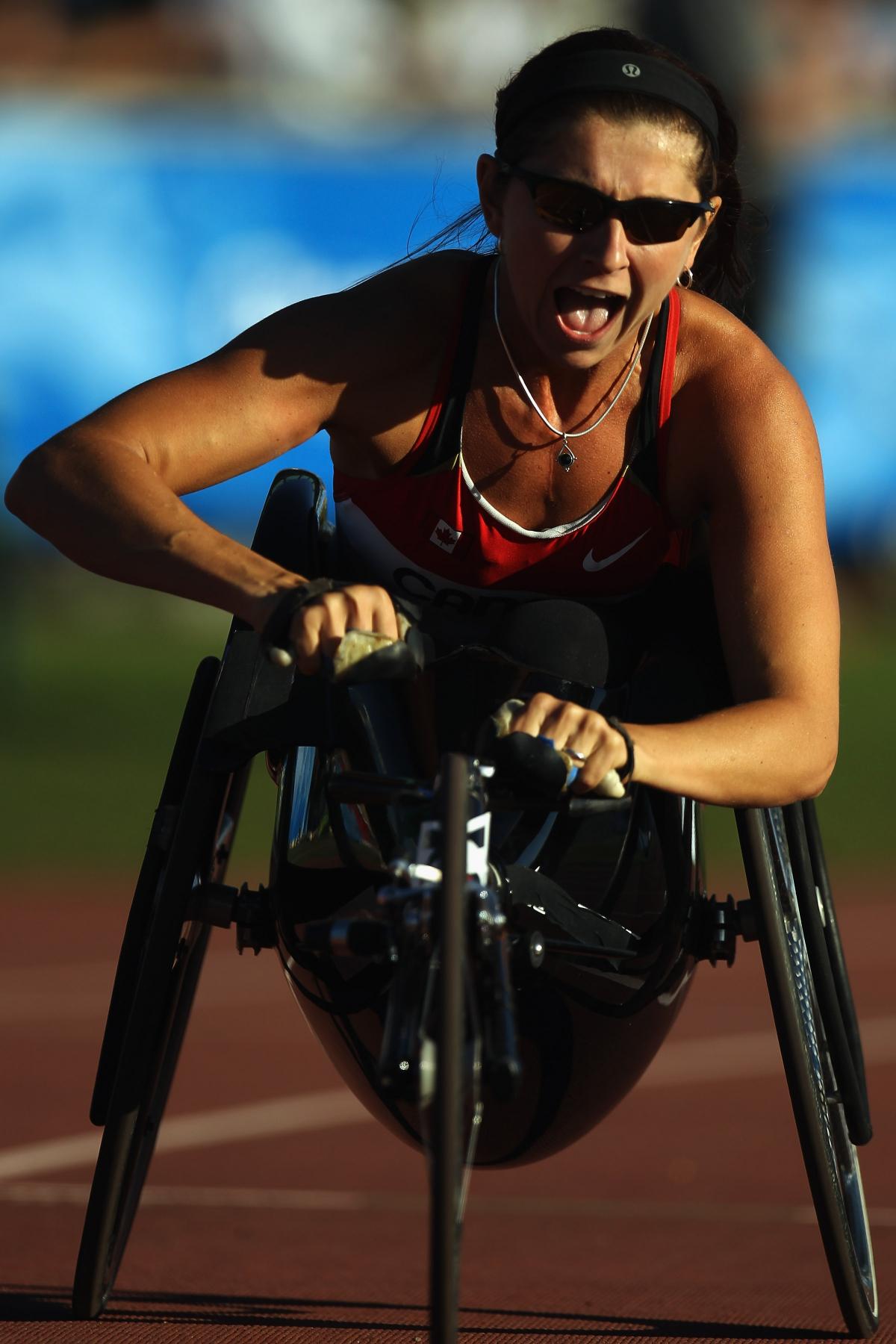 ⒸGetty Images
By IPC
"I think I'm a pretty open book. Whenever somebody asks me a question, I'm pretty free to tell them how I'm feeling or what I'm thinking. I don't have any secrets."
Editor's note: This is Part 7 of an eight-part series featuring some of the top competitors in Athletics as we approach the one-year mark to the London 2012 Paralympic Games.
Canada's Michelle Stilwell has nothing to hide.
The Paralympic wheelchair racer is more than happy to share her diary with the public.
"I think I'm a pretty open book," Stilwell said. "Whenever somebody asks me a question, I'm pretty free to tell them how I'm feeling or what I'm thinking. I don't have any secrets."
At the moment, Stilwell's career is peaking and full of adventure. After winning Paralympic gold in the 100m T52 race at the Beijing 2008 Games, she is doing everything she can on and off the track to repeat that success at the London 2012 Games.
Weight training. Dieting. Speaking engagements. New friendships.
Even heading down under to Australia to train.
Prior to January's 2011 International Paralympic Committee (IPC) World Championships in Christchurch, New Zealand, Stilwell spent two month's training at Sydney's Olympic Park in Australia. It paid off, as she struck gold in the 100m, 200m and 400m T52 races and captured silver in the 800m.
"I'm extremely happy with three golds, but that one silver has motivated me to push harder and stronger," Stilwell said. "I just want to keep that momentum and head straight to London."
At 37, Stilwell, who became a quadriplegic at 17 after falling off a friend's back while piggyback riding, now considers herself a veteran in Paralympic Sport.
She started out as a member of Canada's gold-medal winning Wheelchair Basketball team at the Sydney 2000 Paralympic Games, but then she had to transition to Athletics after complications arose from her spinal-cord injury.
A herniated brain stem arose following the 2000 Games, and while nobody knows what caused it, she had to change to a non-contact sport.
"I have nothing over the back of my head covering my brain," Stilwell said "I just have a dura layer, so there's nothing really to cushion it should I fall backwards. I have to be just pretty careful."
Because she has had so many spinal surgeries, her brain is easily susceptible to microtears that allow cerebral spinal fluid to leak where it is not supposed to.
"I get intense crazy headaches and all sorts of crazy symptoms," Stilwell said.
Despite this, Stillwell has become one of the most fearsome competitors on the Athletics circuit, and she is the world-record holder in the 100m and 200m.
Stilwell has kept busy recently, training twice a day six days a week, moving homes and planning a 10th birthday party for her son and a 40th birthday party for her husband.
She changed her diet, going 80 percent raw vegan. She has eliminated sulphites, nitrates, MSG and anything processed from her diet, and her meat consumption is limited to just fish and chicken.
Four months prior to London 2012, where she will compete in the 100m and 200m, Stilwell will head back to train in Australia, her "home away from home."
And next summer, Stilwell will have a chance to feel the rush of gold for the third, and possibly fourth, time in her life.
"Being in Sydney and standing on the podium for the first time with 11 amazing other athletes was incredible," Stilwell said. "But to do it in Beijing … to stand on there knowing it was my dedication to my sport, my passion for my sport, and knowing what I had overcome, that was definitely something pretty special."
No matter how hard she trains, though, Stilwell insists she will still get the jitters prior to all of her races in London.
"You never know what to expect," Stilwell said.
"Anything can happen on any given day. As much as you plan and you prepare and you have your routine, things happen, and you have to be able to go with the flow and change things up."
That should be no problem for Stilwell, as she has rolled with the flow for more than a decade now.