Chalmers to 'Push Across America'
After seeing the electric atmosphere at London 2012, USA's Ryan Chalmers wants to replicate that awareness of Paralympic sport back home with his "Push Across America."
25 Oct 2012
Imagen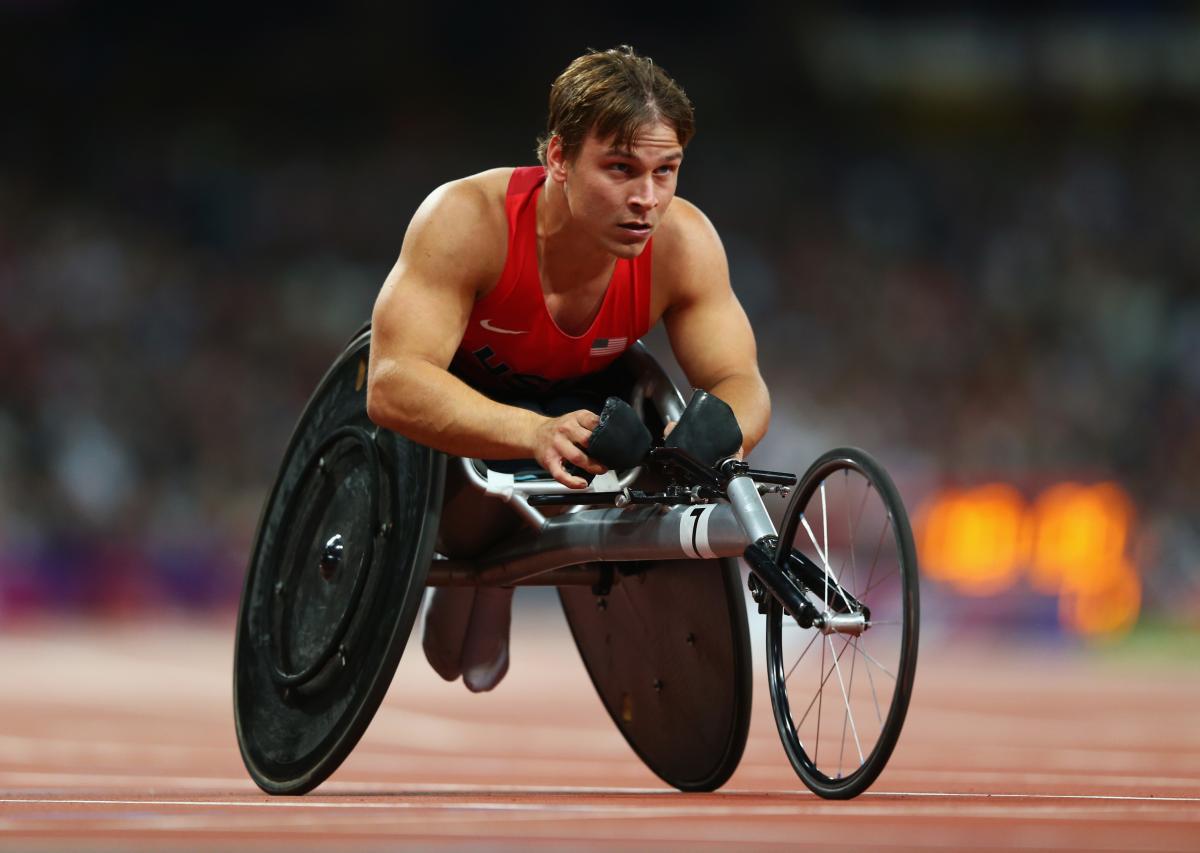 ⒸGetty Images
By IPC
"What I realised when I was there was how people viewed the Paralympic athletes."
Ryan Chalmers embodies how the Paralympic Movement is about more than just the Paralympic Games.
At 23 years old, USA's Chalmers competed in four T54 wheelchair racing events at London 2012.
During his time in the British capital, the Churchville, New York native was taken aback by the perception of Paralympic athletes in Europe and knew immediately he wanted to replicate that perception in America.
"What I realised when I was there was how people viewed the Paralympic athletes," Chalmers said.
"They viewed them as athletes first. It was one of those things where I've never really seen that before. They always kind of look at a person with a disability and think, 'Oh, what's their back story? How can we get inspired by their back story?'
"And then they go, 'Oh wow, you do a sport as well.'"
The atmosphere at the Games gave Chalmers even more reason to "Push Across America" – an event scheduled for spring 2013 in which he will push from Los Angeles to New York in his racing chair.
Starting 6 April 2013 and extending 71 days, Chalmers will push an average of 60 miles per day. The event is being run by Stay Focused, a non-profit organisation based in the Cayman Islands that offers young adults the opportunity to develop leadership and gain independence through scuba diving.
"This is my way of doing whatever I can to be able to get that awareness out there," Chalmers said. "This isn't just about wheelchair racing. This is about disability sports altogether."
Becoming a leader
Chalmers has been active with Stay Focused since 2005, learning to scuba dive and becoming more independent and taking a leadership role as a person with an impairment in society.
Now a Paralympian, Chalmers is one of the programme's mentors.
"We're really developing the programme into a leadership development programme – giving kids with disabilities a chance to become leaders in their communities," Chalmers said.
In 2009, Chalmers was sitting in a coffee shop with the founder of Stay Focused, Robert Muller, sharing stories of athletes who had run across America.
"He just kind of threw it out there and asked me if I could do it," Chalmers said. "I've been doing wheelchair track since I was about 8 years old, so I automatically said yes, because for me, it was a dream come true."
The pair immediately started planning the event, for which Chalmers is now scheduled to push nearly 3,500 miles (or 5,600km), rain or shine. Chalmers has worked with a former professional cyclist to design a personalised route with stops in Los Angeles, Wichita, Kansas City, Champaign, Indianapolis, Cincinnati, Washington D.C., Baltimore, Philadelphia and New York.
Some of the stops will include sponsored events to help raise awareness for the Paralympic Movement and funds for Stay Focused, and additional post-Push events could potentially be added as well.
"Our goal is to raise awareness for all persons with disabilities, really getting kids and just getting more people involved in wheelchair sports and just to kind of get the awareness out there for the able-bodied community about wheelchair sports and how they develop," Chalmers said.
Spreading the Movement
Unlike most other Paralympic wheelchair racers, who are already training for the 2013 IPC Athletics World Championships in Lyon, France next year, Chalmers is now in the Cayman Islands for what can be deemed his "test event."
He is still aiming to compete at the 2015 IPC Athletics World Championships and Rio 2016 Paralympics, but for now is focusing his efforts on raising awareness for his push by speaking about disability sport in school classrooms throughout the Americas.
"They don't really know much about it because they just haven't seen it before," Chalmers said. "Almost every kid's hand goes up with all these sorts of questions that they have just because they haven't seen it before."
Chalmers will cover a 55-mile, one-day route in his "Push Across Cayman," on 24 November as a warm-up and way to gain attention for his main event.
While he did compete in the Paralympic marathon, he will have to adjust to pushing his racing chair for hours upon hours for nearly two months. He can no longer call himself a sprint specialist.
"It's going to be a total transition for me," Chalmers said, who also has November's New York Marathon scheduled into his training calendar.
"I'm going to be averaging about 11-12 miles an hour during my 'Push Across America.'
"It's just going to be a totally different sort of training than I normally do, because normally it's just you're sprinting or you're going pretty hard."
"It's going to be time spent in the chair that's going to be the most crucial, because being in that chair for that amount of time is really going to – if I'm not used to it – hurt my back, hurt my legs. It's kind of the position that I have to get used to for five hours a day, six hours a day."
Chalmers will have a core team of six others with him on the route, including Muller, an athletic trainer, a medical doctor, a videographer and two drivers who can also attend to financial and logistical matters.
"Every single person I've talked to has been supportive," Chalmers said.
"I've committed to it, and I will do everything in my power to be able to finish it.
"Yes, I will finish."
In fact, there is no other option for Chalmers.
Wheelchair racing is his life right now.
"I love what I do. I love to get in my racing chair and push," Chalmers said.
"I'm going to enjoy every minute of it."
Related Videos