Coach Muianga on mission to add Para powerlifting to Mozambique's sports agenda
There are currently 16 Para powerlifters in Mozambique, but Renato De Jesus Dinis Muianga is working to increase this number with the goal to get at least two athletes to the African Para Games in September 2023
28 Mar 2023
Imagen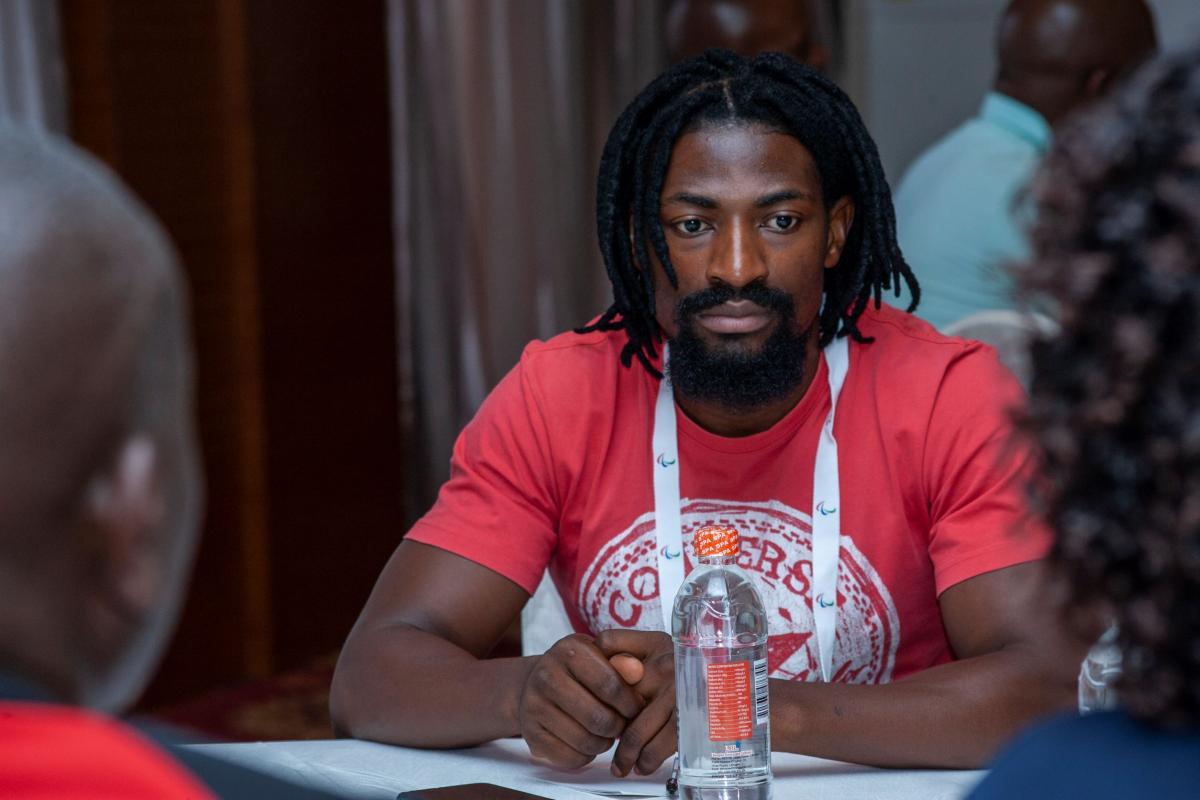 ⒸAmos Gumulira
By Lena Smirnova | The IPC
A total of four athletes have represented Mozambique at the Paralympic Games, all of them taking the spotlight on the athletics tracks. Edmilsa Governo even won bronze in the women's 400m T12 at Rio 2016.
Now a young university student, Renato De Jesus Dinis Muianga, is eager to add another sport to the national agenda and bring the first Para powerlifter from Mozambique to the world stage. 
Full of passion to reach this goal, Muianga is dreaming big about the future and how it can change not only the sports culture in his country, but also increase opportunities for people with disabilities.
"The first step is to go to the African Para Games with more than two athletes. I dream big, but I'm conscious that it's not easy," the university student and coach said. "Mozambique has to take more than two athletes. It will be a good start and after this, the world will be ours."
From school bench to powerlifting bench
Muianga was working as a personal trainer and studying to be a physical education teacher at university when he got a chance opportunity to get into the world of Para powerlifting.
"I used to say, I didn't choose to be in this. The sport chose me. I was going about my life, but the sport called me," he said. "Someone called me and said, 'Athletes, they are this way, so if you want it, just go', and I said, 'I'm in'. That's why I'm here."
He now coaches three Para powerlifters in the capital city, Maputo.
The transition to Para powerlifting was an easy one for Muianga who previously coached bodybuilding and also completed some university courses about training people with disabilities.
"I don't see disability. I see someone who is different from me, from the others. Disabilities is just a name," Muianga explained. "We're all different so it's not difficult for me. Whether you have disability, you are a Para powerlifter or not, I adapt my training to you, to your situation."
Student role model 
While Muianga was already familiar with Para athletes through his university studies, seeing a person with a disability lift weights for the first time still left a deep impression on him.
"I thought, 'Wow! Is this possible?'" he said. "At the gym it's difficult to find someone working out with a wheelchair or someone with a disability. When I saw someone lifting more than 50, 100kg, I said, 'Wow'. Even I, I just go to 100 for now. One of my athletes lifts more than me, and I like that. I used to tell him, 'This is nothing. You're better than me. I want you to double that weight and to raise it nicely'."
That specific athlete, Ilidio Arnaldo Chongo, has become a great source of inspiration for the young coach.
Aside from Chongo's talent in the gym, Muianga was impressed by his work ethic and the sacrifices he makes to come to the training sessions. 
"(He) used to travel about 60 kilometres to do the training. It's not easy," Muianga said. "You have to get a public bus. He uses crutches and then he has to walk to get the bus. I don't know if every day he found chairs to sit on the bus, I don't know, and after that I have to train him. I know he's tired sometimes. I can see he's tired and I have to say, 'Take a seat, take some water, and then we start'. 
"It's expensive too. He has to take off about 500 metical, it's a lot of money for us. Even I, at my job, I don't do 500 a day, so it's difficult. He has to feed his family. He has a wife, he has a son, he has to feed them."
Following his athlete's example, Muianga also makes sacrifices to be at the gym where they train. The gym he is employed at did not accept Chongo as a non-paying client, so Muianga has to take a bus for one hour to another part of the city where the athlete is able to train for free.
"The NPC (National Paralympic Committee) helps, I help him, he helps me, but there are days that I have no money to move from the gym to the other gym," Muianga said. "And this is difficult, this is difficult. If he could come to my gym, it would be easy."
Sometimes Muianga also takes supplementary courses to complement his university schedule. The courses help him to become a better coach for Para athletes, he said, but taking time off paid work to complete them does diminish his earnings.
The power of Mozambique
In addition to Chongo, there are currently 15 Para powerlifters in Mozambique, all of them based in the capital. 
Muianga and the other coaches are trying to grow this number. However, the challenges that athletes face to come to training sessions make it hard to get new recruits. As a result, there are more coaches than Para powerlifters in Mozambique, about two per athlete.
"It's difficult to find athletes because they have to work, to feed themselves, and then they have to find time to train," Muianga said. "It's not easy. Even for me. I'm here today. I should be working, but I'm here because it's about the value this gives me. I can say, it makes me better. It makes me better more than the money. Working in Para powerlifting makes me better than earning money at the gym."
Muianga is dreaming big for Mozambique. His goal is to take more than two Para powerlifters to the African Para Games, set to take place in September 2023. Before that, the first national championships will be held in the country to give athletes competition experience.
Aside from earning medals at competitions, Muianga has an even bigger aspiration of changing the lives of people with disabilities in Mozambique. 
"In every country, it's difficult to find a job and if you are born with a disability, it's worse," he said. "So this is a kind of salvation for us. For people who are born with a disability, the sport is some kind of salvation. It's some kind of green light at the end of the tunnel. What we teach, what we show individuals is to inspire them, to show that it's possible."
For his part, Muianga plans to promote the Paralympic Movement in Mozambique for as long as he can. 
"Life is like this. This is what living means. You have to give, donate yourself to others. If you won't do it, what are you living for?" he said. "We are made for that. Wherever the religions, they will teach you, love the others. Loving the others is this - sharing your time, sharing your abilities, sharing your love, sharing whatever you have. 
"I knew people who fell in love with the Paralympic Games and now I can see that I'm one of them."