A common goal unites Spanish rowing crew despite less than a month together
"Just a year ago many of us really didn't know how to row"
29 Aug 2021
Imagen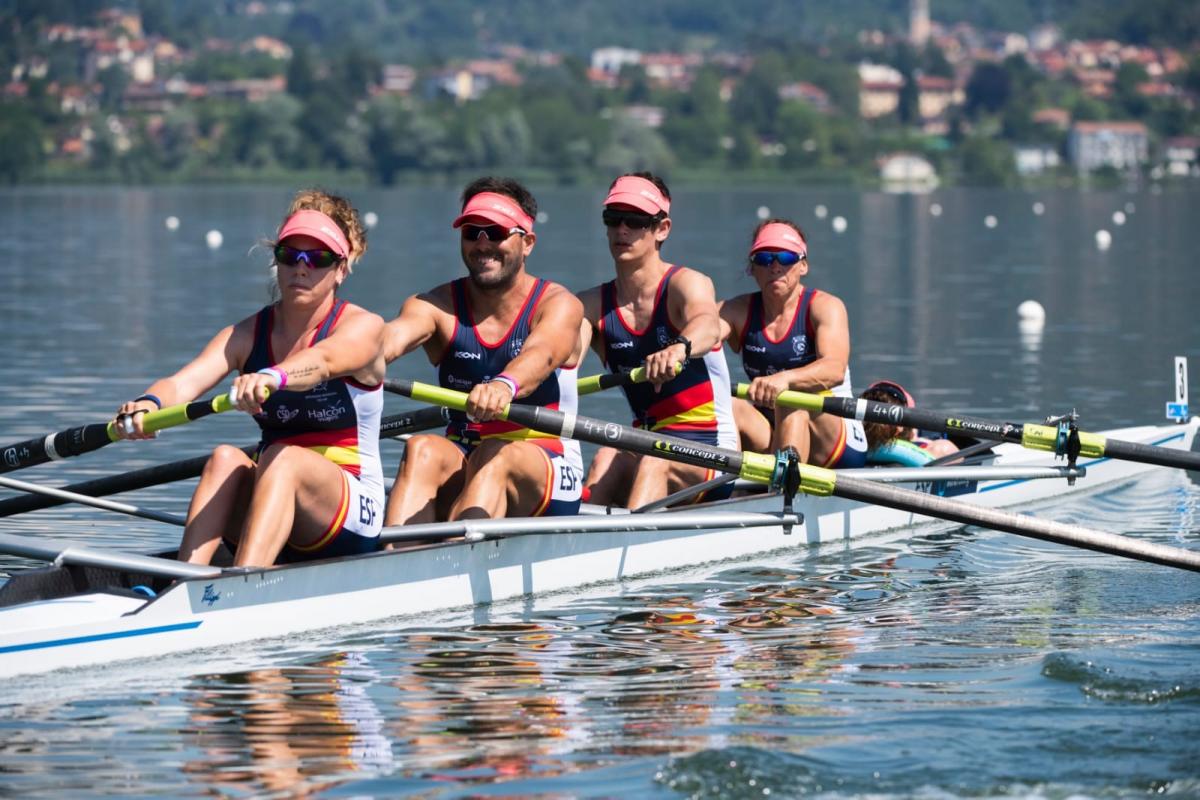 ⒸFederación Española de Remo
By Ruth Faulkner I For the IPC
Despite having had very little time actually rowing together, Spain's PR3 mixed coxed four crew came together as a Paralympic team to row in the B final at Tokyo's Sea Forest Waterway and left with smiles on their faces and high hopes for the future.
Enrique Floriano Millan, Josefa Benitez Guzman, Jorge Pineda Matabuena and Veronica Rodriguez Pulido, with coxswain Estibalit Armendariz Zubillaga, all hail from different regions of Spain and were training separately throughout the Covid-19 pandemic. Having only set up as a crew one year ago, the only time they could manage physically together was less than a month, a week or so at a time, before competing at the Tokyo 2020 Paralympic Games.
"This has been a really, really tough year. Just a year ago many of us really didn't know how to row and there's been plenty of hours behind us getting here. There's been plenty support from the Spanish Rowing Federation. It's been only a gift to be here after qualifying," said Enrique Floriano Millan, who switched sports after swimming at four previous Paralympic Games (2000-2012).
Veronica Rodriguez Pulido, from Barcelona, got into rowing after competing in Spain's traditional chanalas race in tribute to her mother who passed in 2018. "It has taken a lot individually to get ready, especially in the pandemic. Fortunately in such a short time we've managed to come together and to click in the boat quite easily. It's a good mix, we have Paralympic experience, rowing experience and the hunger for competition so we've got everything," she said.
Describing themselves as all very different, and each hailing from differing sports backgrounds, you would think cohesion would be a problem for the Spanish crew, but a shared purpose helped them to focus.
"In the end we all have a common objective. We have individual talents but together they work. That's probably one of the keys, solidarity for each other. Any past experience that will help, we share," said Millan.
Josefa Benitez Guzman also switched sports to join the crew, only taking up rowing in 2020, aged 50. Guzman previously took silver for Spain in Para cycling -tandem B road race-, at London 2012, as well as bronze medals in the tandem B road race at the 2013 and 2014 World Championships. She competed again in Para cycling at Rio 2016.
For her, the switch in sports has been complex, but not impossible. "The most complicated part has been technique. The physical discipline, the training discipline and the schedule, that comes naturally, but to pick up the technical side has been more challenging."
The crew saw Tokyo 2020 as practice and a stepping stone to go to Paris 2024 prepared and aiming for a medal. 
"It's been an excellent opportunity to grab a handful of experience here and just to get ready for Paris 2024 which is the objective. If we can achieve this in less than a year, just imagine what we can do in three years," said Millan.
"Our coach expects nothing less than a medal from us in Paris 2024," Guzman concluded.