David Drahoninsky: The Perfectionist Mind
Drive for perfection keeps Czech archer in the sport after 20 medal-heavy years
22 Feb 2020
Imagen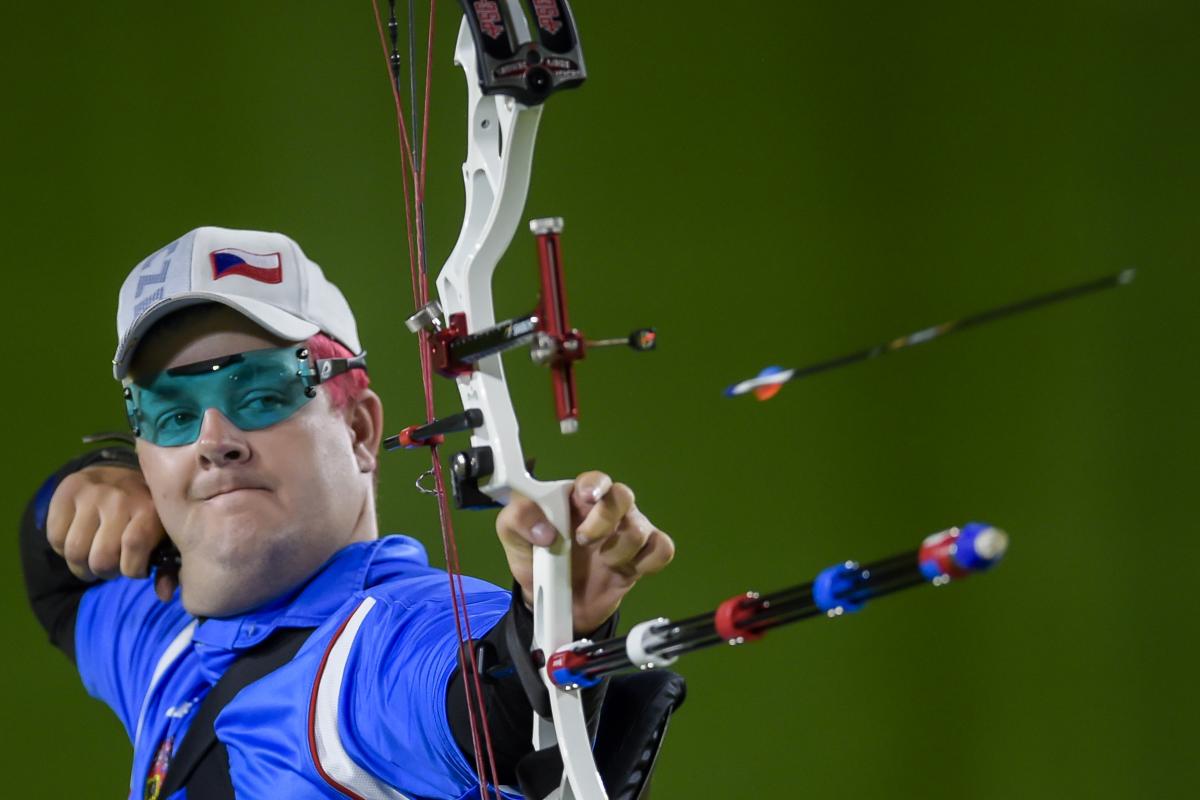 ⒸGetty Images
By Lena Smirnova | For the IPC
Paralympic archery champion David Drahoninsky is not merely hard on himself when he does not shoot well. He is ruthless.
"Today it was the worst qualification round in my life," Drahoninsky said after one such competition, the qualification stage at the 2019 World Archery Para Championships.
"Today - done. I think I shot the last arrows today. Next day will be training and next next day will be training."
It is this relentless pursuit of perfection that has been at the root of Drahoninsky's enduring success over his two decades in the sport. Now heading to his fourth Paralympic Games at Tokyo 2020, the Czech archer is looking to impress again on the world's biggest stage.
"I won silver, bronze, gold medals at every continental, even Paralympic and world, championships so I cannot win anything more," he said. "But for me the very training is important, the very competition, working on my technique and trying to find some way to be better."
Drahoninsky vs Drahoninsky
Drahoninsky needs no introductions on the Para archery circuit.
The Czech star has managed to stay at the top level since making his international debut in 2003. Five years later he won gold in the men's individual compound W1 at Beijing 2008.
He also got individual silver medals at London 2012 and Rio 2016, and won his first world title in 2015. His campaign at the 2019 World Archery Para Championships in 's-Hertogenbosch, Netherlands culminated in a bronze and he is currently ranked No.2 in the world.
These prizes and recognition have come after countless hours on the archery range. Drahoninsky shoots an average of 150 arrows per training session.
But whether it is practice or competition, the battle is always against himself.
"I do my training because I will be better. I don't do my training because I will beat my opponents," he said. "It is about wanting to beat myself and if this happens, it's very nice."
Always striving for personal improvement, Drahoninsky has managed to keep every arrow exciting even after years of repetitive training and winning every possible major honour.
"Everyone knows that I am David Drahoninsky, that I won four medals at three consecutive Paralympic Games," he said. "Sometimes a story finishes here, but I think my story doesn't finish here."
He's the man
Drahoninsky has experienced many memorable moments on the archery range - from celebrating his victory at Beijing 2008 to proposing to his girlfriend after the medal ceremony at Rio 2016.
Some of the moments that stand out the most, however, are when he hears fellow Para archers call him a role model.
When Drahoninsky set a new world record in the men's W1 category in May 2019 at the European Cup in Olbia, Italy, Russia's archer Aleksei Leonov approached him with a compliment.
"He told me that he saw a lot of videos with me on YouTube and I am a big motivation for him, so it was very nice," Drahoninsky said. "It is nice when somebody can see that I, with my disability, can do archery and can be the best and I am the motivation for other people."
The field has grown a lot since Drahoninsky competed at his first World Championships. There were 19 men in the W1 division then. This number has increased to 31 at the 2019 Worlds, in addition to 16 female W1 archers.
But just as 20 years ago, the other athletes continue to look up to Drahoninsky and, to his amazement, compare him to the most famous character in archery.
"I met a lot of people. They hear 'Robin Hood' and they think about David Drahoninsky," the Czech archer said. "It is nice. When I was a young boy, I watched on TV for Robin Hood, but at that time I didn't have an idea that I will be Robin Hood in a wheelchair with a compound."