Don't Write Me Off For London 2012 Warns Holmes
31 May 2011
Imagen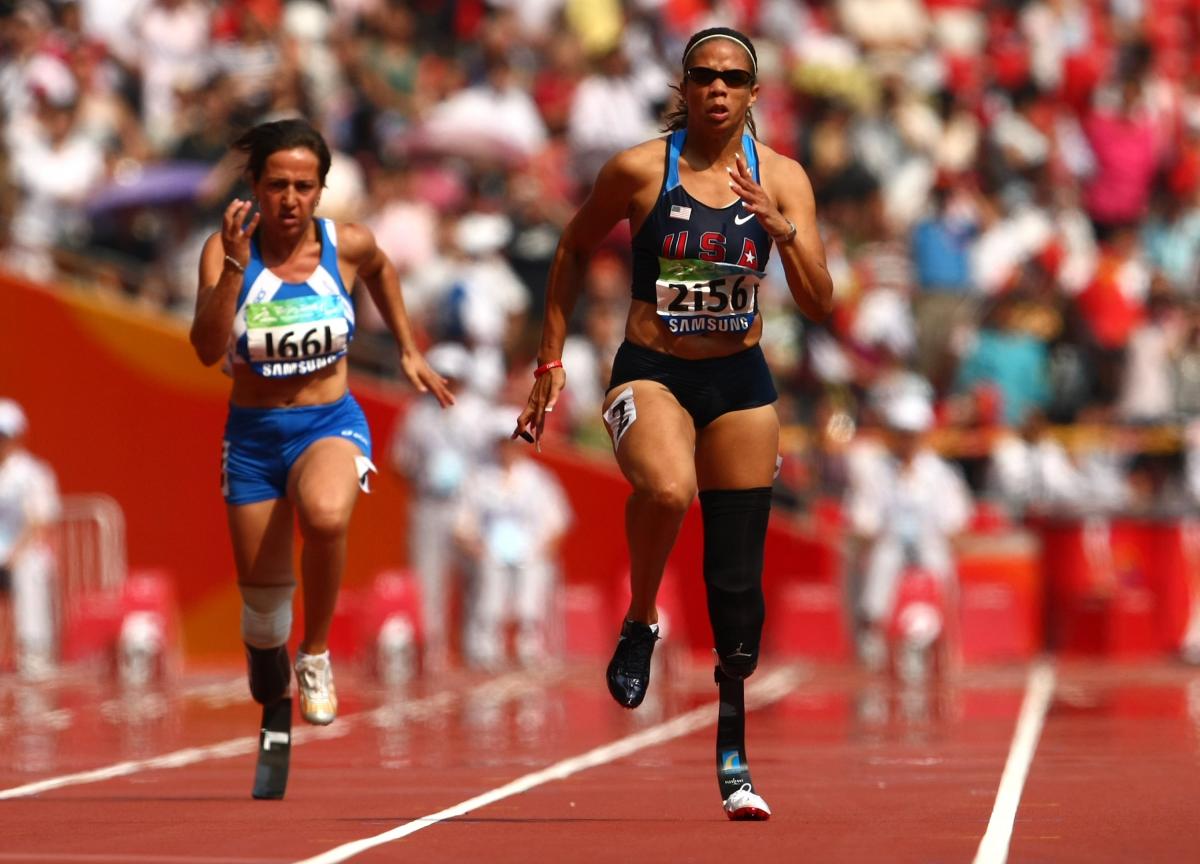 ⒸGetty Images
By IPC
"If a huge crowd can show up in Beijing, then it is mouth watering what London might become."
April Holmes, the U.S. T44 athlete who won 100m gold at the Beijing 2008 Paralympic Games, has warned her rivals not to write her off for London 2012 despite a disappointing showing at January's IPC Athletics World Championships.
At the World Championships in Christchurch, New Zealand, Holmes lost both her 100m and 200m World titles, and left the southern hemisphere unhappy with just a 100m bronze medal, which she puts down to still recovering from hip surgery in late 2009.
Speaking to www.paralympic.org, the International Paralympic Committee's website, Holmes said: "I was not at all pleased with the outcomes in Christchurch but I was pleased with what I did which was to go out and do the best that I could and represent my country well.
"I went out and gave the fans in Christchurch what they wanted and that was the ultimate performance and the best I had to give. But at the end of the day I was not pleased with my performance but I did the best I could."
After claiming 100m gold at last week's BT Paralympic World Cup in Manchester, England the 38 year old American, who lost her left leg below the knee in a train accident, is confident she will be one of the athletes to beat at next year's Paralympic Games.
"For sure I'll be back in London next year," said Holmes. "One of my competitors said to me in Christchurch 'I can see you're almost back, but I can't wait until you really get back.'
"It's fantastic when you know, can see and respect athletes for who they are and what they bring to the table even when they are not at their peak. It gives other people the opportunity to win. But nevertheless I cannot wait to get back to the form that I'm used to."
The London 2012 Paralympic Games are now just over 450 days away and Holmes cannot wait for them to start and to be cheered on by a number of familiar faces.
"I'm very excited about London as I've got about 50 family members and some friends who have expressed an interest in attending my performances.
"Every four years the Games just get better but all are different. My first Paralympics was Athens, then Beijing, now London. Every time it's different, but always exciting.
"Beijing was different as I've never competed in front of so many people. And in London people keep telling us they are going to deliver an even better Games.
"If a huge crowd can show up in Beijing, then it is mouth watering what London might become."
Holmes is also excited that more than one million people have signed up for London 2012 Paralympic Games tickets, even though they do not go on sale until 9 September 2011. She has also promised them a Games to remember.
April Holmes said: "It's awesome that so many have signed up. To see the people in Beijing turn out and do what they did was amazing. London is no different.
"I'm sure they will do the same and will be as supportive, if not more supportive, as they were in China for the Paralympics.
"I'm really excited to get there and put on a show for the people of London. They can expect to see a group of the most outstanding athletes they will ever see. But, at the same time, they will leave more educated and with a different perspective and level of respect for athletes with physical disabilities."