A family affair in Boccia for McCowan brothers
British brothers face off against each other in their first game of Tokyo 2020
28 Aug 2021
Imagen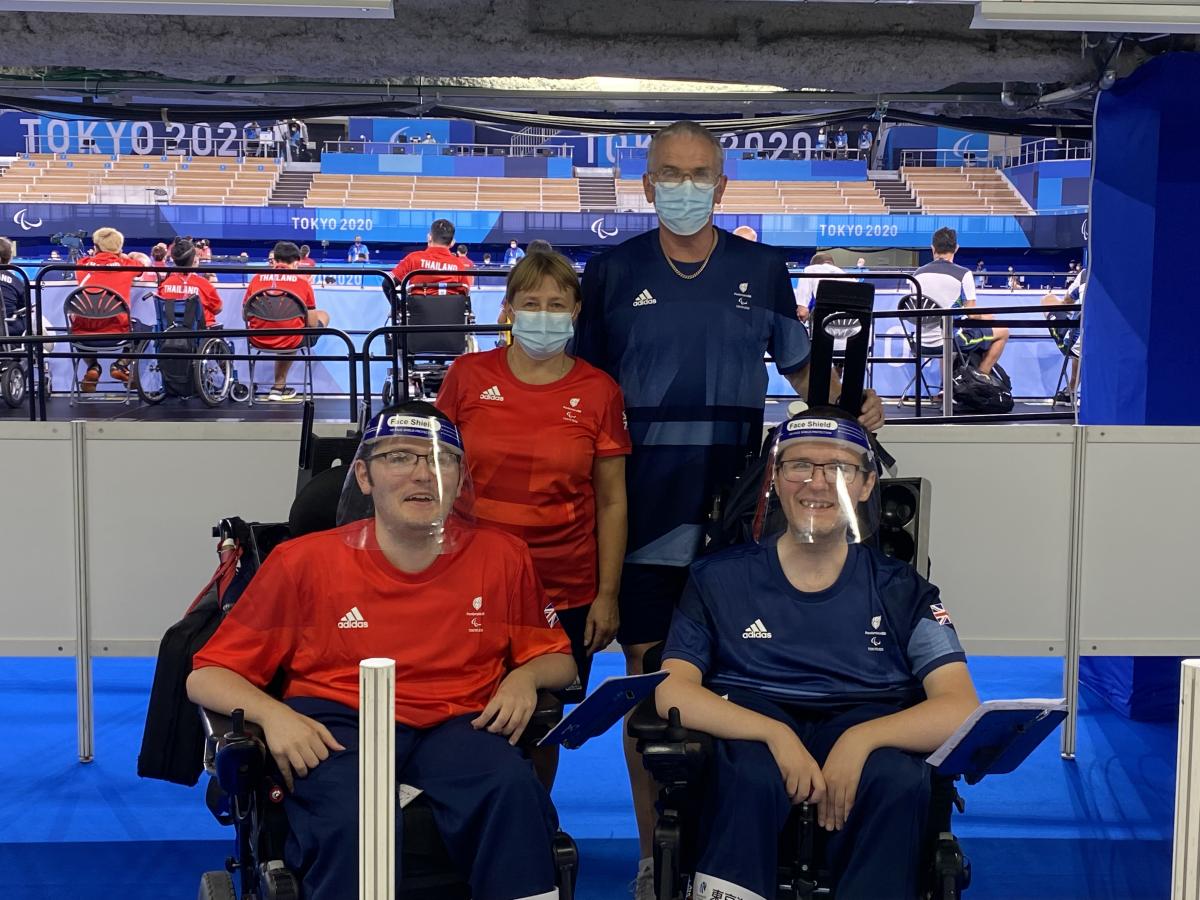 ⒸIPC
By Ruth Faulkner I For the IPC
A surprising draw in Boccia for Great Britain as brothers Scott and Jamie McCowan faced each other in the individual preliminary BC3 at the Ariake Gymnastics Centre. It was a full family package as they were joined on court by their parents, Linda McCowan as assistant for Scott and Gary McCowan assistant for Jamie. 
While Scott, the eldest aged 30, took the win today with a final score of 7 over Jamie's score of 1, both brothers enjoyed the opportunity to play together, even if one of them had to lose. 
"It's always exciting to play your brother obviously. It's disappointing when you have to defeat him to carry on the tournament. But it's one of those times when you just try to keep your eye on your own game, and try and go for the win full throttle like we always do.
"It's always bittersweet as you have to beat the other one if you've won. But to do it at a Paralympic Games with the whole family is something you'll probably never do again," Scott said.
Younger brother Jamie, 26 years old, reiterated this feeling. "The occasion is amazing. Two great players playing each other and the fact that all four of us are on the court is just amazing to be part of," he said.
The whole family coming to Tokyo together is a dream come true for the McCowans, and a somewhat unexpected one. "That's what we were always aiming for, to get here together. But I didn't think we'd get here to be honest, we thought Jamie would get here but we didn't think Scott would get here. So it was just a right surprise in the end to be fair," their father Gary explained.
"Just unlucky they drew each other first game in, that's a bit of a sore one."
A competitive edge from lockdown
While this is the first time they have faced each other on the court in an official tournament, the brothers have squared off many times at home. Whereas many athletes have found that the pandemic slowed down or negatively impacted their training, the brothers felt their unique position as two well-matched players living together during lockdown might have given them an edge.
"We've basically been playing each other in our living room, which we're lucky to have that advantage as brothers. We've been able to put each other under pressure all the way through lockdown which probably most people on their own haven't had so this really gives us a mental edge in terms of coming into this sharp and ready to roll.
"We're super competitive, with everything, not just sports, whether we're playing cards or board games or whatever we're always competitive. I think we always have been and probably always will be," Scott shared.
This continued practice couldn't have happened without the support of their parents. During lockdown in the UK care services were impacted meaning the family could not have the same carer support they previously had. "I packed my job in to care for the boys and do this as well, so that's just what we've done," Gary said.
"And the fact the living room is long enough really helped us and there's a decent floor. If we didn't have that we would've been struggling to be honest."
The living room floor certainly saw some action as Jamie explained they played over 60 games throughout lockdown. Their practice will be tested especially when they face Korea in the pairs competition on 2 September. "I think the fact as well you're kind of getting two minds combined in the game, work out tactics, that helps in a pairs environment when we're team mates," Jamie said.
For Jamie there are still more opportunities for a win in this tournament. "Unfortunately the result didn't go for me today but there's two games more for us to go. The plan is obviously for us to both get through and meet in the final. That's the dream.
"I have Spencer from Australia (in the next round) so I'm aiming to bounce back and get that first win in the group. It's a very tight competition so every point matters, so just going to go out chasing."