Boccia star Grigorios Polychronidis targets first individual gold
'We have a secondary role, even more important than Olympians, to show to the community and especially the children of tomorrow that the person with disability is different but he is equal'
03 Aug 2021
Imagen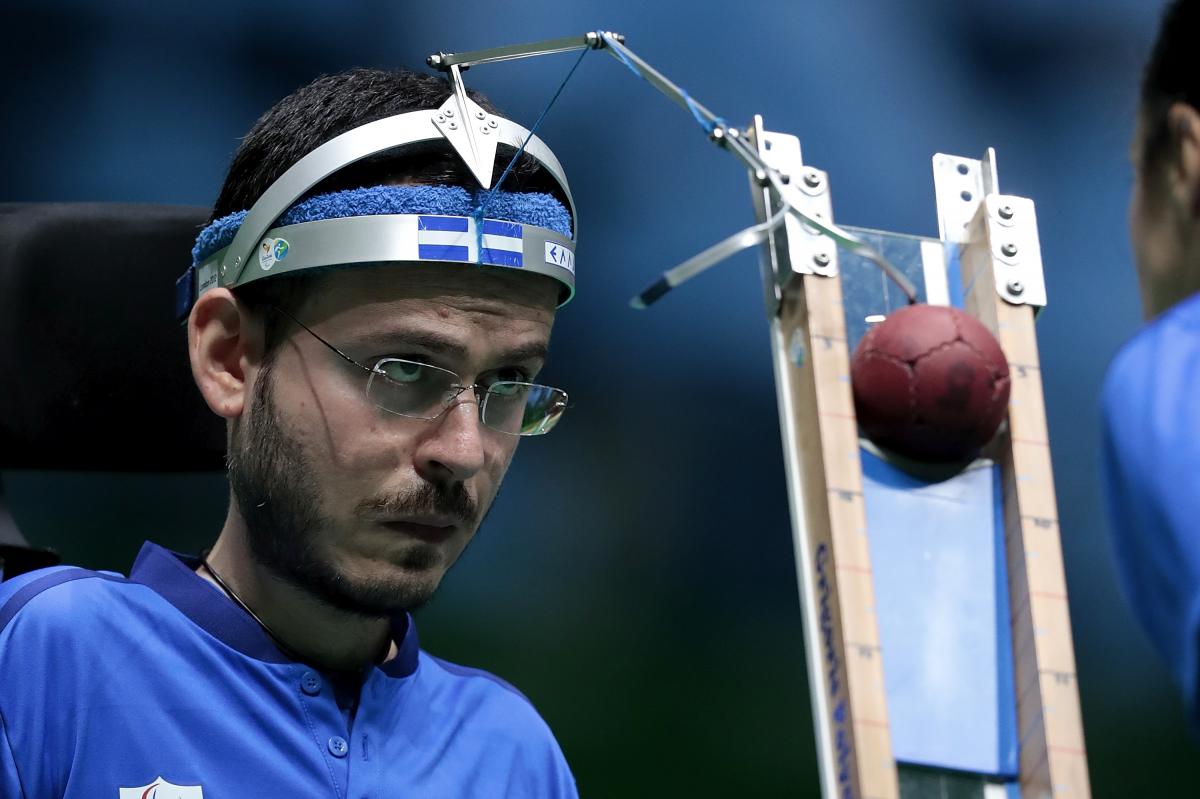 Ⓒ2016 Getty Images
By AMP Media I For The IPC
The clearing of a mental hurdle and the arrival of his three-month-old daughter, Valentina, have combined to cement the smile on the face of Greek boccia World champion Grigorios Polychronidis.
The little one will also be on the plane to Tokyo having received clearance while wife Katerina is Polychronidis' assistant in the BC3 classification.
"I don't know if I have the most romantic story [in boccia] but I love my story, I wouldn't change it for anything and now I have a child, I am experiencing the best time of my life," Polychronidis said.
"We just heard we can have her [Valentina] in Tokyo. It is very special."
Interestingly, given the list of titles that Polychronidis has won, he goes into his fifth Paralympic Games still looking for a first individual gold medal. He, however, believes he is ready, following his 2018 breakthrough success at the world championships in Liverpool. He also has a few tricks up his sleeve.
"Yes, it was like a mental block," revealed the 39-year-old, who won gold in the mixed pairs at London 2012. "I can share this experience. During the match we have four ends and after the third end I was losing three points [against Howon Jeong]. It was 5-2.
"My thought before the last end was 'it is happening once more'. Am I going to lose again in the final of the individual? This cannot happen.
"It seemed impossible to come back in this game, but my final thought was I had to do this and thankfully I managed it.
"I believe I am well prepared but definitely the competition is really hard, so you never feel that you are ready to go. We didn't miss a day's training during lockdown as exceptions were made for Olympic and Paralympic athletes so that we should be ready.
"I know my rivals, we know each other's style, but this always makes us want to make something new, to change our tactics so I expect some surprises and prepare for them. Do I have some surprises for them? I can't tell you!"
Polychronidis, who suffers from spinal muscular atrophy, often talks to children and believes he has a duty to show them that disability is "not something bad".
He added: "We have a secondary role, even more important than Olympians, to show to the community and especially the children of tomorrow that the person with disability is different but he is equal. 
"What I say to children is I have achieved a lot of stuff even though I have a very severe disability. You can also achieve, and you have to believe you can achieve.
"You can't expect achievement without doing anything. You have to respect others, there will be obstacles during life, and you have to respect that.
"The children ask questions. One of them asked if I go to bed in my wheelchair! That made me laugh. I told them that wheelchair is for the day and bed is for the night."
Polychronidis often takes his medals to show the youngsters. A Tokyo 2020 individual gold medal would be the perfect addition to the collection.