Family support inspires Kim Jung jun to go for Tokyo gold
The South Korean is keen to win first Paralympic medal for his daughters as badminton makes its debut
07 Mar 2020
Imagen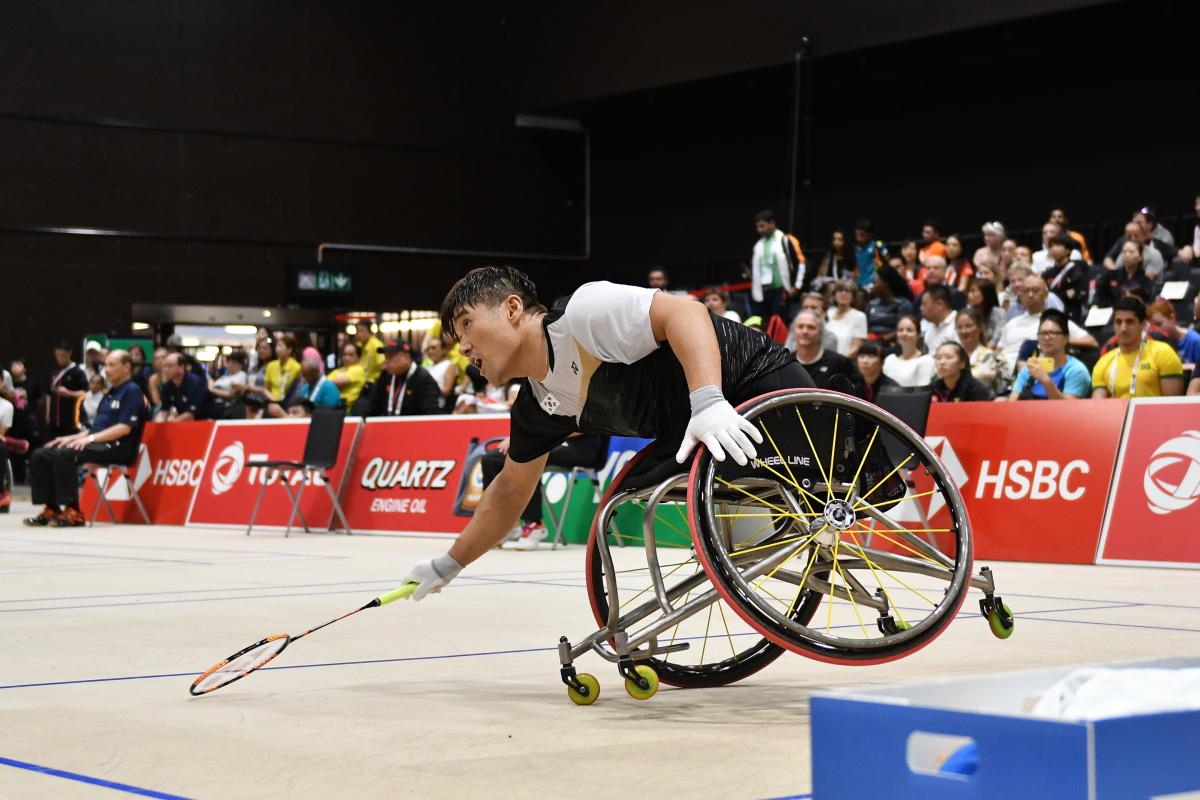 ⒸBadmintonphoto/BWF
By EJ Monica Kim | For IPC
Four-time world champion in Para badminton, Kim Jung Jun has seen and done it all. He is no longer hungry for medals, but his quest to excel is purely driven by his love for the sport and his family.
 "My family is the biggest motivation in my life. I always want to become a father who would be respected by my two daughters," said Kim, who swept gold consecutively, in the singles event at the four editions of the World Championships from 2013 until 2019. 
However, being on the circuit all year round has robbed Kim of quality time with his two daughters - Do Yeong Kim and Hyo Gyeong Kim.
 At times, his conversation with both his primary and middle school kids are limited to only phone calls. 
"I just manage to reach them over phone before their bedtime. However, they have been very supportive and always have words of encouragement to keep my morale high," said Kim adding that the family's presence means a lot for him.
Kim endorses his view by pulling out a drawing by his daughter Do Yeong which depicts him and his partner in the green jersey. Kim who is wearing his Korean name tag, '김정준' and is standing next to the net. Her mother, her sister and she are cheering him by holding a placard, reading '사랑해' (we love you), 아빠 화이팅 (Dad, Go for it).
Long-awaited Paralympic debut
South Korean international already has fond memories of playing at the Yoyogi National Stadium (venue for Tokyo 2020) following his victory against Hong Kong's Chan Ho Yuen in the men's singles WH2 at the 2019 Japan Para Badminton International.
"I was a little nervous at the beginning of the competition, but, in the end, it wasn't that difficult to seal the win," revealed Kim. "I already fancy this stadium, so somehow I feel like I can enjoy playing at the 2020 Paralympic Games."
However, the Basel 2019 gold medallist has suffered defeats against Ho Yuen for the first time since his international debut in 2012, losing three out of seven matches between 2018 and 2019.
 "Actually, I have been troubled by my right shoulder injury for recent years," explained Kim, whose impairment was a result of a machine accident at workplace in 2005.
 The-41-year-old was not afraid to lose either and sees it as an opportunity to bounce back strongly. "There was nothing to be disappointed about any defeats, because I see it as I have another match that I can play better."
 Kim is aiming to secure top podium spots in the singles WH2 and the doubles WH1-WH2 on his Paralympic debut.
 "Although I set my goal on medals, I'm already thrilled to be a part of the Paralympics. It is a great honour for me and I'm very happy for all Para badminton players."
And for the hero dad, the two daughters requested IPC to post a short letter of encouragement and gratitude: