Football gives Vietnamese youth 'confidence, strength'
ChangeMakers: Ngo Huu Ky Phong shows how an accessible football project is helping Vietnamese children to develop skills as well as character.
31 Mar 2014
Imagen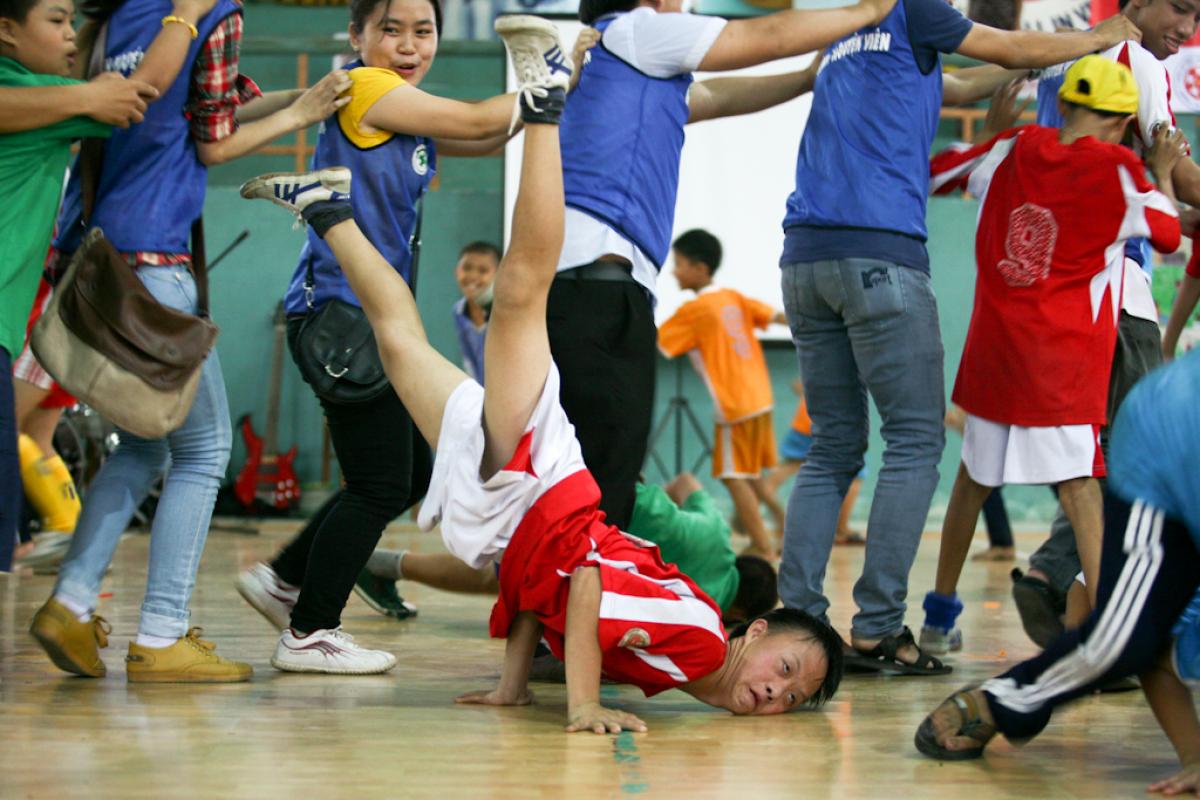 ⒸFFAV
By Football for All in Vietnam
It is an example to all children that they can achieve anything, despite impairments, gender or heritage and is motivation for everybody involved in the project.
Football for All in Vietnam (FFAV) is trying to motivate children to chase their dreams, by offering everyone the chance to play football. This is not only by becoming more healthy and athletic - football and sports in general can be a tool for personal and social development.
For some people in Vietnam, life has never been easy. Everybody has to overcome setbacks and obstacles. Everybody needs something that ignites their passion, to find the motivation to carry on.
Countless stories within our project tell of this positive outcome. Here is the story FFAV would like to share:
This is the story about Ngo Huu Ky Phong, a young boy who overcame all difficulties and proves that "disability" is nothing more than a word. Before his participation in FFAV's program, Phong was described as 'quiet and scared' according to Mr. Phuoc, Director of the Van The My Art Centre, where the project takes place.
Through regularly attending Mr. Thinh's football training, Phong has blossomed physically and socially. Now he is 'active and quick with agile movements' and bursting with confidence. By transferring these benefits to other areas of his life, he was able to achieve more than anyone would have thought.
Phong can be found kicking a ball with his friends at Van The My twice a week. The ease with which he adapted is typical for his character. It did not take him long to integrate with the other kids and become a valuable member of the team. He always had a strong desire to be physically active. Apart from playing football he found more and more ways to follow this. Whenever there is an opportunity to exercise his body, he is there.
His growing physique did not go unnoticed by his parents, teachers and trainers. In 2011 Phong reached a personal highlight by attending the Special Olympics in Athens, Greece. There, in the huge stadium, he exceeded all expectations and ran for gold in the 50m sprint race. With an time of 10.16 seconds he left his competitors behind.
Usually FFAV places the joy of sport above the importance of winning, but his success is more than just a personal triumph. It is an example to all children that they can achieve anything, despite impairments, gender or heritage and is motivation for everybody involved in the project.
Of course, it also gave another huge boost to Phong's self-assurance and his positive outlook on the future. Phong's unassuming confidence and dedicated approach to football have endeared him to all FFAV staff members.
We are delighted with his achievement and see it as solid proof that sport is the perfect tool for personal and social development. FFAV would like to acknowledge Mr. Phuoc, Mr. Thinh and Phong's parents for their role in Vietnam's latest sporting success story.
To mark the United Nations International Day of Sport for Development and Peace, the development arm of the IPC, the Agitos Foundation, is publishing stories where sport has helped to change lives or societies as part of the ChangeMakers campaign.
From 30 March until 13 April, stories will be posted on Paralympic.org and on the Agitos Foundation's newly launched Facebook and Twitter pages.
Like or follow them to keep up to date with the latest news on the development of para-sport.