French snowboarder drops journalism career for Sochi silver
Cecile Hernandez-Cervellon is already looking ahead to PyeongChang 2018 and snowboard's new race format.
24 Apr 2014
Imagen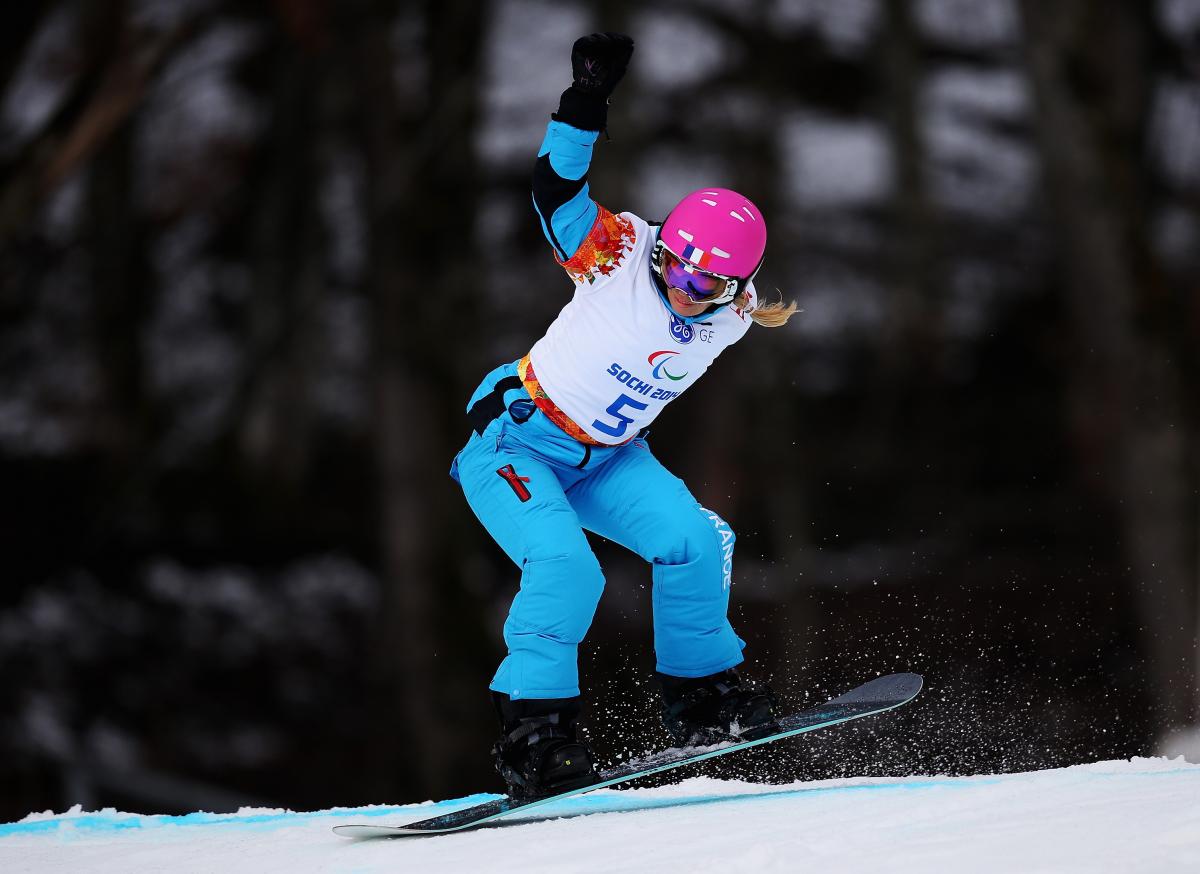 ⒸGetty Images
By Jake Duhaime | For the IPC
"It was an honour to win this medal for France and now I want to have this platform. I want to pay tribute and speak about disability, sport and life."
Cecile Hernandez-Cervellon went from a last-minute entry to securing a Paralympic medal before her final run at the Sochi 2014 Games this year.
The French snowboarder's journey to Sochi was as surprising as it was sweet - a long and winding road that took her from BMX to SBX with stops in fashion, journalism, politics and public speaking.
Now, the silver medallist could be the cornerstone of her country's plans to expand its women's snowboard programme, depending on what comes out of next month's IPC meetings in Bonn, Germany.
"I'm just waiting to get organised and see what they do," said Christian Femy, Director of Snow Sport for the French Handisport Federation. "We'll use that to figure out what we're going to do and organise our team and her plans from there."
At Sochi 2014, Cervellon finished nearly 10 seconds (9.88) behind Bibian Mentel-Spee of the Netherlands, a result everyone expected. What few predicted was that the 39-year-old French snowboarder would win a silver medal and bump American Amy Purdy to third place, nor did they expect it to happen just months into her first IPCAS Snowboard World Cup season.
"I just took each moment and focused on myself," Cervellon said. "I didn't want to compare myself to anybody else. I was so happy for Bibian because she isn't just a great rider, but a great person as well."
With an eye on 2018, the winner of four BMX World Championships may have an edge for the next Paralympic quadrennial. On the dirt, she was used to having her competition directly alongside while navigating the course.
Sochi's para-snowboard competition was a time-trial format, but that will change due to new Paralympic disciplines designed to increase the sport's exposure with the public, mixing speed with strategy.
"I have the same feelings about snowboarding that I do with BMX. The turns and jumps are exciting. I love the fact that it has some danger to it," Cervellon said. "You have to manage and organise the track well, especially when you know who is alongside you."
After just starting to compete internationally in late 2013, two international events yielded a pair of fourth-place finishes for Hernandez-Cervellon.
After successfully petitioning for an additional spot in the first-ever Paralympic snowboard cross competition, Hernandez-Cervellon would make the sacrifice and give up her job as a journalist to pursue her athletic ambitions.
Cervellon had previously written a book, held political office and even created her own festival of extreme sports, a benchmark event known as FAST.
"I know it was probably a big surprise to be on the French national team, but for me being there wasn't enough. My goal was to be on the podium and win a bronze medal, not necessarily the silver."
That piece of Paralympic silver will offer her a new platform for her sport. Following Sochi, Hernandez-Cervellon has done countless TV and radio interviews and visited schools to spread her message of inspiration. She, like the rest of her Paralympic teammates, will meet with French President Francois Hollande in June.
"It was an honour to win this medal for France and now I want to have this platform," she said "I want to pay tribute and speak about disability, sport and life."
Related Images