Galli Hails Family Influence Ahead of World Championships
America's six time Paralympic medal winner targets hat-trick of 400m world titles in Christchurch
05 Jan 2011
Imagen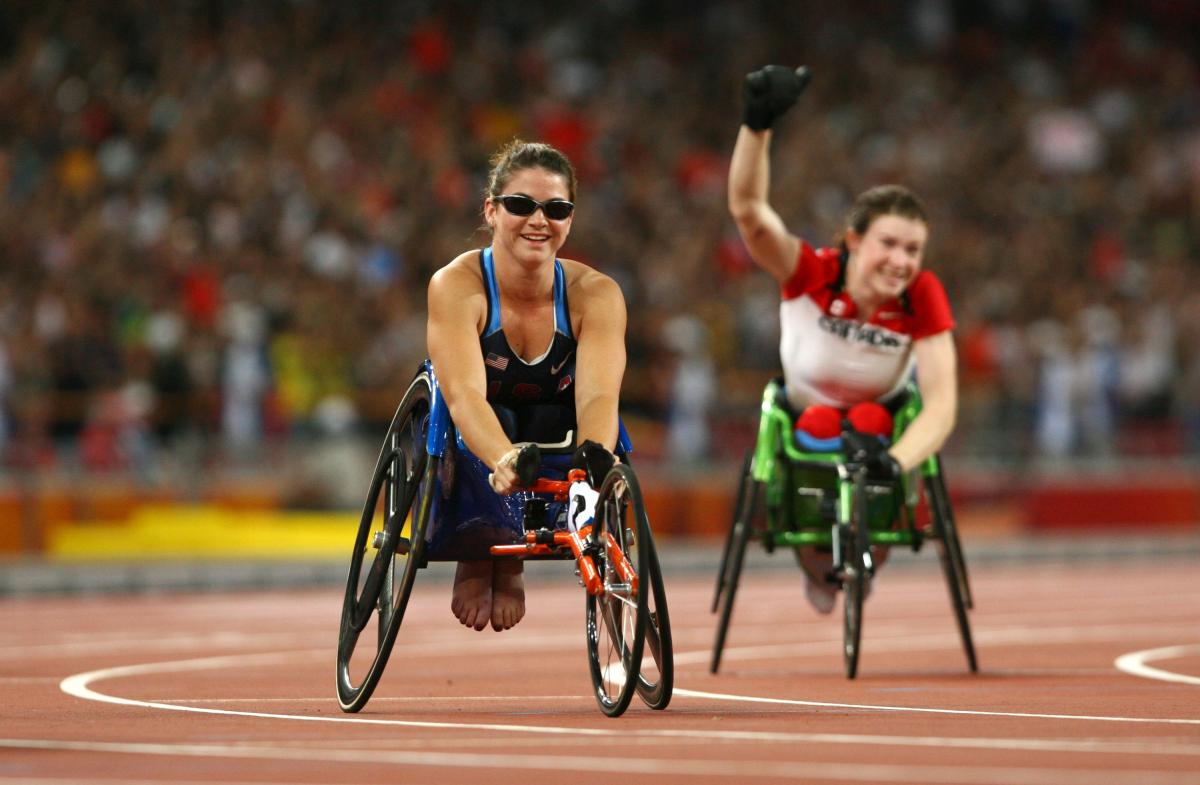 ⒸGetty Images
"During my teenage years I did wonder why I was doing it all. I think I wouldn't have even gone to practice had they not dragged me."
As she prepares for what could be her final IPC Athletics World Championships, America's six-time Paralympic medal winner Jessica Galli has hailed her family's influence on her career and offered advice to others considering getting involved in Paralympic Sport.
Later this month Galli will be one of more than 1,000 athletes from over 70 countries competing in Christchurch, New Zealand for the last major international gathering of athletes ahead of London 2012. The 26 year old, who will be looking to make it a hat-trick of 400m T53 world titles in Christchurch, is quick to acknowledge that had it not been for her family, she probably would not even be at the starting line.
Speaking to www.paralympic.org, the International Paralympic Committee's website, Galli explained that at the beginning of her athletics career she wasn't always the most motivated trainer but her parents' encouragement was a major help.
"As a youngster they put in a lot of hours," said Galli, "especially my dad who was my coach for a couple of years while I was in high school and as a teenager.
"During my teenage years I did wonder why I was doing it all. I think I wouldn't have even gone to practice had they not dragged me.
"I was reluctant to go and try it out, but my dad continued to push and still does today.
"He'll call me and ask how was my training and what speed did I hit? And I'm like 'Dad, you are not my coach anymore!' But my parents are just so dedicated and just want to see me succeed."
And succeed she has. Aged just 16 years old Galli claimed a silver medal in the 800m T53 at the Sydney Paralympic Games.
She followed this up in 2002 with three medals at the IPC Athletics World Championships in Lille, France – gold in the 400m and 800m and silver in the 100m.
Two fourth placed finishes at the Athens 2004 Paralympic Games were a disappointment for Galli but they did act as motivation for future competitions.
In 2006 at the IPC Athletics World Championships in Assen, the Netherlands, she successfully defended her 400m title and claimed bronze in the 800m.
At the Beijing 2008 Paralympic Games Galli really made a name for herself winning five medals – gold in the 400m in world record time, silver in the 100m, 200m and 800m, and a bronze in the 4 x 100m relay. And for her Beijing was a reward, not only for the hard training she had put in, but also the years of support her family had shown.
Jessica Galli said: "I think people forget that your family travels with you all these years. And they've been to three games with me.
"So to finally win gold for myself was great, but I won it for them as well, especially my dad. He always uses the 'we' instead of 'me' as he thinks we are a team in his mind. At times it can be frustrating but it's a really great thing and so I really know how they must have felt when I won in Beijing. It's all worth it when you're family is happy."
Certainly Galli's father can take plenty of credit for making her the athlete she is today, a fact not lost on her.
"I'm really glad he took such an interest and he actually still coaches under 18 athletes today," said Galli.
"He was active himself when he was younger but he wasn't a coach or anything until I got interested in track and field. Then he took it up.
"He's become really active and he stands up for the athletes because he's had me and he knows my perspective so it's really great."
Injured in car crash in September 1991 aged just seven years old, Galli was left paraplegic and spent four months in a rehabilitation hospital. It was whilst in hospital that she was introduced back into sport.
"I think it was probably about a year after I left hospital that I went out and first practiced with the team. I ended up loving it and just stuck with it."
Even though Galli fell in love with Paralympic Sport straight away, she is aware it is not as easy for everyone and it can be uncomfortable for newcomers.
"The hardest thing about Paralympic Sport is really the very start," said Galli who claimed her first Paralympic medal nine years after her accident.
"I hear this in track and wheelchair racing a lot. My advice is stick with it and discover what it is that you are good at, what you enjoy and go with that sport or sports if you're lucky enough to be good at two.
"I think it's so rewarding and my personal passion is that everyone should stay fit and be active," added Galli who rates one of her career highlights as being able to travel the world with her sport.
Jessica Galli will be one of a whole host of big names athletes competing at the IPC Athletics World Championships later this month.
Other big names set to compete in Christchurch include South African 'Blade Runner' Oscar Pistorius, Irish Sprinter and 'Fastest Paralympian on the Planet' Jason Smyth and Swiss 'Silver Bullet' Marcel Hug.
Related Images